Reflections and Advice:
1.) What do you think makes your school unique relative to other boarding schools?
Episcopal High School is an institution based on a set of morals that drives both faculty and students alike. EHS has what it calls an Honor Code by which students and faculty live. It is common to see teachers leave the room while giving a test or to see doors unlocked or opened. Episcopal is trust. Episcopal is also ideally located close to the Metropolitan area. This benefit breeds many "tours" and trips into our nation's capital. Usually these trips are both fun and educational, providing a real-life look at the world outside of Episcopal's community.
2.) What was the best thing that happened to you in boarding school?
I learned how to be a true leader. Episcopal showed be how to be selfless and be myself. I gained both confidence and a desire to help others. Episcopal challenged me in that I had to settle arguments, make decisions, and be a model for those around me. It truly has been the most rewarding experience in my life.
3.) What might you have done differently during your boarding school experience?
I definitely would have been more outgoing. Episcopal is similar to college in that it offers a student the chance to "start over". Do not be shy when you first get there. Everyone is waiting to love you for who you are. There will always be teachers and friends at Episcopal who are just what you are looking for in life. In short, be open and throw yourself in.
4.) What did you like most about your school?
Episcopal gave me friends for life as well as knowledge. I was able to work and play and hang out with my friends. EHS showed me a semi-perfected model of how society should. With its honor and integrity, Episcopal leaves no student behind in life.
5.) Do you have any final words of wisdom for visiting or incoming students to your school?
Let's see... get a breakfast bagel from the snack bar. Definitely say hello to everyone you see. Talk to the teachers and the kids. Ask questions. Sadly Episcopal is not for everyone, but you have every opportunity to make it your school.
Academics:
1.) Describe the academics at your school - what did you like most about it?
The academia at Episcopal is more rigorous than at most schools around the nation. The great thing about EHS is you have to opportunity to truly challenge yourself. Episcopal offers courses that require time management as well as proactive diligence. For instance, one may take five AP courses in a single year, and it is up to the student to seek out help as needed. Faculty are easy to meet with and are frankly quite inviting when it comes to anything, be it academics, athletics, or social issues. A teacher will often offer a student food and as much time as needed to finish the problems a student does not understand.
Athletics:
1.) Describe the athletics at your school - what did you like most about it?
EHS Athletics is a phenomenal program that requires each student to participate each year in high school. Episcopal offers both the traditional football, basketball, lacrosse, track, as well as the not-so-traditional rock climbing, kayaking, cross training, intramural soccer. The facilities are top-notch and under constant improvement. Episcopal is known for its rivalry and competitive nature, as well as its respectfulness and sense of character on and off the field.
Art, Music, and Theatre:
1.) Describe the arts program at your school - what did you like most about it?
Episcopal has an ever-growing arts program. Each year famous artists perform, teach, and interact with students and faculty. With the new Ainslie Arts Center, Episcopal can now offer some of the best facilities in the area, which attract performers from around the world. The arts program includes bother visual and performance arts, and is open to change or inclusion of new ideas.
Extracurricular Opportunities:
1.) Describe the extracurriculars offered at your school - what did you like most about it?
EHS offers many clubs and organizations as well as performing groups. I personally participated in Spectrum which was our very proactive diversity club. Spectrum offered many events throughout the year. Also, I sang in three different groups on campus. EHS's groups perform around campus and at other locations (i.e. the choral groups traveled to New York to sing in Carnegie Hall).
Dorm Life:
1.) Describe the dorm life in your school - what did you like most about it?
Dorm life has to be one of the most rewarding attributes of Episcopal. Dorms encourage (or almost force) students to build friendships and relationships with those around them. Dorm life opened my eyes to other's cultures, problems, and lives. In many ways, you truly have not known someone until you have lived with them.
Dining:
1.) Describe the dining arrangements at your school.
Episcopal's dining program is simple to grasp. There are two types of dinner, seated and buffet. Seated means that students are required to be there at a certain time wearing whatever apparel is appropriate for the meal. Seated means are lunches on Mondays, Tuesdays, Thursdays, and Fridays as well as dinner on Mondays. Every other meal is buffet. There's always a salad bar, always vegetarian options, and always a friendly atmosphere preserved by the kitchen staff as well as the students and faculty.
Social and Town Life:
1.) Describe the school's town and surrounding area.
Episcopal is in Alexandria, right outside of DC. Students are permitted to travel into the surrounding areas on weekends and other special occasions. Having the diversity and culture of the nation's capital at the fingertips, Episcopal takes its rightful advantage to the resources surrounding the campus. It is definitely fun and beneficial to live so near to DC.
2.) Describe the social life at your school - what did you like most about it?
Episcopal also thrives on its social life. It's just like a small community; there are friends, upsets, parties, birthdays, mistakes, etc. Social life is so fun in which to participate. EHS offers dances, DJ's, movies, and just about everything a teenager could ever need to keep him or her entertained.
Daily Schedule:
Weekday
9:30 PM
Study Hall Ends/Strip Starts
Weekend
6:00 PM
Movie or Night on the Town
Episcopal is unique in the boarding school world in that 100% of the students are boarders. While the school advertises this statistic heavily, I personally do not think that it could be said too. . .
I think what sets Episcopal apart from other comparable boarding schools is its unique location. Situated right outside the nation's capital, EHS students are constantly exposed to the world beyond just the high school. Very. . .
One aspect of Episcopal that is unique is the fact that is 100% boarding. Since there is not this divide in the community, the sense of community at EHS is quite strong. Everyone is there. . .
Show more reviews (

9 reviews

)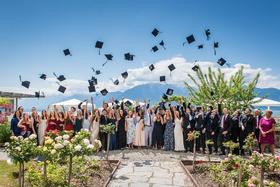 Nurturing Futures: A Journey through Boarding at Haut-Lac School in Switzerland
Nestled in the hills overlooking Lake Geneva in the French-speaking part of Switzerland lies an educational gem that embodies a unique blend of academic excellence, cultural richness and a profound sense of community. Founded over 30 years ago, Haut-Lac International Bilingual Day and Boarding School is now home to both 600 day students and a maximum of 30 boarders from around the world.
What To Wear at Your Job Interview
Navigating job interviews can be stressful, but knowing what to wear shouldn't be. Our comprehensive guide covers the essential dress code tips for men and women interviewing at boarding schools. Make your first impression count with style and professionalism.
Navigating the Modern Maze: Emerging Challenges for Boarding Schools
Explore the pressing challenges facing boarding schools, from marketing difficulties and rising insurance costs to facility maintenance and recruitment of competent trustees and teachers. This article delves into these complex issues and proposes innovative strategies to overcome them.