Reflections and Advice:
1.) What do you think makes your school unique relative to other boarding schools?
I thought that WMA was especially unique because of the opportunities it allowed for me. Between the speakers, special projects and workshops, class selection, service projects, and travel opportunities, not many schools could compare to WMA. While not everything is made mandatory (like the special projects/workshops), it is highly encouraged, and the eager student body makes the events great to participate in. The faculty is always great and extremely helpful--it isn't unlikely to call or email a teacher at night for help with homework.
2.) What was the best thing that happened to you in boarding school?
I think that boarding school made me more independent and confident in myself and my schoolwork. Even though I was a day student, I had to learn to do a lot more things by myself. Just taking care of my own schedule was a chore in itself, because in boarding school you don't have the regular 730-2 schedule like some of your other friends. I had to plan and organize, and it taught me many life skills because of it. Before WMA, I almost felt as just another student who had good grades, but WMA taught me that by taking what you know and applying it, you can accomplish anything.
3.) What might you have done differently during your boarding school experience?
My advice to anyone going to boarding school is to keep your mind open, and don't judge people right away- they would surprise you. Its especially important not to write someone off right away if you're going to have to live with them for the next 1-4 years. Take advantage of as many opportunities as you can, even if you think they seem dumb at first. Just because its optional, doesn't mean you shouldn't do it!
4.) What did you like most about your school?
The sense of community, even within the alumni body and parents. Campus was also pretty, so that was a selling point--even in a blizzard you didn't mind trekking through the snow because it looked nice (just wear boots..)Plus it prepared me for college...what else can you ask for?
5.) Do you have any final words of wisdom for visiting or incoming students to your school?
Trivia cards in the cafe are a great way to kill time, learn how to play pool, don't make the mail lady mad (aka, return your keys), befriend Ms.Shults, actually use the Writing Center, try the SPA'scookies, learn a new sport, HMUN is in fact the best class you will ever take, and realize that its completely acceptable now to hang out at school on the weekends.
Academics:
1.) Describe the academics at your school - what did you like most about it?
The academics were what you make of them. If you had trouble in a certain subject you had plenty of opportunities (assigned or not) to spend time working on what you needed to, or taking courses suited for your level. I thought it was unique that we had "in between" courses offered..what we'd refer to as "Algebra 1.5" "Algebra 2.5".. They'd allow us to work on the skills we needed the most. For those overachievers out there, there is never a lack in AP opportunities. Your teachers at the AP level will push you really hard and expect a lot more out of you because they know you can do great things. As much as I could hate the amount of work sometimes, I know now that I feel much more prepared for college because of it, and in fact placed into higher level classes because of my APs.
Athletics:
1.) Describe the athletics at your school - what did you like most about it?
I sometimes thought it was a pain that athletics were mandatory, but in the end liked it. If it wasn't mandatory to have some form of athletic involvement, I don't know how many people would actually take part. I picked up a lot more sports than I thought, and met some great friends because of it. Skippy J Rock is a pretty cool guy, and our trainer (Whipple) is going to be one of your best friends on campus if you end up spending time in sports. We have everything from super-competitive varsities to instructional where you're playing ball with your friends. Our school spirit isn't amazing, but the gym will always be packed at Suffield basketball games...because we will own.
Art, Music, and Theatre:
1.) Describe the arts program at your school - what did you like most about it?
The arts department is great..The new faculty within the department have been awesome at pushing to get more funding for here, so that always helps. All the teachers are super-passionate about their work and love their students. From theater to music to visual/studio arts, there is never a lack. I sometimes wish I had more space in my schedule to take more of these classes! I like that the theater department spends a semester or two working on films now rather than strictly theater. It allows us broaden our study, and Dziura's knowledge in this area allows more opportunities for the students planning to have film-related majors. I'd definitely recommend a course with Mr.Serg--whether it be Latin Dancing or band, you'll love it!
Extracurricular Opportunities:
1.) Describe the extracurriculars offered at your school - what did you like most about it?
There was many many extracurriculars available..If you loved to write there was numerous opportunities (paper, contents, yearbook, etc). Many people joined the community service groups and said they loved that too. There is a small variety of clubs too for people to join: RISE (multicultural group on campus), the GSA, SAB (student activities), Library advis. board, etc. If you wanted to start a group on campus, talk to Ms.Paddock and with a faculty advisor's help, you can get it up and running! I thought that WMA was unique for their extracurricular projects specifically. Many times when we would have speakers come in, the next day (or later that day) they would be able to meet with a group of students that signed up and have a workshop, often with a lot of role-playing situations. I learned a lot from these specifically, and they are a huge part of what got me interested in my major for college. Not many high school students can add to their resume that they worked with an NGO to settle the Rwanda conflict, or setup a fundraiser to rebuild schools in Nepal!
Dorm Life:
1.) Describe the dorm life in your school - what did you like most about it?
I was a day student, therefore didn't spend much time in the dorms, however they seem to have gotten pretty good reviews. Day students were allowed to visit during selected times, and we could sign our friends out on weekends once granted permission.
Dining:
1.) Describe the dining arrangements at your school.
Every day was different. People are going to complain no matter where they are about the food, but it honestly was pretty decent. Sometimes they could have more of a variety, but what can you do..My last school I always packed a lunch because I'm just that picky, but I never had to do that at WMA. Many day students end up staying for more than one meal a day. If there's something specific you want or a special dietary need, the staff is pretty good at trying to accommodate it. There's thankfully no assigned seating, but even if you're new that's never a problem because you'll most likely be invited to a table before you even pick up a tray.
Social and Town Life:
1.) Describe the school's town and surrounding area.
Wilbraham is pretty small. In fact, if you Google map the town, the center of it shows up to be the center of campus. The mall (in Springfield) is only about a 7 minute drive, and shuttles go there often on weekends. There is a convenience/drug store that is still considered "on campus", as well as a cute cafe that many students go to. If there's something specific you need to go to a big city for, there is occasionally Boston/NYC trips, as neither are too far. Wilbraham is a cute family-oriented town. Everyone knows everyone. It is sometimes seen outside as snooty, but most people here are down to earth and friendly.
2.) Describe the social life at your school - what did you like most about it?
I liked how friendly everyone was. The first week back to school its sometimes hard to catch up on everyone news name! Most people have their small group of friends they hang out with outside of school, or in the dorms, but its definitely not unlikely to have a chat with a random person in the hall.
Daily Schedule:
Weekday
9:00 AM
Academy Reperator Company
10:00 AM
All-School Meeting
10:30 AM
Meeting (SAB, HMUN, RISE, etc) or extra help session if needed
2:00 PM
Environmental Science
3:30 PM
sport or other afterschool activity until 5/530
Weekend
6:00 AM
off-campus job =( (optional..)
12:00 AM
be at school to depart for away game / arrive for home game
2:30 PM
kick other schools butt in sport of your choice
5:30 PM
probable return time to campus
6:00 PM
drive home/shower and change
7:00 PM
dinner with family/out with friends
8:00 PM
on campus event (day student or not) such as dance, hypnotist, coffee house, etc
11:00 PM
leave campus/return to dorm room
12:00 PM
get yelled at for breaking curfew/sound asleep in dorm room
WMA, more than any other prep school that I have visited, is a community. Everyone knows one another. With over fifty percent of all faculty and staff living on campus, the students really get to. . .
One aspect that sets Wilbraham and Monson Academy a part from other similar private institutions is the CEGS Department. CEGS stands for Center for Entrepreneurial and Global Studies, and is in place of a traditional. . .
Firstly, and most noticeably unique, is the diversity at WMA. There are over 30 different countries represented, and this played a major role in my learning experience. With so many different cultures present in the. . .
Show more reviews (

8 reviews

)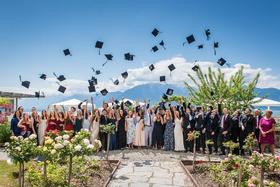 Nurturing Futures: A Journey through Boarding at Haut-Lac School in Switzerland
Nestled in the hills overlooking Lake Geneva in the French-speaking part of Switzerland lies an educational gem that embodies a unique blend of academic excellence, cultural richness and a profound sense of community. Founded over 30 years ago, Haut-Lac International Bilingual Day and Boarding School is now home to both 600 day students and a maximum of 30 boarders from around the world.
Navigating the Modern Maze: Emerging Challenges for Boarding Schools
Explore the pressing challenges facing boarding schools, from marketing difficulties and rising insurance costs to facility maintenance and recruitment of competent trustees and teachers. This article delves into these complex issues and proposes innovative strategies to overcome them.
What To Wear at Your Job Interview
Navigating job interviews can be stressful, but knowing what to wear shouldn't be. Our comprehensive guide covers the essential dress code tips for men and women interviewing at boarding schools. Make your first impression count with style and professionalism.