Reflections and Advice:
1.) What do you think makes your school unique relative to other boarding schools?
Choate is a fantastic mix of old and new. Choate is one of the oldest and most prestigious schools in the country as well as being one of the most advanced and forward-thinking. Choate holds on to its traditions of quality education, excellent faculty, and a tight-knit community. Choate does this while looking forward to the future by inviting the most influential speakers to campus, maintaining the best equipment both for the classroom and playing field, and growing with the world by starting a new study abroad program to China. Choate is also one of the most diverse of all the New England prep schools. Students come from 42 states, 25 countries, and almost 40% are students of color. Scholarships abound, which is something not found everywhere.
2.) What was the best thing that happened to you in boarding school?
Choate is one of the best things to happen to me in my life. It's my family. It's where I became who I am. I got the best education I could dream of and I got to experience things that I couldn't have anywhere else. I spent a term in Rome, Italy and I heard Robert Fagles read from his own translations of the Iliad and Odyssey. That's so cool! I wish I could tell you all that Choate means to me, but that would take too much time and way too many tissues. I just hope you see what an amazing place it is and how much you could grow there too!
3.) What might you have done differently during your boarding school experience?
Don't get caught up in school. I know. I said it. Yes, please get that school work done, but make sure you take the time to lay on the grass in Mem Circle and watch the dogs play on the grass. Stay up late being silly with your friends in the dorms. Spend time with the faculty in your dorms and learn from their lives. Yes, I am glad that I can write well and that I know how to find the angles of a triangle, but if you go to boarding school and that's all you get, then you're missing out. Learning about Korea from a Korean student in your US History class. Hang out with teachers and let them tell you crazy stories about past Choaties. Help the freshmen get ready for their first high school dance. Those are the things that stay with you. Those are the things you remember.
4.) What did you like most about your school?
The people. I don't know what else to say. For all that Choate has to offer, all the facilities, the courses, and fancy technology, it would all amount to nothing without the world-class faculty who have committed their lives to investing in high school students.
5.) Do you have any final words of wisdom for visiting or incoming students to your school?
Go to Half Moon Cafe! It's downtown on Main Street--about three blocks from the middle of campus. You'll find Choaties there at all times. Try the chicken pesto pizza--you'll love it!
Academics:
1.) Describe the academics at your school - what did you like most about it?
Academics at Choate are rich and challenging. Choate offers a huge array of 240 classes. That many classes is sure to keep anyone occupied and interested! These classes include honors and AP classes so students can be challenged as well as get some of those college credits. I remember working incredibly hard at Choate and spending hours on homework at night, but every moment was worth it. I am forever indebted to the education I received from my Choate teachers. They taught me how to learn well and think critically. My teachers challenged me to keep me on my toes, but they were always available for extra help. The small class size (~12) fostered discussion and that combined with some independence gave us enough freedom to learn by ourselves and from other students. When you go to school with students from 40 states and 25 countries, having discussions and hearing students' thoughts in class was absolutely an invaluable blessing.
Athletics:
1.) Describe the athletics at your school - what did you like most about it?
I can't say too much about the athletic department because it is not my area of expertise, but students are required to do some sort of athletic activity after classes. There are many options available (everything from lacrosse to the spring musical) so every student is bound to find something they can enjoy and excel in. I played field hockey for a couple years, and while it wasn't my forte, I did enjoy the experience of being on a team and representing my school in that way. Of course, the best part of sports at Choate is Deerfield Day! Deerfield is our rival school and every fall we have a full day of athletic competition. This day is always a blast as it brings our the student body from both schools, faculty, and plenty of alumni!
Art, Music, and Theatre:
1.) Describe the arts program at your school - what did you like most about it?
The Paul Mellon Arts Center was my second home at Choate! I have nothing but glowing things to say about the excellent facilities, programs, and faculty. I performed in 7 shows during my 4 years at Choate. I did costuming for 1 show and Stage Managed 1. I was a member of the Whimawehs, our women's a capella group and I was also a teaching assistant for our Theater Saturdays programs for children. Choate also has thriving music and visual arts departments. Our orchestra tours various countries during holidays. Our gallery spaces are always displaying interesting pieces and the exhibits change every few weeks.Facilities are top notch. The main auditorium seats approximately 800 and our black box theater can seat 150. We have a full scene shop, costume shop, green room, and dressing rooms. Sound and lighting systems are professional quality. We have another recital hall which is used as rehearsal space in addition to the two floors of individual practice rooms.The arts faculty are all well-trained and have plenty of experience in their specific area. The amount of knowledge and talent in the arts faculty is incredible. I always felt encouraged and loved by the arts faculty and community. I grew as an artist and as a person during my time in the PMAC. Choate is committed to the arts and seeing students excel in the arts. At Choate, students have the unique opportunity to get training and perform in facilities which are, frankly, much better than many college facilities. I encourage all students to take advantage of the depth of artistic richness which is enjoyed at Choate.
Extracurricular Opportunities:
1.) Describe the extracurriculars offered at your school - what did you like most about it?
Choate has nothing but options! If you enjoy something, then there is probably a group that you can join. If there isn't a group, then you can start one! Choate has sports, the newspaper, religious groups, political groups, social justice groups...the list goes on and on! All I can say about extra-curriculars is that there are more than you could every ask for and I encourage you to get involved!
Dorm Life:
1.) Describe the dorm life in your school - what did you like most about it?
I am a firm believer that a huge chunk of one's growth happens outside of the classroom and I would say that a large chunk of my own growth came from living in the dorms. The faculty family who lived in Pitman became my Choate family and they basically took me in as one of their kids. I've spent as much time in their house as I did in my own dorm room. They took care of me and they helped me grow. We've spent hours laughing and drinking tea. I cried at their kitchen counter when I didn't get into (what I thought was) my dream school. I still check in with them and stay with them when I visit Choate. Their oldest daughter and I talk fairly frequently on the phone. That is what the dorms are about.My senior year I was a prefect in Nichols. I lived with 40 freshmen girls, 6 other seniors, and 6 faculty members. It was a lively place, to say the least. Being a prefect was one of the most wonderful and challenging experiences of my life. Have you every tried to get 40 14-years olds to go to bed? I didn't think so. As a prefect I was a friend, a guide, a big sister, a role model. I got to watch as girls made friends and went to dances. I also got to give hugs during homesickness and someone's first C (which inevitably happens). I was there for the low points and the high moments. My team of prefects was super close and we had all our inside jokes and little traditions (like late-night Wendy's runs). We supported each other no matter what. We lived together, learned together, and learned from each other. That's what the dorms are about.
Dining:
1.) Describe the dining arrangements at your school.
Oh, how I long for the days when I could just head over to the dining hall and take my pick of all the delicious food! I had no idea how good I had it! Choate has a great variety of food so there is always something that is sure to please. The salad bar is a constant as well as the deli bar at lunch. Other food rotates and it's pretty darn delicious. One nice thing is that food is included in tuition so there is no swiping of cards or refilling accounts--just show up and eat!
Social and Town Life:
1.) Describe the school's town and surrounding area.
Choate is in a sweet little town called Wallingford. It isn't big, but it's a cute little Conecticut town with all the necessities. Cafes and shops are only a couple blocks away from campus. If it's time to get out, then New Haven is less than 20 minutes away and New York City is only about 1 and a half hours! What more could you need?
2.) Describe the social life at your school - what did you like most about it?
Well, you live with your friends so pretty much everything is social! The Student Activity Center always has things going on like dances or movie nights or trips to various places. New Haven and NYC are within easy reach so those are fun options. I'm not sure how, but days on campus always seemed to end up filled with fun!
Daily Schedule:
Weekday
7:00 PM
whimawehs rehearsal
Weekend
9:00 AM
theater saturday classes
2:00 PM
hang out with friends
8:00 PM
watch a movie/hang out with friends some more
One thing about Choate I really believed made it so unique was the variety of classroom experiences one could have in just ONE academic day. Many schools utilize the classic classroom set up where the. . .
The community is definitely Choate's greatest asset, and the admissions folk do a great job of picking students. We're a pretty chill bunch, so you won't find much of the cut-throat competitiveness that usually accompanies. . .
Choate was unique in that during my junior year, they did away with AP labels on courses in order to let the teachers have more power over the curriculum. This created a culture in which. . .
Show more reviews (

27 reviews

)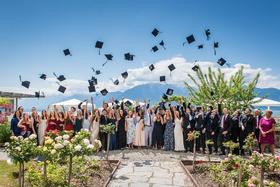 Nurturing Futures: A Journey through Boarding at Haut-Lac School in Switzerland
Nestled in the hills overlooking Lake Geneva in the French-speaking part of Switzerland lies an educational gem that embodies a unique blend of academic excellence, cultural richness and a profound sense of community. Founded over 30 years ago, Haut-Lac International Bilingual Day and Boarding School is now home to both 600 day students and a maximum of 30 boarders from around the world.
Navigating the Modern Maze: Emerging Challenges for Boarding Schools
Explore the pressing challenges facing boarding schools, from marketing difficulties and rising insurance costs to facility maintenance and recruitment of competent trustees and teachers. This article delves into these complex issues and proposes innovative strategies to overcome them.
What To Wear at Your Job Interview
Navigating job interviews can be stressful, but knowing what to wear shouldn't be. Our comprehensive guide covers the essential dress code tips for men and women interviewing at boarding schools. Make your first impression count with style and professionalism.