Reflections and Advice:
1.) What do you think makes your school unique relative to other boarding schools?
Westover is unique in that it is filled with passionate, intelligent, and talented people, from students to faculty to support staff. The school features a number of very strong programs, including fine arts, math, english, and science, and the faculty and students genuinely enjoy teaching and learning in these and other areas.
2.) What was the best thing that happened to you in boarding school?
I think the best thing that happened to me at boarding school was that I gained confidence to be myself and lost the intense shyness that had hindered me up to that point. Westover also sparked a number of interests that I had no idea I had, such as pottery, lacrosse, history, and calculus. It is an incredible supportive and safe environment to try new things; it allows you to fail but to learn from your mistakes and become a better person from them. The other best thing that happened to me at Westover was the incredible group of friends that I made and the memories that still make me laugh or smile.
3.) What might you have done differently during your boarding school experience?
Though I have very few regrets, I wish I would have gotten to know more of my peers (including upperclassmen) sooner, but I was very shy coming from middle school and stuck with the first few friends I made for awhile. My high school experience became exponentially better when I branched out and made friends with people in different classes and with different interests from mine.
4.) What did you like most about your school?
This is a difficult question because there are innumerable things I like about Westover - I'd have to say that the people (students, faculty, other staff) truly make it special. It is an incredibly close and dynamic community, and I felt that I knew almost everyone there pretty well by the time I graduated. I always enjoy going back and seeing my favorite teachers or admissions officers, and I also have gotten together with faculty for dinners or happy hours and always greatly enjoyed myself. I must also mention that the classes are top-notch and prepared me very well for college and graduate school.
5.) Do you have any final words of wisdom for visiting or incoming students to your school?
I'd say don't be afraid of committing to an all-girls environment; it is really fun and a great place to grow tremendously as a person, and after a bit you don't even realize there are no boys! I'd also say to walk around campus (up to the lacrosse fields and Seven Sisters fireplace if possible), check out the art studios, sit in Red Hall and the Chapel balcony for awhile, and just get the feel of the school. Watch how students interact with each other and with their teachers.
Academics:
1.) Describe the academics at your school - what did you like most about it?
As I mentioned before, Westover has several strong departments, and each class I took there was challenging and interesting in its own way. I liked the small class sizes and engaged teachers who encouraged collaborative learning in a nonthreatening environment. Teachers truly cared about students' learning, and often had one-on-one meetings with students.
Athletics:
1.) Describe the athletics at your school - what did you like most about it?
Students are required to participate in a team activity each trimester, which is usually a sports team but can also be community service, dance, or drama. Westover offers all the traditional sports in addition to newer programs such as squash and golf, and there are usually a wide range of abilities served, from lessons to competitive teams. I was always very close with my teammates and consider them some of my best friends to this day. The facilities are unbelievable, and I still use the gym when I'm home.
Art, Music, and Theatre:
1.) Describe the arts program at your school - what did you like most about it?
The music program was very extensive and included options for people who would never be able to sing or play instruments well (handbells). The Glee Club and a capella groups such as Overtones put on excellent shows and traveled around Europe performing. There were several instrumental groups, and concerts were always enjoyable. The drama program benefited from a newly remodeled performing arts center and consistently put on interesting and provocative performances. Several girls who danced at Westover went on to pursue dance in college and are now in professional dance troupes.
Extracurricular Opportunities:
1.) Describe the extracurriculars offered at your school - what did you like most about it?
The diversity of extracurricular activities at Westover is truly remarkable, and most activities offer intensive leadership roles or casual participation. Model UN was a popular extracurricular that prepared several students for studies in political science, and Yearbook Committee was another club that taught students a variety of useful managerial and technical skills. There is a substantial community service requirement, which I greatly enjoyed because students generally enjoyed giving back to the community as a group.
Dorm Life:
1.) Describe the dorm life in your school - what did you like most about it?
As a day student, I felt integrated into the dorms, which is unique to Westover. We have lounges right in the corridors, and many day students are adopted into boarders' rooms. The dorm parents/families are an integral part of the Westover dorm community, and they are very welcoming, helpful, and enthusiastic, organizing things from movie nights to baking parties to community service outings.
Dining:
1.) Describe the dining arrangements at your school.
The dining hall is a very pretty and inclusive space. Circular tables and nice china make every meal somewhat family style and foster conversations. Seating is fluid, though classes tend to cluster at certain tables. The food is incredible and features a wide range of entrees. The salad bar is always very well stocked, so no matter what is being served, you can make a good salad. There are a lot of healthy options as well as decadent desserts. Westover has a beloved pastry chef, Robert, who makes unbelievable peanut butter chocolate muffins, scones, and many other things.
Social and Town Life:
1.) Describe the school's town and surrounding area.
Middlebury is a quaint, picturesque New England town that synergizes very well with Westover. It is an extremely safe neighborhood, and there are woods and ponds nearby that are fun to hike in. Westover faces the town green, which is especially pretty when the Christmas tree and menorah are up. The necessary amenities, such as Dunkin Donuts, pizza places, malls, other shopping centers, and Staples are close by.
2.) Describe the social life at your school - what did you like most about it?
My favorite part of the social life at Westover was that there was such a diverse student body that everyone had a group of friends; there were no loners or people who were teased in high school, which I think is unique to Westover. There were always a variety of activities offered, but some of the best social times were sitting in Red Hall with a few friends laughing the hours away.
Daily Schedule:
Weekday
7:15 AM
Breakfast - granola and a muffin
7:45 AM
Assembly - Heads of School and other students make announcements, and there might be a skit!
8:00 AM
AP Bio - one of my favorite classes
8:45 AM
AP Calculus BC - another of my favorites
9:30 AM
Clay Class - ok I like all my classes
10:30 AM
free period - sitting in red hall with 2 friends
1:30 PM
AP English Literature, Handbells
Weekend
11:00 PM
On the bus to another school for a soccer game
9:00 PM
off to Marshall's and Starbucks with a few friends
Westover School is unique because of its community. No other school I have visited or heard of has the atmosphere Westover has. Each of the students have unbreakable bonds with each other and the faculty;. . .
Westover School is unique, for one, because it is an all-girls school. Being one of the few remaining all-girls schools in the surrounding area, Westover strives to instill in students qualities of independence and confidence. . .
Form the moment you walk into the great yellow walls of Westover, you are greeted with smiles. Westover's community is close-knit and comfortable. We not only support each other, but also push our friends, teammates. . .
Show more reviews (

9 reviews

)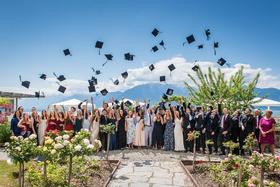 Nurturing Futures: A Journey through Boarding at Haut-Lac School in Switzerland
Nestled in the hills overlooking Lake Geneva in the French-speaking part of Switzerland lies an educational gem that embodies a unique blend of academic excellence, cultural richness and a profound sense of community. Founded over 30 years ago, Haut-Lac International Bilingual Day and Boarding School is now home to both 600 day students and a maximum of 30 boarders from around the world.
What To Wear at Your Job Interview
Navigating job interviews can be stressful, but knowing what to wear shouldn't be. Our comprehensive guide covers the essential dress code tips for men and women interviewing at boarding schools. Make your first impression count with style and professionalism.
Navigating the Modern Maze: Emerging Challenges for Boarding Schools
Explore the pressing challenges facing boarding schools, from marketing difficulties and rising insurance costs to facility maintenance and recruitment of competent trustees and teachers. This article delves into these complex issues and proposes innovative strategies to overcome them.