Reflections and Advice:
1.) What do you think makes your school unique relative to other boarding schools?
Academic excellence aside, what distinguishes Choate is the culture of caring promoted throughout the campus. The faculty and staff show a genuine care for the students' development outside of the classroom. As a result, students feel welcome, supported, and empowered to pursue their academic and extracurricular goals. In return, students show a love for not only learning but also their teachers and advisers, which makes the student-faculty relationship at Choate unparalleled. In addition, there is a real sense of collaboration among students as they are encouraged to support each other and form lifelong friendships.
2.) What was the best thing that happened to you in boarding school?
Even after receiving my admissions acceptance, I was still hesitant about leaving home for a school so far away. In the end, going to boarding school was the best decision I've made in my life. Dealing with a demanding academic curriculum while trying to maintain its balance with my extracurricular commitments and giving myself a little downtime taught me important life skills such as time management. Choate provided me with opportunities that I couldn't have received anywhere else, like studying abroad in Spain for three months while living with a host family. I graduate from Choate as a much more mature, independent, and confident person than when I entered. In retrospect, my Choate experience prepared me very well, in every aspect, for the challenges I face in college.
3.) What might you have done differently during your boarding school experience?
If I could have done something differently, I would have been more outgoing during my first few weeks as a new student. Those first weeks are crucial as everyone is new and friend groups are starting to form, so the friends you make at that stage are likely to be your close friends throughout your Choate career. Also, try something new at Choate, whether it's a sport you've never played before, musical instrument, debate, Model UN, or writing for a school publication. Pick something you've never done before and stick to it for a while. You just might discover something you're really passionate about or really good at.
4.) What did you like most about your school?
The people make Choate the amazing community that it is. The camaraderie among students and faculty is incredible. Close friendships are formed, and teachers would even invite students over to their homes. It is for this reason that many students consider Choate their second home. This type of community would be hard to recreate anywhere else.
5.) Do you have any final words of wisdom for visiting or incoming students to your school?
Be more socially courageous during your first few weeks as a new student! If you're done with homework, go to the common room and socialize with dorm advisers, prefects, and your peers. It can be intimidating when other new students befriend each other faster than you do, making you feel left out, but remember that everyone there is a new student. Everyone is on the same boat and equally worried about making new friends. The friends that you make during your first year are typically going to be your closest friends throughout your time at Choate (and beyond), so make sure you don't hide in your room during those first weeks. In terms of dorm selection after your first year, Hill House is a great place to live. The rooms are small, but that is the only downside. The advisers there are amazing, and the dorm itself is conveniently located right above the dining hall and less than a minute's walk from most of your classes, so you'll buy yourself a few more minutes of valuable sleep in the mornings. If you ever find yourself at the Tuck Shop, get an Oreo Milkshake. It's not on the menu, but it a delicious secret among students.
Academics:
1.) Describe the academics at your school - what did you like most about it?
Students at Choate are serious about learning, and the faculty are serious about facilitating that learning. As a result, students have access to enormous opportunities. The selective interdisciplinary academic programs are truly one-of-a-kind. In the Science Research Program, students have an opportunity to conduct college-level science research through a structured, carefully mentored two-year program. The Arts Concentration program allows exceptional artists to tailor their academic and extracurricular schedules to facilitate the development of their potential in art. The Senior Capstone Program allows students passionate about a certain academic area to conduct interdisciplinary research in that area. Generally, students have a lot of flexibility to build their own academic program, especially during the junior and senior years. The fact that there are world-class teachers in every department (supplemented by Advanced Placement course offerings in every area from Music Theory to Computer Science) ensures that students receive a very well rounded education.
Athletics:
1.) Describe the athletics at your school - what did you like most about it?
Students are encouraged to participate in sports. There is an athletics requirement for every student to play one sport at any level each trimester. Choate's athletic program is very strong; some athletes have even gone on to play for the US national team in their respective sports. Despite not being a natural athlete, I was able to play volleyball for the varsity team, which was an amazing experience as we won our postseason tournament. Some of my best friendships to this day were formed on the Choate athletic fields (or inside the gym).
Art, Music, and Theatre:
1.) Describe the arts program at your school - what did you like most about it?
At many other schools, the arts tend to only serve as a supplement to students' lives. At Choate, it is placed on the same level of importance as the humanities and sciences - and the strength of the program attests to that. The chorus and chamber orchestra ensembles tour Europe or Asia every year. I played cello for the orchestra for all of my four years at Choate and received private lessons through the arts department, which helped me improve a lot as a musician.
Extracurricular Opportunities:
1.) Describe the extracurriculars offered at your school - what did you like most about it?
There is a myriad of student organizations, so there is something for everyone. In the unlikely event that there isn't a club focused on something you're passionate about, you can start your own club. Many students do so, and their clubs have grown to be very successful. Many students also discover their passion for something after arriving at Choate. I had no idea what Model UN was until I attended my first conference at Yale as a Choate sophomore. I went on to become co-president of the club and had the invaluable experiences of meeting other high school students from around the world at various conferences. Moreover, community service is promoted at Choate. The school requires each student to complete 30 hours of community service to graduate; most exceed that requirement. Since my junior year at Choate, the school has been organizing community service trips to Mexico, Guatemala, and India every year. The school also offers grants for students to participate in community service.
Dorm Life:
1.) Describe the dorm life in your school - what did you like most about it?
The dorm life revolves around people you live with and the relationships fostered with them. At Choate, there is a lot of dorm pride (especially when it comes to the annual dorm softball season). People tend to form a close bond with the people they live with, especially during freshman year. Dorms come in all sizes, ranging from 10 people living in a senior house to over 70 in Memorial House (the freshman boys' dormitory). Rooms are predominantly doubles and singles. Before entering as a new student, Choate sends you a rooming questionnaire so that the school can pair you up with the best possible roommate (or give you a single, if that is the preference you indicate on the form). After your first year, you enter the housing lottery with the people you want to live with, and luck will determine where you get to live the next year. If you're craving food after the dining hall closes, Chinese food and pizza vendors come to campus at 9pm on weeknights.
Dining:
1.) Describe the dining arrangements at your school.
All students share one large dining hall, which many say resembles Hogwarts from Harry Potter. Dining is buffet/all-you-can-eat style, and there is a very broad selection of food: salad bar, sandwich bar, soup, pizza, pasta, some kind of meat, and a different grill item each day. Generally, the quality of the food is great. The only downside about the dining hall is that it is only open during meal times and not throughout the entire day. However, students who are hungry after class can venture to the "Tuck Shop" located in the Student Activities Center. There, you can fulfill your craving for freshly made burger, fries, and wings. Twice a week for lunch, there is "sit-down lunch," in which students are assigned seating with at least one faculty member at each table. Although many students dislike this program, since it takes some potential after-lunch free time away, these lunches provide for great community, conversation, and friendship as you start talking to people you do not usually interact with.
Social and Town Life:
1.) Describe the school's town and surrounding area.
Wallingford, CT is a small, quiet town but comes with all the usual conveniences that a student needs. There is a Wal-Mart two miles from campus, and a movie theater a little further away. Both are popular destinations for Choate students on weekends. On Sundays, the school runs a shuttle service to both locations. Wallingford has great restaurants for students who need a little more variety that school food can't provide. Archie Moore's is famous for its buffalo wings, while Half Moon is an Italian restaurant frequently populated by Choaties. Those are just two of the many excellent dining options around town. Also, Wallingford has its own train station and is nicely located in between New York City and Boston. Multiple trains run everyday from Wallingford to New Haven, and from there, it's easy access to NYC or Boston by train. Day trips to NYC on some Saturdays with friends were some of my favorite memories.
2.) Describe the social life at your school - what did you like most about it?
You form very close bonds with the people you live with, but at the same time, there are also numerous opportunities to make new friends through clubs, music ensembles, and sports teams. Choate is an environment that fosters friendships that will last beyond graduation.
Daily Schedule:
Weekday
8:00 AM
AP Environmental Science
10:00 AM
International Economics
2:00 PM
Comparative Literature
3:30 PM
Go to soccer practice
9:00 PM
Study break, buy food from vendors
Weekend
11:00 AM
Wake up, go to brunch at the dining hall
4:30 PM
Practice my instrument in the Arts Center
6:00 PM
Go out to dinner in town with friends
7:00 PM
Catch a movie after dinner
9:30 PM
Go to the dance on campus
11:30 PM
Curfew, check in with advisers back at the dorm
12:00 PM
Hang out with friends in the dorm
At Choate, I felt that the faculty and administration really cared about my wellbeing and growth. Classes were mostly organized to allow for discussion and office hours were easy to attend and allowed for personal. . .
Choate has a diverse and interesting study body from all around the world. While it is an old and prestigious boarding school, I found Choate to be less traditional than some of its peer schools. . .
The community is definitely Choate's greatest asset, and the admissions folk do a great job of picking students. We're a pretty chill bunch, so you won't find much of the cut-throat competitiveness that usually accompanies. . .
Show more reviews (

27 reviews

)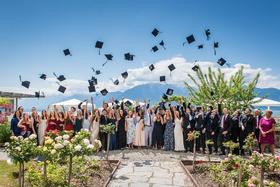 Nurturing Futures: A Journey through Boarding at Haut-Lac School in Switzerland
Nestled in the hills overlooking Lake Geneva in the French-speaking part of Switzerland lies an educational gem that embodies a unique blend of academic excellence, cultural richness and a profound sense of community. Founded over 30 years ago, Haut-Lac International Bilingual Day and Boarding School is now home to both 600 day students and a maximum of 30 boarders from around the world.
What To Wear at Your Job Interview
Navigating job interviews can be stressful, but knowing what to wear shouldn't be. Our comprehensive guide covers the essential dress code tips for men and women interviewing at boarding schools. Make your first impression count with style and professionalism.
Navigating the Modern Maze: Emerging Challenges for Boarding Schools
Explore the pressing challenges facing boarding schools, from marketing difficulties and rising insurance costs to facility maintenance and recruitment of competent trustees and teachers. This article delves into these complex issues and proposes innovative strategies to overcome them.