Reflections and Advice:
1.) What do you think makes your school unique relative to other boarding schools?
The thing that makes Thacher unique is definitely the horse program. Freshman are given a horse for the entire year and taught to ride it and care for it. I don't know of any other schools that have a similar program. Additionally, one of my favorite things about Thacher is how well balanced the kids are. They are brilliant and incredibly talented, but also fun, outgoing, and kind. Another thing I love about Thacher is the honor code. Students are taught that it is not what you do while being watched that is important but what you do when no one is looking. At Thacher you can leave your computer laying in the middle of campus and trust that it will be there when you get back. Thacher is a very safe environment to grow up in, there are no drugs or alcohol and everyone wants to see you do well.
2.) What was the best thing that happened to you in boarding school?
I can't pinpoint one thing that really stands out. Thacher definitely changed me for the better, but it was a gradual change. I've really grown up and become a better person while at Thacher. I've made friendships that I know will last for the rest of my life, and I've been exposed to all kinds of new things. Thacher really forces you to step outside of your comfort zone and try new things.
3.) What might you have done differently during your boarding school experience?
I would have been more outgoing and tried to get to know people a little bit better before forming an opinion of them. A week before graduation I got to know several different people and discovered how awesome they were, I wish that I had figured that out earlier. These four years fly by, don't take them for granted.
4.) What did you like most about your school?
The people are absolutely amazing, some of the best people you will ever meet. I love the sense of community.
5.) Do you have any final words of wisdom for visiting or incoming students to your school?
Don't overdo it on the frozen yogurt machine. Get to know your teachers, they are super cool. Be open and kind. Don't judge people before you get to know them. Enjoy every second, I wish I had more time at Thacher.
Academics:
1.) Describe the academics at your school - what did you like most about it?
The academics are definitely challenging, but manageable. It helps that the majority of the teachers live on campus and are always willing to meet with you for extra help. At Thacher the students want to see each other do well so you can always go to a classmate for help too.
Athletics:
1.) Describe the athletics at your school - what did you like most about it?
At Thacher you really do get a chance to do it all. There are tons of sports offered and you can try them all out before you find one that you love. Sports are competitive but also a lot of fun.
Art, Music, and Theatre:
1.) Describe the arts program at your school - what did you like most about it?
I did not participate in the arts program, but many of my friends did. They invested a lot of time into whatever they were doing, be it the musical or the play, but the final outcome was always fantastic.
Extracurricular Opportunities:
1.) Describe the extracurriculars offered at your school - what did you like most about it?
There are tons of clubs at Thacher! If you come up with an idea for a club all you need to do is find a faculty advisor in order to get it started. The cheese club, the ninja club, and the food appreciation club are among some of my favorites. All silliness aside, there are several student organizations that do a lot in order to raise money to help others. There are also many volunteer opportunities. You can sing to the elderly, help tutor children, feed the homeless, or work at the humane society.
Dorm Life:
1.) Describe the dorm life in your school - what did you like most about it?
Dorm life is in my opinion one of the best things about Thacher. You will live in a dorm with people of your gender and grade, as well as 5 to 6 seniors who serve as prefects. So much fun happens within the dorm! Whether it's going to a friends room to hang out, or inter dorm competitions organized by the prefects. It is so nice to be able to walk a few steps and be in your best friends room.
Dining:
1.) Describe the dining arrangements at your school.
The food is actually pretty good. Last year the students took a survey about the food and the dining hall staff is really working hard to come up with new meals that the students will like. We have formal dinner 4 nights a week, which is when everyone dresses up and sits at an assigned table with a faculty member. It is a great chance to get to know new people or faculty members that you might not interact with on a daily basis.
Social and Town Life:
1.) Describe the school's town and surrounding area.
Ojai is a pretty interesting place. There is a bus that goes to town on Wednesdays and Saturdays, so if you need something you will have the chance to get it. There are some pretty cool restaurants in Ojai, and a park in the center of Ojai that is awesome for picnics.
2.) Describe the social life at your school - what did you like most about it?
The social life is pretty great. The indoor committee plans weekend events and is comprised of several students and a faculty member. We do our best to plan fun and exciting events. Some of the favorites are dances, or dodgeball competitions. The great thing about going to boarding school and living with your best friends is that you will never be bored, you will always find something to do.
Daily Schedule:
Weekday
12:15 AM
Classes end (half day)
3:00 PM
Go to town and get food
5:00 PM
Hang out with friends
9:30 PM
Check in my prefectees and then go wander
Weekend
3:00 PM
Hang out with friends, maybe play a game of pick up soccer
1:00 AM
Wandering check in for seniors
Thacher's community on campus is unlike any other, connections at the school go beyond merely knowing every student's name but having had interacted closely with everyone whether on a camping trip, in the dining hall. . .
You cannot mention Thacher without talking about the horse program; each freshman is required to take care of and ride a horse for the first year of high school. I rode all four years and. . .
One thing that makes Thacher unique are the opportunities to form close, meaningful relationships with teachers and its commitment to helping students grow personally as well as academically. Whether it's out in the Domelands wilderness. . .
Show more reviews (

23 reviews

)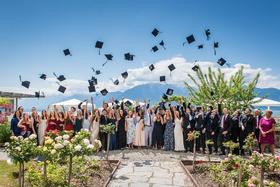 Nurturing Futures: A Journey through Boarding at Haut-Lac School in Switzerland
Nestled in the hills overlooking Lake Geneva in the French-speaking part of Switzerland lies an educational gem that embodies a unique blend of academic excellence, cultural richness and a profound sense of community. Founded over 30 years ago, Haut-Lac International Bilingual Day and Boarding School is now home to both 600 day students and a maximum of 30 boarders from around the world.
What To Wear at Your Job Interview
Navigating job interviews can be stressful, but knowing what to wear shouldn't be. Our comprehensive guide covers the essential dress code tips for men and women interviewing at boarding schools. Make your first impression count with style and professionalism.
Navigating the Modern Maze: Emerging Challenges for Boarding Schools
Explore the pressing challenges facing boarding schools, from marketing difficulties and rising insurance costs to facility maintenance and recruitment of competent trustees and teachers. This article delves into these complex issues and proposes innovative strategies to overcome them.