Reflections and Advice:
1.) What do you think makes your school unique relative to other boarding schools?
What makes Thacher the unique and impressive place it is transcends the typical academics, athletics, and artistic opportunities. It is the Honor Code, founded in the motto of Honor, Fairness, Kindness, and Truth, that shapes Thacher's identity. This code is more than just a set of words. It is a set of ideals that both the students and the faculty strive to live and to be everyday. The Honor Code creates an immediate and powerful respect between the students and the faculty, as well as amongst the students themselves. In more tangible terms, this means that classroom doors are left unlocked, visits to faculty homes for dinner or extra help are abundant, laptops pepper campus with their owners secure in the knowledge that their computer will be where they put it, and you never get a key to your dorm. The Honor Code fosters a sense of communal and personal integrity that Thacher graduates ca The relationship between faculty and students is also unlike anything. Faculty are not just your classroom teachers; they are your coaches, advisors, friends, and surrogate parents. They are easily the school's greatest resource.
2.) What was the best thing that happened to you in boarding school?
Boarding school instilled in me a distinct sense of independence and confidence. From the horse program to the academics, Thacher allowed me to take on responsibility that taught me how to lead with the right balance of authority and fun. Before Thacher, I was insecure in my opinions and self, but going away to Thacher changed that. The people at Thacher taught me that everyone has distinct voice that is worth listening to and that each individual has strengths to contribute to the community to enrich the lives of others.
3.) What might you have done differently during your boarding school experience?
While boarding schools are primarily academic, what I found at Thacher was that it was the community and my peers who made it a truly great place. Finding the right balance between work and play is key, especially at Thacher where you are kept very busy and have to learn quickly how to efficiently manage your time!
4.) What did you like most about your school?
The community was by far the best aspect of Thacher. Nowhere else have I heard of or seen a group of people more invested in making a school the best place it can be. Every person at Thacher genuinely cares about what they do and always want to hear about what you love too. The students and faculty form a group of people dedicated to excellence in every aspect of life and combine that desire with an honest interest in your well-being and self. The trust in the community is also unparalleled. That seniors are allowed to wander the campus until midnight during the week without supervision demonstrates the regard that the faculty and students have for each other.
5.) Do you have any final words of wisdom for visiting or incoming students to your school?
At Thacher, appreciate the sunsets. Whether you are in the middle of soccer practice on the field overlooking the valley or with friends at the outdoor chapel, don't forget to appreciate the natural beauty of the place that is Thacher. The rugged mountains and trails will be some of your best teachers, so take the time every now and then to really look at the gorgeous valley around you. The smell of horses, orange blossoms, and a bit of dust will stay with you forever.
Academics:
1.) Describe the academics at your school - what did you like most about it?
Thacher's academics are undoubtedly challenging. They push you everyday to consider different perspectives, defend your ideas, and to squeeze every last drop of knowledge from the material. The best part of studying at Thacher was the small classes. The biggest class are never more than 12 people, and I even had a one on one class my junior year. You never feel like you are lost in a sea of people, and you get the amount of individual attention you need to understand the topics. The academic support network is also superb, ranging from informal peer tutoring to eager offers of help from faculty themselves. There is little academic competition among students as Thacher does not rank and the community is one of mutual support among the students.
Athletics:
1.) Describe the athletics at your school - what did you like most about it?
I loved that at Thacher you didn't have to have previous experience to play a sport. The athletic program encourages everyone and anyone to jump right in and try something new. From rock climbing to soccer to cross country, Thacher has a variety of teams at different levels that make sports accessible to everyone. The teams are competitive within our league, with most teams either winning the league or coming second in most years.
Art, Music, and Theatre:
1.) Describe the arts program at your school - what did you like most about it?
Like sports, the arts at Thacher encourage everyone to participate. My personal experience was primarily behind the scenes in the theater. Thacher's theater facilities are stunning, with equipment nicer than that of many colleges. The school puts on a major fall play, winter musical, and spring show. The spring show is often written by students and directed by students. Known as Spring Sing, it's motto is "no budget, no cuts" which means that anyone who wants to can participate. Thacher's Jazz band is also phenomenal, as are the chamber singers who routinely earn high marks at choral festivals.
Extracurricular Opportunities:
1.) Describe the extracurriculars offered at your school - what did you like most about it?
The variety of options are stunning for a school of Thacher's size. While small, opportunities abound. If Thacher doesn't have it, with some effort you can create a club or organization that you want to see there. As an example, the Environmental Action Committee, now a major group on campus, was a student initiated club. The Horse Program and the adjacent packing program are wholly unique. All freshmen are required to ride for the whole year, and many choose to pursue the program further as upperclassmen. Most Thacher freshmen arrive with no horse experience, and the horse program does a wonderful job of turning greenhorns into riders by the end of the year. Much like with athletics and arts, extracurriculars, from community service to the school paper, are open to everyone and take advantage of the vast talent of the student body.
Dorm Life:
1.) Describe the dorm life in your school - what did you like most about it?
Dorm life at Thacher provides the foundations for lifelong friendships and unforgettable memories of fun. Dorms are arranged by grade and gender (i.e. all the freshman girls live together, as do the sophomore boys) which creates strong bonds between classmates outside of the classroom. Hanging out in friends rooms and staying up a bit too late talking about Thacher, big ideas, or utterly silly things was definitely one of the best parts of Thacher. Each dorm has a faculty dorm head who organizes group activities and a group of faculty who advise groups of students within that dorm.
Dining:
1.) Describe the dining arrangements at your school.
As institutional food goes, Thacher does very well. The dining hall works to get local organic produce when they can, and has increasingly focused on sustainability when preparing the menu. The staff works tirelessly to provide a variety of options (including vegetarian!) at every meal. The omelette bar on the weekends is also top notch, and the brunch style weekend mornings make the dining hall a great place to socialize and talk to people from every sector of the student body. Four nights a week, everyone dresses up for Formal Dinner and sits at an assigned table with a faculty. This was one of my favorite Thacher traditions as it allows you time to take a break from the pace of the day and chat with your fellow students and teachers.
Social and Town Life:
1.) Describe the school's town and surrounding area.
Ojai, while small, offers lots of opportunities to explore. From grabbing lunch at the Thai restaurant to snack runs at the grocery store, there's a lot to do and Thacher students head into town with decent frequency. The Sunday morning farmer's market is the best, so make sure to catch the biweekly Sunday bus to grab some delicious local produce. Thacher sponsors a bus to Ojai Wednesday and Saturday afternoons, and you can often find faculty willing to take you into town as well. Many students also like to jog into town and catch the bus back.
2.) Describe the social life at your school - what did you like most about it?
You never have any reason to be bored at Thacher. The indoor committee organizes weekend events that range from dances to coffee houses to movie nights to buses to Santa Barbara. And even if you don't like the offerings that weekend, you live with your friends so you're never without fun!
Daily Schedule:
Weekday
6:45 AM
Wake up and head to the barns to muck
10:45 AM
All-School Assembly
7:30 PM
Study Hours until 9:30
10:00 PM
Dormitory Check In
12:00 PM
Wandering Check In & Bedtime
Weekend
6:30 PM
Set-up for the evening's event
8:30 PM
Open house at the Headmaster's complete with cookies and lemonade
11:00 PM
Dormitory Check In
12:00 PM
Head back to the dorm after wandering
1:00 AM
Bedtime after some time with friends in the dorm
The tight knit community is a really rare quality at high schools in general but especially boarding schools. The relationships with teachers and students is so close and the fact that there is very few. . .
The horse department at Thacher is both unique and outstanding. Unique because the school strives to keep the cowboy culture alive with over 100 horses and a fully outfitted western riding center. It is outstanding. . .
Thacher's community on campus is unlike any other, connections at the school go beyond merely knowing every student's name but having had interacted closely with everyone whether on a camping trip, in the dining hall. . .
Show more reviews (

23 reviews

)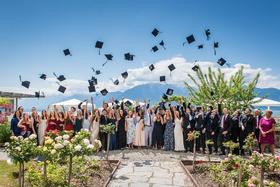 Nurturing Futures: A Journey through Boarding at Haut-Lac School in Switzerland
Nestled in the hills overlooking Lake Geneva in the French-speaking part of Switzerland lies an educational gem that embodies a unique blend of academic excellence, cultural richness and a profound sense of community. Founded over 30 years ago, Haut-Lac International Bilingual Day and Boarding School is now home to both 600 day students and a maximum of 30 boarders from around the world.
Navigating the Modern Maze: Emerging Challenges for Boarding Schools
Explore the pressing challenges facing boarding schools, from marketing difficulties and rising insurance costs to facility maintenance and recruitment of competent trustees and teachers. This article delves into these complex issues and proposes innovative strategies to overcome them.
What To Wear at Your Job Interview
Navigating job interviews can be stressful, but knowing what to wear shouldn't be. Our comprehensive guide covers the essential dress code tips for men and women interviewing at boarding schools. Make your first impression count with style and professionalism.