Reflections and Advice:
1.) What do you think makes your school unique relative to other boarding schools?
The biggest difference between St. Andrew's and any other school is the people. The teachers, administrators, and staff are all there to support and encourage the students, inside and outside of the classroom. One of my close mentors was at some point or another my English teacher, basketball coach, academic adviser, lacrosse coach, and all the time my friend. Needless to say the relationships created between the faculty and students are lifelong bonds. This sense of community is something I feel every time I go back and visit the school, even three years after I graduated.One unique aspect of St. Andrew's is the small size. With under 300 students, I was able to get to know not only my own classmates, but also become close friends with students both older and younger than me. Also, since all students board, there is no division among students, or anticipation to get off campus after classes end. In fact, there is very little anticipation to get off campus at all, weekends or otherwise, because students enjoy that fun and relaxing time with their close friends on campus.
2.) What was the best thing that happened to you in boarding school?
I feel that I became more confident at St. Andrew's and I started to know myself better. I think the school helped me to realize the values that are most important to me, and that is where I started to live by those values.
3.) What might you have done differently during your boarding school experience?
I wouldn't have done anything differently. My advice is to work hard, have fun, and enjoy the people around you. Four years is far too short.
4.) What did you like most about your school?
I tell my friends and family now that going to St. Andrew's was the best decision I ever made. It shaped me as a person, and I cannot give enough credit to the teachers and faculty there. I can only speak for myself, but I truly loved every minute.
5.) Do you have any final words of wisdom for visiting or incoming students to your school?
St. Andrew's doesn't end when you graduate. My class is extremely close and we still get together every as much as we possibly can. I know that these are close friends for life; these are the people who will be in my wedding party-the people my kids will call "aunt" or "uncle" even though there is no blood relation. I owe so much to the school, and cannot urge you enough to give it a chance.
Academics:
1.) Describe the academics at your school - what did you like most about it?
I loved the round table set ups of each classroom. All of my classes were discussion based. Forget about raising your hand, prepare yourself to have to interrupt your classmates to get a word in. It was incredible to see the transformation of my classmates and myself as we learned how to learn, think and question our studies throughout our four years. My senior year, I had two particularly lively classes. One was a religious studies class and the other was a global studies class which included the study of relatively current events. I can distinctly remember instances in both classes when students were first discussing, then debating, then nearly arguing about different issues. The passion of the teachers at the school is certainly contagious. It was in moments like those that I felt most confident- our teachers prepared us to become engaged global citizens, who know their stance and could defend something they believe.The other aspect of academics that one may not anticipate is the continuance of academic discussions past the 4:00 bell. Since the students are living with their classmates, it is not uncommon for discussions to continue on dorm, at the dinner or lunch table, or in a teacher's apartment late at night. This aspect of St. Andrew's made me feel the strongest motivation for my studies.
Athletics:
1.) Describe the athletics at your school - what did you like most about it?
I spent 12 seasons in varsity athletics at St. Andrew's, and now play soccer and lacrosse for my division III college. St. Andrew's is competitive in all of its sports, even at a state-wide or even nation-wide level for some. However, there is room at St. Andrew's for the beginner. Because of the small size, St. Andrew's needs the participation of as many students as possible, which makes teams very welcoming for inexperienced players. Both my coaches and the older players on the teams helped me develop as an athlete.I must also mention my extreme jealousy for the new Sipprelle Field House at St. Andrew's. All students can use this facility, and I know that it has invigorated the athletics program even more. This field house also received the highly regarded LEED gold certification, meaning it incorporates many environmental initiatives.In addition to organized sports, the day to day active lifestyle of St. Andreans must be mentioned. Some of my best memories are of playing Frisbee on the front lawn, walking through the beautiful trails along the pond, canoeing or swimming on the pond, and playing in the indoor soccer league in the winter. The scenery around the school makes it a fantastic place to play and enjoy, often in an "athletic" avenue, whether or not there is a coach and referee present.
Art, Music, and Theatre:
1.) Describe the arts program at your school - what did you like most about it?
The O'Brien Arts Center is one of the most inspiring places for me at St. Andrew's. The facilities alone are fantastic. The stage is acoustically stunning. There is a gallery for highly anticipated student art shows, as well as visiting artists. There are also studios and practice rooms that are always open for student use.I came into the school having some amateur Cello experience, and left as a two year All-State musician. The time and energy invested by the music staff at St. Andrew's are responsible for this transformation. I was able to take private lessons and play in the orchestra and chamber music groups. Another unique experience was playing in the pit orchestra for two school musicals.There are many opportunities for musicians at the school, and again, beginners are always welcome. As with athletics, due to the size of the school, students are encouraged to pursue their interest in music and teachers are more than willing to offer private lessons. There is great support from the campus for the performances or shows, whether theater, instrumental, voice, or studio art.
Extracurricular Opportunities:
1.) Describe the extracurriculars offered at your school - what did you like most about it?
There are so many extracurricular activities that enhance the student experience. One highly valued commitment at the school is to community service. When school ends after lunch every Tuesday, students pile into buses and head to various local school for mentoring or tutoring, or jump in the pool to teach students with disabilities how to swim. Some students visit the elderly at a nursing home nearby.There are countless clubs that allow students to gather with their classmates and teachers around a specific cause or hobby. Each student can find a group of people as passionate as they are, and these activities help students' interests grow.
Dorm Life:
1.) Describe the dorm life in your school - what did you like most about it?
The students at St. Andrew's mostly live in doubles throughout their school career, with roommates assigned randomly the first year and then chosen after that. The girls and boys dorms are physically separated, and visitation is strictly limited to the common rooms. There are faculty members who live on each hall in an attached apartment, who serve as "dorm parents".I loved the fact that seniors are present on every hall. As a third former (ninth grade), I admired my seniors and went to them for advice often. Throughout the later years, while I still went to seniors for advice our relationship became one of close friendship.I served as a Residential Leader at St. Andrew's, and now have served two years as a Residential Advisor at my college. I must say that the dorms or halls I was a part of at St. Andrew's were much closer than the halls I have been a part of in college. The students really care about each other, and dorm life is one place where that sense of community is evident.
Dining:
1.) Describe the dining arrangements at your school.
The dining service was OK when I was at the school, and since then they have had a new company come in, which I have heard is extremely good. Even when I was there, there were always staples I could depend on if I didn't like the main meal- peanut butter and jelly, yogurt and granola, the salad bar with all the toppings, etc.The sit down lunch on weekdays (except Wednesday) was definitely my favorite part. You are assigned to a different table every rotation (about 6 weeks) with two faculty members and eight students (approximately two from each grade). These lunches often made my day, since I got to know students I wouldn't normally have an extended conversation with, and the faculty members always brought an interesting perspective. The conversations could be silly or serious or educational or all of the above, but it was always a relaxing and fun part of the day.
Social and Town Life:
1.) Describe the school's town and surrounding area.
About a mile from the school is downtown Middletown, including all of the restaurants and shops. Middletown has the essentials, though not a lot of extra. However, there are always weekend trips to the nearby Christiana Mall or People's Plaza for more stores, movies, or whatever students might want.The immediate surrounding area is the pond, woods, and cornfields. The scenery is beautiful. It is great for a walk or run, or just exploring. The grounds of the school offer such a peaceful escape, something I loved then and really miss now.
2.) Describe the social life at your school - what did you like most about it?
St. Andrew's is small, so everyone knows everyone else, and what is happening in their life. However, because it is small and we all live together, most everyone gets along. I can't say that there was anyone I wasn't friends with at St. Andrew's. I had my closer groups of friends, but overall the school is full of good, caring people, and it is easy to enjoy the social life in a place like that.
Daily Schedule:
Weekday
4:00 PM
Practice Begins (Sports or Play)
6:00 PM
Practice Ends (Sports or Play)
Weekend
4:00 PM
Hang out on the Front Lawn
St. Andrews not only has the most incredible ethos but uses that ethos among the student body to do good. The small student population allows no one to slip under the cracks, and it's the. . .
I think that the small student body and close knit community of St. Andrew's makes it very unique. With a student body of only about 300 students, you know everyone's name and they know yours. . .
St. Andrew's feels like a second home to me. The teachers are not only dedicated to education and fostering critical thinking in all disciplines, but also in making the school a comfortable and friendly environment. . .
Show more reviews (

10 reviews

)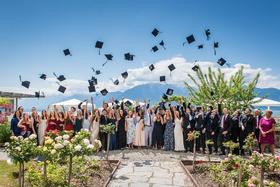 Nurturing Futures: A Journey through Boarding at Haut-Lac School in Switzerland
Nestled in the hills overlooking Lake Geneva in the French-speaking part of Switzerland lies an educational gem that embodies a unique blend of academic excellence, cultural richness and a profound sense of community. Founded over 30 years ago, Haut-Lac International Bilingual Day and Boarding School is now home to both 600 day students and a maximum of 30 boarders from around the world.
What To Wear at Your Job Interview
Navigating job interviews can be stressful, but knowing what to wear shouldn't be. Our comprehensive guide covers the essential dress code tips for men and women interviewing at boarding schools. Make your first impression count with style and professionalism.
Navigating the Modern Maze: Emerging Challenges for Boarding Schools
Explore the pressing challenges facing boarding schools, from marketing difficulties and rising insurance costs to facility maintenance and recruitment of competent trustees and teachers. This article delves into these complex issues and proposes innovative strategies to overcome them.