Reflections and Advice:
1.) What do you think makes your school unique relative to other boarding schools?
The most obvious difference between Webb and other schools is our unique set-up. We are three separate institutions on one campus- we have a school for boys, a school for girls, and an accredited museum of paleontology. This implies that Webb understands the learning differences that gender/sex brings and that we are extremely strong in the sciences and research. Webb is pretty cutting edge in this regard. More importantly, what I found during my time at Webb is that teachers take a very holistic approach to education. Rather than simply teaching me the subject, all my teachers taught me about life. We have a very strong honor and integrity-based curriculum that just permeates through everything at Webb.
2.) What was the best thing that happened to you in boarding school?
Webb was, and still is, a very safe place. I had the ability to test my ideas and try my hand at things I normally wouldn't have done. More importantly, Webb was a controlled environment where I could fail, sometimes spectacularly. In fact, I was encouraged to try/test crazy ideas and fail from time to time. Did some of my classroom ideas and projects fail? Absolutely. But I discovered how to pick myself up and learning this about yourself at such a young age is truly empowering. When I got to college, I never hesitated in classroom discussions or projects. I already knew that whatever happened, I would be successful in the end.
3.) What might you have done differently during your boarding school experience?
For the day students- spend more time on campus. It's very easy for day students to arrive just before their first class and leave right at 5PM. Spend breakfast and dinner at Webb and get to know the boarders. Spend some time at Webb just hanging out with friends on the weekends.For the boarders- explore. Get out. Ask faculty and staff to take you out to LA or the beach. There are plenty who are just waiting to be asked.For everyone, cherish the friendships you make at Webb. I promise the friends you make at Webb will last the rest of your life. And appreciate the "only at Webb experiences." Go on a Peccary Trip or try to go on a Spring Break Trip. You won't regret it.
4.) What did you like most about your school?
I loved everything about Webb! I loved the learning environment, the campus, but I loved the people most of all. It's the faculty and students that really makes Webb a special place.
5.) Do you have any final words of wisdom for visiting or incoming students to your school?
If you're even remotely thinking about applying, just apply. If I could do Webb over again, I'd do it again in a heartbeat. It's just such a special experience it just can't be replicated. So if you're thinking about going, visit a class and chat with some students. And if you get a chance, make sure to visit the chapel. Walk through the aisles, look at the stained glass windows, and just revel in the stillness.
Academics:
1.) Describe the academics at your school - what did you like most about it?
All classes are pretty rigorous at Webb. That should be expected from a top-tier boarding school. However, the coursework is definitely manageable. You just need to have good time management in order to get all of your work done. That being said, the intensity of the curriculum is all dependent on the student. It's possible to go through Webb taking few, if any, Honors or AP classes. It's also possible to graduate taking as many as 10 (or maybe more by now) AP classes. It really depends on the student and how much they want to get out of their education.The best part of the classroom experience is definitely the Harkness-style discussions. Classroom teaching is less lecturing than it is about getting the student actively involved in the learning process. I still remember certain discussions we had in my AP Lit class my senior year. This is certainly helped by the small classroom size and the amazing professors we have at Webb.My final comment about academics is the hands-on approach that most teachers take at Webb. Rather than learning statically, teachers really encourage students to learn dynamically. This often means hands-on projects using real data and less menial busy work assignments. I still remember playing with the frictionless cars in Freshman Physics and teasing out the data in Excel. The Honors Museum Research class has a definite spot in my heart as learning the fundamentals of geologic principles helped in my senior thesis in college.
Athletics:
1.) Describe the athletics at your school - what did you like most about it?
Webb is no athletic powerhouse- let's get that straight. But we're getting better. Students don't really come to Webb for the athletics- they come for the academics and the sports is a nice bonus. Webb is really trying to get better at this though. We've even had a lot of success in recent years. I remember multiple track league championships during my tenure and the soccer team took a run at CIF my senior year. So yes, we do have some amazing athletes at Webb. We always have alums play at D3 schools with the occasional D1 athlete every other year.What I enjoyed most about the sports program is the camaraderie between students and faculty. I made my deepest friendships on the sports teams. I think what makes Webb athletics special is that the coaches used sports as a framework to teach life lessons. As corny as it sounds, I really did learn a lot about integrity and honesty while playing golf for Webb.
Art, Music, and Theatre:
1.) Describe the arts program at your school - what did you like most about it?
I was never super involved with the Arts or Theater. I was in one play my freshman year- The Crucible by Arthur Miller. I had a small part with about 15 lines so that was the sum of my experience in this department. Our facilities are pretty great for our drama kids and Webb recently built a black box theater for performances.
Extracurricular Opportunities:
1.) Describe the extracurriculars offered at your school - what did you like most about it?
I was most involved with the Honor Committee and Dorm Council my junior and senior years. The last major leadership program is ASB, or the student government. These three organizations are significant time investments, but easily contribute to making and developing leaders. My involvement with the Honor Committee essentially made me the leader I am today. I taught honor classes to the underclassmen, made school-wide announcements in assembly, and had to operate in a non-biased objective manner in cases. If not involved with these three, there are plenty of other extracurriculars- clubs, service organizations, sports teams, afternoon activities. The possibilities are really endless!
Dorm Life:
1.) Describe the dorm life in your school - what did you like most about it?
I was a day student but I always envied the boarders. I really wanted to be a boarding student because it's such a close-knit community. The faculty residents really play a large role in helping all the boarders feel at home. Even though I was a day student, I have very fond memories of my overnight visits to the dorms and staying with friends. It's a great experience and one I highly recommend.
Dining:
1.) Describe the dining arrangements at your school.
Webb has one dining hall on campus. The hours are pretty standard: 7-8:30 AM, 11:30-1PM, and 5:30-7PM. The food is actually pretty good here. In the past year Webb has actually made some pretty big pushes for more sustainable foods. I think now some of the smaller dishes are cooked with products that are grown in the Webb farm. In my time, the food was just so-so. The eating schedule didn't change a whole lot so it felt monotonous at times. After going to college, I now realize how great the food really was/is. For a high school dining hall, you really can't ask for better. Since I've left, the dining hall has added a noodle bar, soup bar, panini station, and an expanded salad bar. I visited and couldn't believe how many options there are now! It was awesome. And currently there is a bread and fruit station that is always open. I wish I had the ability to make bagels whenever I wanted during school hours. Very jealous of current Webbies.Although I was a day student, my favorite part about eating at Webb, especially dinners, was seeing all the faculty and their families. It made the school feel more like home and less like an institution. Seeing young faculty children (and actually interacting with them!) made the environment more family-like.
Social and Town Life:
1.) Describe the school's town and surrounding area.
Claremont. You either love it or hate it. I, for one, loved Claremont and decided to stay in the area for college. The city center, quaintly known as "The Village", is located about 5 minutes away. On a bike, this was about a 30 minute round trip. Claremont itself is a quiet little college town full of either retirement-aged or college-aged people. Everyone I met in Claremont is extremely nice and had some great times exploring both the Village and the Claremont Colleges. Having the Colleges so close is a great academic resource and I attended talks at Pomona and Harvey Mudd while I was a student.It's really hard to say anything bad about Claremont. It's really got everything. Hiking trails, ski slopes, beaches, and Los Angeles all within a 45 minute drive. The weather is almost always gorgeous (if you count the five days of rain we get). As a big hiker, having Mt. Baldy and the San Gorgonio Wilderness so close by made for some epic overnights.
2.) Describe the social life at your school - what did you like most about it?
No cliques! I'm so glad I never had to deal with the stereotypical Mean Girl situation at Webb. While there were definitely certain friend groups, I never felt like there was a social hierarchy. It wasn't uncommon to see jocks hanging out with drama kids. It was great. I honestly felt like I could hang out with any friend group and they would accept me. No matter what, I always had friends on campus. For someone who was a little socially uncomfortable as a freshman, this environment really helped me come out of my shell. I found the overall campus atmosphere to be welcoming.
Daily Schedule:
Weekday
8:15 AM
Get to Webb, have breakfast, and check-in
10:15 AM
Assembly/ Chapel Talk/ Advisory
3:00 PM
After school snacks
3:30 PM
After school activities and sports
6:30 PM
Study with friends in the Library
8:00 PM
Go home (and again, most day students go home at before 5:30PM)
Weekend
11:00 AM
Get to campus to hang out with friends
11:30 AM
Eat lunch- Burger Bar!
12:00 AM
Play video games for the next five hours with friends. Or take a Webb trip off-campus with friends
5:30 PM
Dinner at Webb. Real Ice Cream!
6:00 PM
Go play indoor soccer at the gym or ultimate frisbee on one of the fields.
8:00 PM
Go home for the night
The classroom setting of a round table discussion instead of lecture based teaching. I believe it really puts the pressure on the student to understand what is going on in the class and bring an. . .
Webb has a clear focus on community and it really shows. When you are a student you become best friends with the faculty and your fellow students, traversing the boundaries of what most schools can. . .
The Webb Schools is unique in many ways different than other boarding schools. One being that it is a boy's school and a girl's school on one shared campus. This allows the freshman and sophomore. . .
Show more reviews (

26 reviews

)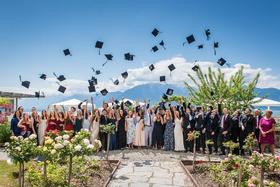 Nurturing Futures: A Journey through Boarding at Haut-Lac School in Switzerland
Nestled in the hills overlooking Lake Geneva in the French-speaking part of Switzerland lies an educational gem that embodies a unique blend of academic excellence, cultural richness and a profound sense of community. Founded over 30 years ago, Haut-Lac International Bilingual Day and Boarding School is now home to both 600 day students and a maximum of 30 boarders from around the world.
What To Wear at Your Job Interview
Navigating job interviews can be stressful, but knowing what to wear shouldn't be. Our comprehensive guide covers the essential dress code tips for men and women interviewing at boarding schools. Make your first impression count with style and professionalism.
Navigating the Modern Maze: Emerging Challenges for Boarding Schools
Explore the pressing challenges facing boarding schools, from marketing difficulties and rising insurance costs to facility maintenance and recruitment of competent trustees and teachers. This article delves into these complex issues and proposes innovative strategies to overcome them.