Reflections and Advice:
1.) What do you think makes your school unique relative to other boarding schools?
SBS truly has a community; a close knit space that allows any and everyone to grow however they please. The support I found in so many of the teachers, and on so many different occasions, made me feel like anything I wanted to chase and accomplish was worth it. This isn't your typical prep school. This is a home, a family, a unit that will follow you no matter where you go.
2.) What was the best thing that happened to you in boarding school?
I truly cultivated my courage, my ambition, and my voice at SBS. I am forever thankful.
3.) What might you have done differently during your boarding school experience?
Get ready to have a great time! Be open. Take all you can get, because those years go by fast!
4.) What did you like most about your school?
Again, the community. The joy of being member of it, the feeling of togetherness. The shared laughs, the shared tears. We were united women.
5.) Do you have any final words of wisdom for visiting or incoming students to your school?
SBS is great to those who want to be there. I knew right when I was driving up that drive way for the first time that I was going to belong. During my four years, I never felt like an outsider to the community. The warmth, earthliness, and harmony of the school is no hoax, so when you feel it for the first time, believe it.
Academics:
1.) Describe the academics at your school - what did you like most about it?
The teachers really made the entire classroom experience worth it. They love what they teach, and it shows in their deep desire for each and everyone of their students to succeed and flourish. The workload was very manageable, and it obviously increased as I moved up in grade level. When things got difficult, I knew I always had my classmates by my side, next door, ready to help me. At SBS, I never had shame in asking a friend for help. The majority of us never did. That was just how it worked there!
Athletics:
1.) Describe the athletics at your school - what did you like most about it?
Athletics at SBS is a lot more focused on self-improvement and team building. In the recent years, SBS has become stronger in it's competitive athletics, with our school being a part of more leagues and tournaments. Learning the game was a huge part of my athletic experience at SBS. I had never played on a team prior to coming to school there. But by the end of my time, I was a member of the Varsity Soccer team and the Varsity Lacrosse team.
Art, Music, and Theatre:
1.) Describe the arts program at your school - what did you like most about it?
Much like athletics at SBS, the visual arts, music, and theatre program welcomes new comers. I was a member of chorus for the last two years of my time at SBS, and I learned so much about singing and music. I improved and became knowledgable in ways that I honestly would never had thought of before hand, especially since I never really took my singing abilities so seriously.
Extracurricular Opportunities:
1.) Describe the extracurriculars offered at your school - what did you like most about it?
Everything was very student oriented. An organization or opportunity was strongest when student involvement was strongest. So there was always room to create a new group, or even expand an old one.
Dorm Life:
1.) Describe the dorm life in your school - what did you like most about it?
Dorm life was so much fun. Each residential hallway was organized by what grade you were in, which I think worked very well. Each hall also had a common room with a fridge and a t.v. If you get hungry at night before lights out, there are vending machines. I always went around looking for food from friends, and I usually got lucky!
Dining:
1.) Describe the dining arrangements at your school.
Dining is buffet style, and seating is up to you.
Social and Town Life:
1.) Describe the school's town and surrounding area.
Greenfield is a very quiet town, so coming from New York City I could not really say it was my favorite. But nevertheless, it was a quiet town with shops that are unlike any others I have come across. For instance, Thai Blue Ginger has some of the best food ever, hands down. Fosters has awesome snacks that my French teacher used to bring us. Those are my top two picks for Greenfield, although there is much more!
2.) Describe the social life at your school - what did you like most about it?
My friends were always more than enough. When we came together, there was nothing but laughs and great conversation.
Attending Stoneleigh-Burnham was one of the greatest experiences I had as I journeyed toward becoming an independent, self-motivated young woman. Unlike the standard high school and other boarding schools, Stoneleigh offers a greater acceptance of. . .
SBS provided two things I was looking for in a boarding school: a small tight knit community and a rigorous academic program combined with opportunities for social growth as well. . .
The reason I chose my school was because I am an equestrian and the barn at my high school was at the end of the driveway. The reason I stayed was because I found a. . .
Show more reviews (

12 reviews

)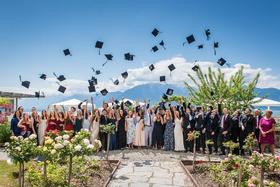 Nurturing Futures: A Journey through Boarding at Haut-Lac School in Switzerland
Nestled in the hills overlooking Lake Geneva in the French-speaking part of Switzerland lies an educational gem that embodies a unique blend of academic excellence, cultural richness and a profound sense of community. Founded over 30 years ago, Haut-Lac International Bilingual Day and Boarding School is now home to both 600 day students and a maximum of 30 boarders from around the world.
What To Wear at Your Job Interview
Navigating job interviews can be stressful, but knowing what to wear shouldn't be. Our comprehensive guide covers the essential dress code tips for men and women interviewing at boarding schools. Make your first impression count with style and professionalism.
Navigating the Modern Maze: Emerging Challenges for Boarding Schools
Explore the pressing challenges facing boarding schools, from marketing difficulties and rising insurance costs to facility maintenance and recruitment of competent trustees and teachers. This article delves into these complex issues and proposes innovative strategies to overcome them.