Reflections and Advice:
1.) What do you think makes your school unique relative to other boarding schools?
The community dynamic is certainly what makes Westtown stand out the most. Students from an international background (some from Africa, Europe, Asia, Middle East, West coast, East coast, and all from a variety of backgrounds come together and form significant bonds. The entire campus is over 600 acres of forest, lake, sports fields and farmland. Another example of students working together is the work-job program that requires EVERY single student to contribute to bettering the community on a daily basis (ie cleaning dishes, cleaning classrooms, helping on the farm).
2.) What was the best thing that happened to you in boarding school?
Westtown was by far the best decision I ever made, even more so than the university I chose! Due to Westtown's independent, international community I was comfortable moving to London, England for university (yes, for my full four years). If I hadn't gone to Westtown I don't think I would have had the confidence to move as a 17 year old teenager across the ocean, especially since I was born and raised just an hour south of Westtown. Westtown's community is unparalleled with any other community I've been a part of. Additionally the friendships I made there are closer than any of my college friends. In fact many of my Westtown friends have visited me in London as they've moved/studied abroad. The Westtown network is very open, across ages, so if you find another person who graduated from Westtown there is an instant connection.
3.) What might you have done differently during your boarding school experience?
Bring artwork or little mementos from home to decorate your room with, it makes it feel homier.
4.) What did you like most about your school?
This question is almost impossible! I'd say it would be a tie between the sense of community and how it prepared me for university.
5.) Do you have any final words of wisdom for visiting or incoming students to your school?
Be sure to go to any and all weekend events that take your fancy, it's the best way to meet new people and expand your horizons.
Academics:
1.) Describe the academics at your school - what did you like most about it?
The academics at Westtown were certainly rigorous but the focus wasn't as much on tests, multiple choice and GPAs (in fact Westtown doesn't issue GPAs due to their competitive nature), but rather on critical thinking and analysis, Harkness Discussions, and debates. Being in my third year at university these skills served me better than any other high school could have prepared me for.Another great aspect of the Upper School program is the variety of classes offered. Junior year I had the privilege of taking a Business and Society course which wound up leading to an internship immediately upon graduating from Westtown. One of the most stimulating courses I took was Hiroshima to 9/11, a history course many students take that asks the hard questions and is centered around debate and Harkness Discussions. A required history course for all freshman at Westtown is Peace and Justice which introduces young minds to the ideas behind peace-makers and readies students for the many debates and respectful disagreements that are encouraged amongst peers.The teachers at Westtown are one of a kind. In accordance to the Quaker values, all teachers are called by their first name, placing everyone on equal-ground, students and teachers alike. Due to the boarding aspect of the program many of the teachers live on campus with their families. Seeing your teachers each morning with their children in their pajamas enjoying breakfast in the same dining room offers a comfortable environment. In addition to challenging students, teachers at Westtown always encouraged us to challenge them as well. This give and take is what made the classroom environment unique and offer complete preparation for a university classroom debate.The workload at Westtown certainly is quite difficult, but living in a community where everyone is working hard and their are countless resources (the library, teachers, peers, etc.), completing work is certainly possible. I'd argue that their wasn't as much a competitive environment at Westtown as much as a team mindset.
Athletics:
1.) Describe the athletics at your school - what did you like most about it?
I was not very active in the athletics program at my school, so I wouldn't be the best alumni to speak to this aspect. Sports are required everyday, five days a week from 3:30-5:30. This is right after classes and offers students the opportunity to burn off stress and enjoy their peers and teachers in a different environment. Our athletic center is only a few years old and is equipped with a state of the art training floor, dance studio, basketball courts, pool, and even a room devoted to wrestling (one of our most popular sports.
Art, Music, and Theatre:
1.) Describe the arts program at your school - what did you like most about it?
Although I wasn't incredibly active in the Theatre Arts program, those who were, were clearly quite passionate and very respected. Throughout my years at Westtown I was able to study Film Photography due to Westtown's phenomenal darkroom facilities. Additionally the clay program and studio art program are quite active at Westtown. The Art Center at Westtown is large and well equipped with a choir room, many art studios, music practice rooms (for students to use whenever they please), a darkroom (with wet room), clay studio, band room, Green Room, Set and Design Room (for theatre productions), and a giant (recently updated) theatre with a professional lighting and sound booth. Most of the student performances are required for students to attend so to appreciate the hard work of others in the community. This includes: the Fall Play, Winter Musical, Senior Play, Faculty Play, Dance Recitals and the many musical performances.
Extracurricular Opportunities:
1.) Describe the extracurriculars offered at your school - what did you like most about it?
IF you can think of a student organization, it's probably available at Westtown. If not, you can start your own club, which is what I did when I was a sophomore. There is a lot of community support to be active in student organizations. I'd say the average student is active in 2-4 student organizations. Extra-curricular participation is so high because with the majority of students living on campus (in Upper School) this allows for clubs to organize meetings and events in the evenings and on the weekends.Additionally volunteering opportunities are plenty and often. One of the best services is every week a faculty member organizes Weekend Activities. These are all posted on a bulletin board in the main hallway towards the middle of the week. 99% of the activities are free (all transportation and whatnot is free) which means they are assessable for all. Weekend Activities usually include trips to the mall, movies, grocery shopping (for dorm room snacks), museums, theatre shows, local volunteering opportunities, coffee shop trips, etc. Every weekend there is always something to do, even if it's on campus (ie hot chocolate social in the dinning hall, farming on the mini-farm, etc.).
Dorm Life:
1.) Describe the dorm life in your school - what did you like most about it?
Dorm life was essentially the highlight of my Westtown experience. Having attended Westtown throughout middle school and upper school, once I was finally able to move on dorm sophomore year I felt completely integrated into the community. The Dining services all three meals and a mid day snack and late night snack so you're never hungry. The dining room is set up family style with a series of wooden kitchen tables and a buffet bar. The bar includes an all organic salad bar, always a homemade vegetarian option, meat-eater option, hand fruit and Westtown-made breads. Breakfast was always my favorite meal here which often included cereals, pancakes or waffles, eggs (you can order omelets even after MFW on Sundays!), veggies, and more. The rooms are cozy but many have loft beds, situating both beds on a loft (with a ladder leading up) leaving the bottom floor open for furniture. Each room is fitted with two beds, two dressers, a closet or wardrobe, two desks, and two chairs. Often students will bring couches, rugs, bookshelves and whatnot to make the space theirs. Room selection is a matter of lottery within your grade (seniors first pick, then juniors, then sophomores, etc.). Better yet, besides the freshmen housing, all the dorms are situated on the second and third floors of the main hall. This means you can literally roll out of bed and into the dinning room and then to class (this is especially nice during Pennsylvania winters when it's snowing out!). Each dorm hall has a series of dorm parents that are on-duty every night as well as student-elected prefects who are peers in these leadership positions. The dorms are situated in the old main brick building from the 1800s so you can feel the time and classic touches that you just don't get with newer buildings. Each one is equipped with a lounge with big couches and computers with printers. Additionally are communal bathrooms and laundry rooms so your laundry doesn't have to leave the floor. The laundry facilities are free, so no need for quarters here!
Dining:
1.) Describe the dining arrangements at your school.
I described the dining experience in the dorm experience above. There was always a vegetarian option and an open-kitchen policy.
Social and Town Life:
1.) Describe the school's town and surrounding area.
The surrounding area of Chester County is absolutely beautiful. 20 minutes away is the adorable town of West Chester which offers great opportunity for weekend trips. Around the school in general is farmland and neighborhoods. Only 40 minutes away is the city of Philadelphia which is great for non-local students needing to get to Westtown after breaks.
2.) Describe the social life at your school - what did you like most about it?
The social life really is centered around student organizations and weekend activities. The really isn't a clique dynamic that is present in nearly every high school. Throughout my time there I socialized with many different types of people from a variety of backgrounds. Even by my senior year I was dorming with a student from China! There was always something to do, throughout the day, evenings, and weekends.
Westtown has a beautiful campus. It was beautiful and especially safe to walk around any time of day. Also the style of teaching is very hands on and has small classes, usually with. . .
Small Quaker school, tight group, not so much focused on strong academics as much as creating good individuals in society.. . .
Extremely beautiful campus. It is a Quaker boarding school with wonderful teachers. They require a senior project where students can travel the world. Also encourages volunteer work and has a campus farm. . .
Show more reviews (

41 reviews

)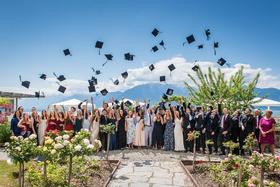 Nurturing Futures: A Journey through Boarding at Haut-Lac School in Switzerland
Nestled in the hills overlooking Lake Geneva in the French-speaking part of Switzerland lies an educational gem that embodies a unique blend of academic excellence, cultural richness and a profound sense of community. Founded over 30 years ago, Haut-Lac International Bilingual Day and Boarding School is now home to both 600 day students and a maximum of 30 boarders from around the world.
What To Wear at Your Job Interview
Navigating job interviews can be stressful, but knowing what to wear shouldn't be. Our comprehensive guide covers the essential dress code tips for men and women interviewing at boarding schools. Make your first impression count with style and professionalism.
Navigating the Modern Maze: Emerging Challenges for Boarding Schools
Explore the pressing challenges facing boarding schools, from marketing difficulties and rising insurance costs to facility maintenance and recruitment of competent trustees and teachers. This article delves into these complex issues and proposes innovative strategies to overcome them.