Reflections and Advice:
1.) What do you think makes your school unique relative to other boarding schools?
One of my favorite things about Westtown is its sense of community. When you go on a tour, it's something your tour guide is sure to mention, but you don't really begin to understand what they mean until you go to school at Westtown. The people at Westtown, all the people, are what makes it so great. Before I went to school at Westtown, I didn't know the name of every person in my grade, let alone most of the teacher's names. Now, I can name most people's full names from my graduating class just because I got to know them on a deeper level. I love that I have become so close to my teachers and that now, even after I graduated, I can go to them with any problems I have or simply come back and visit and be welcomed with open arms. Another aspect I really value that Westtown possess is its dedication to giving back to the community. It is a graduation requirement that all students complete 40 hours of service to the community outside of Westtown. Stewardship is an important theme of Quakerism, and the service requirement is an active way for students to engage with the testimony. The school even provides an after school program called Service Network where kids can go to different places and volunteer their time, all of which goes towards shortening their service requirement. I personally found myself nervous about the amount of required hours, but after I started my hours I loved it so much that I continued to volunteer there even after I was done the 40 hours. These service projects are also a good way to get connected with the community as well as help young alumni get paired with possible future jobs.
2.) What was the best thing that happened to you in boarding school?
The best thing that happened to me at boarding school was that I got to grow as a person and become more independent. Because of Westtown, and the amount of responsibilities I had when I was here, I have been able to manage my time at college and have already learned basic skills for living alone. I also really appreciate all the leadership opportunities I was given which also helped me become more responsible.
3.) What might you have done differently during your boarding school experience?
The one thing I would have done differently at Westtown would have been to try and interact more with the boarding students when I was in 9th and 10th grade. During that time, there was a wave of new students, almost to the point where there were more new students than rising 8th graders who attended Westtown. I was overwhelmed, and naturally, I spent most of my time with my day student friends who I knew in middle school. I didn't become friends with most of the boarders until my junior year when I started boarding, and that was a shame. My advice for kids going to boarding school is to make sure to break out of your comfort zone. Even though you spend the most amount of time with the other boarding students who you live it, it is important to try to become friends with the day students who you have class with every day. Each group of students has something to offer the other and forming those relationships early helps everyone make more friends.
4.) What did you like most about your school?
Overall, I like that Westtown exists and that I got to be a part of it. The school was founded in 1799 and now I feel like I am part of its history. I was part of its community, still am, and will always be. I have found myself a home that I am always welcomed back to and I have made connections for life.
5.) Do you have any final words of wisdom for visiting or incoming students to your school?
My final words of wisdom for an incoming student would be to take advantage of all the time you have. It may seem like you have a lot of time at Westtown but it goes by so quickly so it is important to cherish your time here. One piece of advice I have to accomplish that is to explore the campus. Westtown has a 600 acre campus with special features such as a mini farm and lake. During your time here, or even on your campus visit, take the time to explore the hidden treasures of the nature on campus.
Academics:
1.) Describe the academics at your school - what did you like most about it?
The academics at Westtown are vigorous and challenging, but totally do-able. I like to think of Westtown of a challenge-by-choice school. You can put as much or as little as you want on your plate academically (as long as you are fulfilling all the requirements of course), but you get the most out of it when you don't take the easy way out. You can choose not to take the advanced version of a course, or decide that since you have finished all your history requirements, you are going to take an art class, but in the end, it's the students who decide to take that extra step who are most prepared for college and the real adult world. I was a tour guide at Westtown, and one of my favorite things to talk about was the way a class worked. Westtown's classes are not like classes at other schools because instead of being a straight lecture, it is an interactive intellectual conversation that sparks more conversations outside the classroom. The teachers sit at the desks with you and ask you to lead conversation/teach the class. In terms of actual classes, it was never too hard that I couldn't do it. Even when a class was hard for me, I knew that I always had the help of my teachers and peers and that there was never something that I could not accomplish. The workload was that of any high school. I had between 10-40 minutes of homework for each class per day. Teachers at Westtown typically give students homework that either 1) helps them practice what they learned in class or 2) prepares them for what they are going to learn in class the next day,
Athletics:
1.) Describe the athletics at your school - what did you like most about it?
I have never considered myself an athletic person, but there were ways for me to still be involved in the required athletic program without feeling like I was being forced to play sports. Westtown offers a variety of options from varsity sports teams, to morning fitness and yoga. Many students choose to play three competitive sports and have a blast! One of my favorite things about the program was that the community always supports the sports teams at their games, and that we have great sportsmanship.
Art, Music, and Theatre:
1.) Describe the arts program at your school - what did you like most about it?
As someone who grew to love photography at my time at Westtown, the Visual Arts program became important to me. The visual arts, music, and theatre programs were all designed for students want to practice their skills, and students who want to start from the beginning and learn. No matter where you are on the spectrum, there is a place for you in any of the arts programs.
Extracurricular Opportunities:
1.) Describe the extracurriculars offered at your school - what did you like most about it?
Westtown has a big selection of activities to choose if you want to join one. Some of these include: yearbook, Model UN, debate club, and tour guides. The school allows students to become as involved as they would like, with no pressure to join extracurricular activities, although they are highly recommended.
Dorm Life:
1.) Describe the dorm life in your school - what did you like most about it?
I attended Westtown for 8 years, but only boarded my junior and senior year. It was one of the best experiences of my life, for many reasons. The number one reason would be because it prepared me for college in a way I didn't expect. When I arrived at college, I found that many of my peers were incredibly unprepared for college life, and didn't know basic skills such as doing their own laundry and managing time. The other reason I really enjoyed dorm life at Westtown was because of the community I lived in a sub-community in the bigger Westtown community that really helped me spread my wings and meet new people. My senior year, my dorm floor was mostly seniors and sophomores, which gave me the opportunity to learn from students younger than me, and gave me a chance to give them advice about their upcoming years at Westtown. The faculty and teachers living on dorm cared about the students as if they were their own. Their doors were always open for us, and they gave us their phone numbers and told us to call if we ever needed anything. Living on dorm at Westtown was a chance for me to meet and live with a new family.
Dining:
1.) Describe the dining arrangements at your school.
The dining arrangements at Westtown are structured in a way that teaches students responsibility while living away from home. All students attending Westtown's upper and middle schools are required to participate in a work program in which they help out the kitchen/facilities staff with various tasks related to the kitchen and classrooms. There is one dining room in the main building where students and faculty eat together. Boarders are provided three meals per day as well as morning snack and after-school snack. Day students are also welcome to stay for breakfast or dinner if they need to. Westtown grows a lot of its own food, and it is used in the meals so the students always know where their food is coming from. There is also a snack cafe called the Belfry that is opened after school and after study hall for students to buy snacks. My favorite thing about Westtown's dining arrangements is that it mimicked eating dinner at home with my family. It was a time for students and teachers to sit together and reflect on the day.
Social and Town Life:
1.) Describe the school's town and surrounding area.
Westtown is located in West Chester, PA which is not too far from the city of Philadelphia. Close to Westtown, there is a shopping center where students can buy groceries and access other important commodities such as hair salons and banks. 10 minutes from Westtown is the center of West Chester, which is a great place to walk around on the weekends. There are tons of cute cafes and restaurants, as well as many clothing stores. West Chester also hosts a lot of events during the year such as a restaurant festival and Christmas parade. The city of Philadelphia is about a 45 minute train ride from Westtown and can be accessed from one of the many train stations in the surrounding areas. If you want to get off campus for the weekend to explore, there are tons of options in a 20 mile radius from the school!
2.) Describe the social life at your school - what did you like most about it?
The social life at Westtown is unlike other high schools in the area. There are no social hierarchies and no "popular kids". Everyone exists together and everyone is equal. Sure, there are different friend groups, but everyone gets along. After school, and between classes there is tons of time for students to hang out with their friends and catch up. One of the things that makes Westtown different from schools in the area is that this social life extends to the dorms/living spaces. On the weekends, Westtown is full of kids sitting around and socializing. Everyone at Westtown knows each other because it is a small school.
Small Quaker school, tight group, not so much focused on strong academics as much as creating good individuals in society.. . .
Westtown has a beautiful campus. It was beautiful and especially safe to walk around any time of day. Also the style of teaching is very hands on and has small classes, usually with. . .
Two aspects of Westtown that stand out in particular are its sense of community, and the education driven towards social change. Its sense of community is in part due to the fact that Westtown is. . .
Show more reviews (

41 reviews

)
Mastering the Boarding School Selection Process: A 5-Step Guide
Discover the ultimate 5-step guide to choosing the perfect boarding school for your child. Explore essential factors, such as academics, campus facilities, extracurricular activities, and more. Make an informed decision to provide your child with an enriching and transformative educational experience. Read now!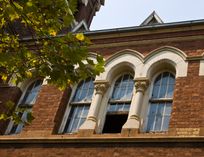 5 Founders and Their Boarding Schools
What prompts somebody to start a boarding school? The motives range from idealism to munificence right on through to capitalism. The common thread seems to be ample capital and a vision of what education can do.