Reflections and Advice:
1.) What do you think makes your school unique relative to other boarding schools?
As an all-girls boarding school Stoneleigh-Burnham gets it right. They foster confidence, lifelong friendships, and help each girl to find her individual voice and express it. As an intentionally small school, they really help girls develop a sense of support and pride for each other--and the institution--that is wonderful.
2.) What was the best thing that happened to you in boarding school?
Boarding school really helped me to be confident and articulate. I appreciate the opportunities for public speaking (in class and in our all-school meeting, house meeting) which helped me to be unafraid of public speaking as an adult, a skill a really value.
3.) What might you have done differently during your boarding school experience?
I think it is important to be open to new people and new ideas. Growing up in a small town in Western Massachusetts, SBS was the first place that really opened my eyes to cultures from around the world. I am so grateful for the incredible diversity I encountered there and the opportunities to learn so much about cultures around the world.
4.) What did you like most about your school?
The community, the faculty, and the sense of family that exists within Stoneleigh-Burnham's halls.
5.) Do you have any final words of wisdom for visiting or incoming students to your school?
The swing, which has long sat in the corner of the oval, is a favorite haunt. For years girls have been gathering there to giggle and chat between classes and before study hall...a tradition I am certain will continue for years to come.
Academics:
1.) Describe the academics at your school - what did you like most about it?
I felt challenged by the teachers to learn and explore more. When I was struggling with a concept I was supported outside of classroom hours by educators who truly cared about my success and happiness.
Athletics:
1.) Describe the athletics at your school - what did you like most about it?
I loved dancing at SBS. The sense of camaraderie among students because of the size of the school was wonderful. We did weekly yoga and pilates work to build core strength and were encouraged to have fun and explore movement.
Art, Music, and Theatre:
1.) Describe the arts program at your school - what did you like most about it?
The arts at SBS are one of the most amazing aspects. For a small school they offer a wonderful array of visual and performing arts. From photography to ceramics to private voice and instrumental lessons there is nothing you can't explore.
Extracurricular Opportunities:
1.) Describe the extracurriculars offered at your school - what did you like most about it?
I loved that any student could start a club. The process was easy and it allowed extracurriculars to change along with the passions of the student body.
Dorm Life:
1.) Describe the dorm life in your school - what did you like most about it?
The inclusiveness was wonderful. It was amazing to be surrounded by a group of intelligent, caring women who understood how to have fun while excelling academically.
Dining:
1.) Describe the dining arrangements at your school.
SBS has one big dining room that all faculty and students share. The thing I loved most was that faculty and students often choose to sit together really enhancing the community feel.
Social and Town Life:
1.) Describe the school's town and surrounding area.
Greenfield is home to some excellent restaurant, cozy coffee shops, and fun shops--some within walking distance and others accessible by shuttle on the weekends.
2.) Describe the social life at your school - what did you like most about it?
The sense of community is one of the most amazing things about SBS. Every independent school offers small classes and rigorous academics. Community is where SBS really gets it right. They truly offer girls the whole package.
The reason I chose my school was because I am an equestrian and the barn at my high school was at the end of the driveway. The reason I stayed was because I found a. . .
What makes Stoneleigh-Burnham unique is its incredibly small student body (no more than 160 students) and the fact that it's the only all-girl's school in New England to offer the International Baccalaureate program. Not. . .
SBS truly has a community; a close knit space that allows any and everyone to grow however they please. The support I found in so many of the teachers, and on so many different occasions. . .
Show more reviews (

12 reviews

)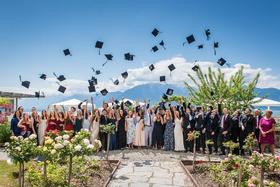 Nurturing Futures: A Journey through Boarding at Haut-Lac School in Switzerland
Nestled in the hills overlooking Lake Geneva in the French-speaking part of Switzerland lies an educational gem that embodies a unique blend of academic excellence, cultural richness and a profound sense of community. Founded over 30 years ago, Haut-Lac International Bilingual Day and Boarding School is now home to both 600 day students and a maximum of 30 boarders from around the world.
What To Wear at Your Job Interview
Navigating job interviews can be stressful, but knowing what to wear shouldn't be. Our comprehensive guide covers the essential dress code tips for men and women interviewing at boarding schools. Make your first impression count with style and professionalism.
Navigating the Modern Maze: Emerging Challenges for Boarding Schools
Explore the pressing challenges facing boarding schools, from marketing difficulties and rising insurance costs to facility maintenance and recruitment of competent trustees and teachers. This article delves into these complex issues and proposes innovative strategies to overcome them.