Reflections and Advice:
1.) What do you think makes your school unique relative to other boarding schools?
The horse program, while seemingly strange to many applicants, is the bedrock of a Thacher education. I just loved it and kept a horse all 4 years although only the first year is required. The schools motto "honor fairness kindness and truth" has served me so well all my life that I subject every major questionable decision to these standards.
2.) What was the best thing that happened to you in boarding school?
By employing the school's motto "honor fairness kindness and truth" to life's truly big decisions I have avoided making some pretty big mistakes had I instead acted impulsively. I liked an all male setting, and assimilated well to co-education at Dartmouth. Simply put, I have developed a keen ability to understand other cultures and get along well with people, which is emphasized in a boarding school education
3.) What might you have done differently during your boarding school experience?
I would reach out to older students right away. I was shy, but got over that with time. My advise to incoming students is to lose yourself completely and think of yourself as part of a larger community.
4.) What did you like most about your school?
Friendships made with both students and faculty. The horse program. They shear beauty of the location.
5.) Do you have any final words of wisdom for visiting or incoming students to your school?
I would emphasize the outdoor chapel as a quiet place for reflection and the Upper School dormitory, which is one big old Victorian like home with working fire places and a homey atmosphere.
Academics:
1.) Describe the academics at your school - what did you like most about it?
The academics are rigorous, and one is constantly challenged to administer one's time so that the appropriate preparations can be made for the next day's classes. Faculty made themselves available during free time to help with the homework.The classes are small; typically, no more than 6 students per class. This is an ideal setting for a lot of interaction during classes, and invariably critical thinking. To teach critical thinking is one goal of the school, and one that comes in quite handy in "real life"
Athletics:
1.) Describe the athletics at your school - what did you like most about it?
The horse program can be a semester long athletic choice. There is a lot of physical activity in riding a horse either on the competitive field or over rough terrain on the trails.Other sports are all no cut and enables even the most feeble tennis player such as myself to enjoy the sport. I also benefited from the 4 soccer teams, the lowest and least skilled (the 4th team) on which I played. Sportsmanship was never really discussed, you just picked it up naturally from the tone of the coaches and the philosophy of the school
Art, Music, and Theatre:
1.) Describe the arts program at your school - what did you like most about it?
The arts are emphasized at Thacher. I was in the film club, which took trips to LA to do "movie marathons" and the glee club, which at the time mingled with the Ojai Valley School to enable us to include women in the program. The studio arts had a class in silk screening that I enjoyed and excelled at, much to my surprise.
Extracurricular Opportunities:
1.) Describe the extracurriculars offered at your school - what did you like most about it?
Besides Glee Club and the Camarillo project, we took a yearly trip to Baja CA to help poor Mexicans erect buildings. This was my first trip outside the country, and I actually learned some Spanish, although my language requirement was fulfilled with French. I learned for the first time how to be a gracious guest in a country other than ones own.
Dorm Life:
1.) Describe the dorm life in your school - what did you like most about it?
Dorm life was good in that one dorm or cluster was assigned to each class. The Prefect system was more like an older brother relationship that helped bring together classes. We had no extra meals or say in which room we might stay. The latter was done by a faculty member who kept the process, rightfully, to himself. I can not remember one instance where a room was changed over the course of the year.
Dining:
1.) Describe the dining arrangements at your school.
I have stayed close to the school and understand that the dining experience has vastly improved from the early 1970's. Then it was cafeteria food, and that was what was to be expected. Now the food is truly gourmet and an excuse for a "banquet" is found at the drop of the hat.
Social and Town Life:
1.) Describe the school's town and surrounding area.
The school is 5 miles from town so is by geography isolated. However, students constantly found a reason to go to town to purchase snacks, go to the local cinema, or attend religious services. Townsfolk and Thacher kids got along great.
2.) Describe the social life at your school - what did you like most about it?
Being an all boys school while I was there there were few opportunities to mix with girls, except the biannual "dates" weekends. Girls from one's hometown or another all girls school came to visit, and it was somewhat awkward seeing as the students were used to Boys being boys. Now however, the students relationship are primarily like a brother and sister relationship.
Daily Schedule:
Weekday
10:00 AM
Take calls that are not business related
10:00 AM
Take calls that are not business related
Weekend
10:00 AM
Quiet time whene I am generally free to talk.
The tight knit community is a really rare quality at high schools in general but especially boarding schools. The relationships with teachers and students is so close and the fact that there is very few. . .
The horse department at Thacher is both unique and outstanding. Unique because the school strives to keep the cowboy culture alive with over 100 horses and a fully outfitted western riding center. It is outstanding. . .
Thacher's community on campus is unlike any other, connections at the school go beyond merely knowing every student's name but having had interacted closely with everyone whether on a camping trip, in the dining hall. . .
Show more reviews (

23 reviews

)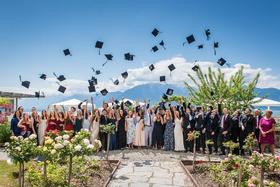 Nurturing Futures: A Journey through Boarding at Haut-Lac School in Switzerland
Nestled in the hills overlooking Lake Geneva in the French-speaking part of Switzerland lies an educational gem that embodies a unique blend of academic excellence, cultural richness and a profound sense of community. Founded over 30 years ago, Haut-Lac International Bilingual Day and Boarding School is now home to both 600 day students and a maximum of 30 boarders from around the world.
What To Wear at Your Job Interview
Navigating job interviews can be stressful, but knowing what to wear shouldn't be. Our comprehensive guide covers the essential dress code tips for men and women interviewing at boarding schools. Make your first impression count with style and professionalism.
Navigating the Modern Maze: Emerging Challenges for Boarding Schools
Explore the pressing challenges facing boarding schools, from marketing difficulties and rising insurance costs to facility maintenance and recruitment of competent trustees and teachers. This article delves into these complex issues and proposes innovative strategies to overcome them.