Reflections and Advice:
1.) What do you think makes your school unique relative to other boarding schools?
Located on the foothills of the coastal range, the Delphian School provides a friendly and peaceful place for students from all over the world.I will miss how students interact with each other. Every individual is willing to stop from what he is doing, and help answer my questions. I will miss the group internal pressure, which everyone pushes each other to improve. I will miss the non-comparison system where students only focus on progressing individual programs instead of competing through test scores.I will miss the sports here, where I tried new sports that I thought I would never try in my life. I will miss the atmosphere that's created by the fans. I will miss the concept that friendship always comes before competition.Attending Delphian as a teenager, I walk out from the school as an adult with ethics, integrity, knowledge and leadership.
2.) What was the best thing that happened to you in boarding school?
Before coming to Delphian I knew nothing about where life would take me. I thought of myself as a pessimistic person. I was overwhelmed with books and lectures. I knew I could do so much more, but I couldn't. I started at the Delphian School four years ago and finally had hope. Delphian has been a journey. It was a journey not like any other journey. It's been a process and a discovery. I was shown not only the world, but how I could fit into it. It's about challenging yourself a little bit more when you are too tired to stand up. It's about providing encouragement when you fall. It's about alerting you when you are lost. It's about waking you up before everything is too late. Delphian has been the shining star in my life! I will be forever grateful. Yesterday, I was a student from the Delphian School. Today, I am a proud graduate. I would recommend Delphian to anyone.
3.) What might you have done differently during your boarding school experience?
I came to school as a very shy person, and I talked to very few people in the beginning. However, if I get a chance to start my Delphi experience all over again, I will reach out to more people. I mean, all the people in this school are amazing individuals who have kindness and compassion in their heart. They all like to talk to you and know more about you.My advice for new students: Don't be shy. Let's reach out and make friends.
4.) What did you like most about your school?
I like every aspect of the education program here. In Delphi, you don't just learn knowledge. You learn integrity, ethics, leadership, responsibility and a lot more. Here, Students learned to empower themselves and to pursue their own dreams.
5.) Do you have any final words of wisdom for visiting or incoming students to your school?
Come visit the school with no hesitation. The tour you get will be mind blowing, and the education program here is what we all look for: a place for children to grow. No other private or public schools have any comparison with Delphi. And it's just that unique.
Academics:
1.) Describe the academics at your school - what did you like most about it?
The Delphian School puts more attention on how students compare and evaluate data that they learn than merely memorizing facts. I got to create my own program. When I was in my junior year, I chose to take an optional course called Criminal Justice. I was highly interested in how the legal system works in the United States. The first part of the course started with basic reading. After getting enough data, I was required to go to a law firm to interview a lawyer. By the time I got back from the firm, I was surprised that I learned so much more than what the book taught me. By the same procedure, I was required to assimilate more data and interview a real policeman. The policeman I interviewed ended up being a former LAPD criminal detective. I started the interview by asking him if there were any similarities between the real world and the TV show "Criminal Minds." He laughed, and the conversation ended up being a fascinating one.The course did not end up at that point. After that, I went to the courthouse to see how the legal process worked in Oregon. The course came to an end with an exam, including some key terms and some of the important legal processes that I learned. But thanks to the learning environment, I understood everything I learned.
Athletics:
1.) Describe the athletics at your school - what did you like most about it?
I really like the athletic program at the Delphian School. The Delphian School is a member of OSAA (1A-4A depends on the sports), and it is one of the best schools competing in soccer, volleyball and tennis.The school encourages students to support their friends on the fields. A simple soccer game can attract more than sixty students and staff members. The Delphian School emphasizes the importance of sportsmanship. We treat opponents with manners and respect.
Art, Music, and Theatre:
1.) Describe the arts program at your school - what did you like most about it?
I like choir very much. I have been a member of Varsity Choir for the past two years. The Choir Director, Adam, is a really energetic and passionate director. He challenges his students to learn one new song every day. People in choir help each others to learn. We don't compete with each other, but help each other to be the best versions of ourselves. .
Extracurricular Opportunities:
1.) Describe the extracurriculars offered at your school - what did you like most about it?
In the Delphian School, students have various options to choose to do things they love. Students do art classes, P.E. classes, music classes, and etc. Students are able to do different classes in different semesters with no restriction. And most importantly, it is a lot of fun to challenge yourself on something you have never done before.
Dorm Life:
1.) Describe the dorm life in your school - what did you like most about it?
In the Delphian School, we have four boys dorms and four girls dorm. Every dorm has an assigned dorm captain, who is responsible for what is happening in the dorms. He or she checks the cleaning standards, and makes sure every student is doing fine in this area. The dorm is always very very friendly. People help each other and solve problems with each other.
Dining:
1.) Describe the dining arrangements at your school.
The food is healthy. We always talk about how tasteful food in fast food restaurants are, but we are ignoring the fact that they are not healthy. In Delphi, almost all the food are house-made with fresh ingredients. Some people have complained about the taste of the food, but I don't mind at all.
Social and Town Life:
1.) Describe the school's town and surrounding area.
Sadly. the school is located on a mountain in Sheridan, Oregon. The closest town is 30 miles away from the school. Travel seems to be very hard, but luckily the school assigned all the staff members as faculty advisers. One faculty has 3-4 students. Those faculty members usually can drive students when it's necessary. They are all very nice and kind individuals.
2.) Describe the social life at your school - what did you like most about it?
In the Delphian School, there is an activity for all students every week. They are all planned and organized by students. It's a good time for students to hang out and rest from the work pressure in the school. Also, there are four dances every year, where students, especially boys, can get more experiences that they may apply to their lives in the future.
What made my school different from other boarding schools was that I was able to move through my program at my own pace. I didn't have to worry about catching up with my class because. . .
The fact that we study for real world application rather than just trying to spit things back out on an exam. This makes the education 10 times more valuable than any other school I have. . .
Here at the Delphian School, all the exams are done one-on-one, where the examiner will ensure that all the student's questions regarding the subject they just studied are solved and answered to satisfaction.The Delphian. . .
Show more reviews (

21 reviews

)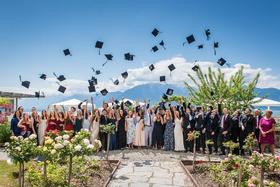 Nurturing Futures: A Journey through Boarding at Haut-Lac School in Switzerland
Nestled in the hills overlooking Lake Geneva in the French-speaking part of Switzerland lies an educational gem that embodies a unique blend of academic excellence, cultural richness and a profound sense of community. Founded over 30 years ago, Haut-Lac International Bilingual Day and Boarding School is now home to both 600 day students and a maximum of 30 boarders from around the world.
What To Wear at Your Job Interview
Navigating job interviews can be stressful, but knowing what to wear shouldn't be. Our comprehensive guide covers the essential dress code tips for men and women interviewing at boarding schools. Make your first impression count with style and professionalism.
Navigating the Modern Maze: Emerging Challenges for Boarding Schools
Explore the pressing challenges facing boarding schools, from marketing difficulties and rising insurance costs to facility maintenance and recruitment of competent trustees and teachers. This article delves into these complex issues and proposes innovative strategies to overcome them.