Reflections and Advice:
1.) What do you think makes your school unique relative to other boarding schools?
The campus at A+ World Academy is unique, it is on a sailboat. In addition, the sailboat travels to different places across the globe. This school is a good fit to students who are enticed by the idea of traveling. As that is what the sailboat does; travels across the seas. Students take classes on-board the sailboat while it is sailing which stresses time management because students need to balance their time spent studying as well as helping sail the sailboat. Students actually need to STUDY at this school regularly and independently because there is no internet in the middle of the sea where the boat sails around. Students will get their knowledge from resources such as their textbook and their teachers.
2.) What was the best thing that happened to you in boarding school?
This school has ample opportunities for personal development. One experience that stood out for me was attending a Buddhist festival in Indonesia.
3.) What might you have done differently during your boarding school experience?
My advice is to study for each one of your classes for an hour every night to achieve the best balance of work, play and study.
4.) What did you like most about your school?
The opportunity to live in a sailboat and to travel.
5.) Do you have any final words of wisdom for visiting or incoming students to your school?
Be kind and courteous to everyone you meet, people love to put a name to a face, so make your first impression a great one!
Academics:
1.) Describe the academics at your school - what did you like most about it?
The school markets itself for delivering top tier academics. This is mostly true: the teachers involved are generally great in their subjects, but the harsh reality for this program is that most students who enroll cannot master the time management necessary to exceed academically. This is a pre-requisite for academic success at A+ Academy. Students need to be able to sail the ship in addition to completing their studies. Time management is a hard skill to teach to 16 - 17 year olds but A+ World Academy does accomplish it well. Students will have the option to enroll in IB and AP courses but won't have internet access for 80 % of their time as students so it is up to them to actually study and learn what they must to succeed in those higher level classes.
Athletics:
1.) Describe the athletics at your school - what did you like most about it?
There is no athletics program at A+ World Academy. Occasionally there will be sport-themed outings off of the sailboat. An example is during my enrolment in the school our class ran a running race against another school in Australia.
Art, Music, and Theatre:
1.) Describe the arts program at your school - what did you like most about it?
Studnets are encouraged to learn "sea chanties" which are nautically themed songs.
Extracurricular Opportunities:
1.) Describe the extracurriculars offered at your school - what did you like most about it?
Extra curricular activities are center Ed around sailing the sailboat that the students inhabit. Sailing the sailboat involves a moderate amount of work. Diligent students with at least average aptitude will get extra opportunities to do more sailing related activities such as climbing up the "mast" which is the big pole that holds the sails.
Dorm Life:
1.) Describe the dorm life in your school - what did you like most about it?
Dorm life comes in two flavours: students may sleep in a berth or a hammock. All boys live in one side of a room and all girls live in another side of the room. The room is partitioned between boys and girls by a wall. Students sleeping areas are turned into classrooms during the day, students have time in the morning to put away their beds and time in the evening to get them back out again.
Dining:
1.) Describe the dining arrangements at your school.
The dinning arrangements at A+ World Academy are that students eat what they are served. Students are also responsible for cleaning up the eating area. In the sailboat this is called the "galley" there is a "galley group" of students each week that are responsible for cleaning the galley area.
Social and Town Life:
1.) Describe the school's town and surrounding area.
The towns change as the boat moves from town to town across the seven seas. Most of the towns are very nice but their inhabitants most likely will not speak the students native language which makes getting around difficult.
2.) Describe the social life at your school - what did you like most about it?
Social life at A+ World Academy is what students make of it: there are plenty of attempts to socialize on-board the sailboat. Some great socializing activities include paying cards, studying in groups, and sailing on the sailboat.
We normally have 6 lessons a day and the school makes sure the lessons aren't too long for our understanding and the six lessons are very useful to us in that we cover alot and. . .
The biggest difference from other schools is that all the students live on a ship while sailing the world. That experience is something you can carry for the rest of your life.Another aspect of. . .
The moats unique thing about A+ World Academy is the fact that it's a school on a tall ship. You're not only attending the school, you're also working as a crew member on the ship. . .
Show more reviews (

5 reviews

)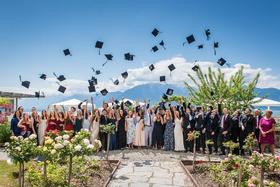 Nurturing Futures: A Journey through Boarding at Haut-Lac School in Switzerland
Nestled in the hills overlooking Lake Geneva in the French-speaking part of Switzerland lies an educational gem that embodies a unique blend of academic excellence, cultural richness and a profound sense of community. Founded over 30 years ago, Haut-Lac International Bilingual Day and Boarding School is now home to both 600 day students and a maximum of 30 boarders from around the world.
What To Wear at Your Job Interview
Navigating job interviews can be stressful, but knowing what to wear shouldn't be. Our comprehensive guide covers the essential dress code tips for men and women interviewing at boarding schools. Make your first impression count with style and professionalism.
Navigating the Modern Maze: Emerging Challenges for Boarding Schools
Explore the pressing challenges facing boarding schools, from marketing difficulties and rising insurance costs to facility maintenance and recruitment of competent trustees and teachers. This article delves into these complex issues and proposes innovative strategies to overcome them.