Reflections and Advice:
1.) What do you think makes your school unique relative to other boarding schools?
One thing about Choate I really believed made it so unique was the variety of classroom experiences one could have in just ONE academic day. Many schools utilize the classic classroom set up where the teacher is at the front and the students are in rows, or the harkness method (round table discussion), or the lecture hall method; but at Choate there is so much variety. For example, in a typical day I was exposed to all methods so for English and History classes we used the harkness method which was ideal for productive discussion, in math we'd have the general classroom setup where multiple desks would be in their own "cluster" which was good for group work and solving problem sets, in sophomore seminar (health class) we'd utilize the lecture hall method which was good for big groups and allowed for large amounts of important information to be conducted efficiently, etc. I believed this variety of learning and teaching not only freshened up the would be otherwise repetitive, mundane class day to something exciting and stimulating for the students and the teachers as well.
2.) What was the best thing that happened to you in boarding school?
The best thing has happened was Choate as a whole, I don't think any one particular thing would've made or broke my Choate experience because each and every single experience I've had has allowed me to develop into the person I am today. I came into choate very unexposed to different cultures coming from a quite homogenous background in terms of my neighborhood and the middle school I went to, and I think the culture shock I experienced may have seemed negative at first, simply because I was so overwhelmed and I was no longer the top of my class because everyone else was at the top of their classes at heir own schools. But, in the end I realized it only made me stronger and grow as an individual.
3.) What might you have done differently during your boarding school experience?
I would have definitely connected more Witt the upperclassmen because they truly do know how the school works and how to be successful in the choate career after having lived their for years and years. So definitely make some older friends and I guarantee you will have an infinitely better experience regarding academics, social life, sports, and even college.
4.) What did you like most about your school?
I love the doors it opened for me and the opportunities it created that I wouldn't have gotten anywhere else to the same extent. I also made life long friends and I won't hesitate to revisit every once in a while to see how it has continued to grow!
5.) Do you have any final words of wisdom for visiting or incoming students to your school?
Take advantage of lanphy cafe (located in the dining hall) it adds up over time but the muffins are incredible. I used to set aside at least $10 every week just for the cafe!
Academics:
1.) Describe the academics at your school - what did you like most about it?
What I love most is that the rigorous curricula creates a path for you to discover your true passions in any field. The Choate course catalog boasts over 100 different courses one can take over your Choate career and the "easiest" science course is just as hard as the "hardest" one because your classmates motivate you to work harder and find a purpose in everything you're learning. With so many to choose from, it may seem overwhelming but at Choate all freshman begin with ideally the same basic requirements and as you continue on, you are given more and more freedom to decide what your focus is (it is fine if you don't end up having one). Essentially, two freshmen could start off taking the exact same five classes, but by senior year, one is researching medical diseases in a lab with the Science Research Program while another is a part of the AMES (Arabic and Middle Eastern Studies) signature program and studying abroad in Jordan.Another thing I love about the academics at my school is the fact that since faculty live on campus they are ALWAYS available even when you're burning the midnight oil and are able to help you balance your workload. Office hours are so extensive and during extra help sessions the night before a big exam, teacher provide snacks to alleviate as much stress as possible so you could focus on studying and doing well rather than worrying about the test itself which doesn't help anyone.
Athletics:
1.) Describe the athletics at your school - what did you like most about it?
At Choate every student is required to participate in a sport every term. But non athletes fear not. The best thing about this requirement is that there is something for everyone. Whether it is morning yoga or strength training at the gym to dance or playing at the junior varsity or varsity level everyone can find something that they enjoy doing in the afternoons. Before I joined the track team, I made it my goal to try a different sport every term so I did tennis, ice hockey, dance fitness, volleyball, strength training, costuming, and farming (yes that counts as a sport!). We have one home base facility that offers dozens of squash courts, a basketball court, indoor track, volleyball courts, a fully equipped gym, weight room, dance studio, and a trainer's room for injuries. We also have a swimming pool, baseball, soccer, and football fields galore. We even have a field for the ultimate Frisbee team.
Art, Music, and Theatre:
1.) Describe the arts program at your school - what did you like most about it?
In terms of the Arts, Choate does an extremely good job of exposing everyone to the arts by having free events for members of the community, whether it's theater productions, art exhibits, and dance shows. We also have an academic arts requirement where you have to take at least one art class your sophomore and junior year. We have five acapella groups, a festival chorus and chamber chorus (they travel to Europe every year to perform), a jazz band, wins ensemble, chamber orchestra, three dance groups, and so much more! There is a musical every spring that everyone comes out to and they are always fantastic! As well as the annual spring dance concert in late March where all the dance groups have a showcase.
Extracurricular Opportunities:
1.) Describe the extracurriculars offered at your school - what did you like most about it?
For every choate student the problem is never too little extracurricular activities, it's always too much. In the beginning of every year, we host a club fair where every student group and organization has a booth where students can sign up for clubs to do in their free time. It is common to sign up for 10-12 clubs you really want to join, but unfortunately there are only so many days in the week and there are so many clubs that there is often overlap in n terms of when clubs meet so ultimately you have to pick and choose. But even so, you are not tied down to any club whatsoever (besides acapella and dance groups where your presence is required every session) and so you are free to choose to skip one meeting in favor for another any time. Ultimately I'd say choate students usually stick with about 3-5 clubs that they really enjoy and can make time for.
Dorm Life:
1.) Describe the dorm life in your school - what did you like most about it?
I Iove that there is always a positive to any form you might live in on campus. Every year, dorm selection is done by lottery so even though you might not get your first choice you can always see the benefits to each one. For example, Bernhard is a sophomore/junior girls dorm and is one of the farthest dorms from the dining hall, but it has its own laundry room and is closest to the athletic facilities so after classes it's quick to change into your sports clothes and be on time. Or Hill House which is the boys dorm is far from the science building but it is located in the same building where the dining hall is so getting food is never a problem. One thing I have to say though is to advocate for you MUG NIGHTS (late night dorm snacks). Some advisers are veterans in living with students and are always sure to bring out mac and cheese or Oreos, but others are newer to the idea so they might not realize how hungry teenagers can get after a jam packed day.
Dining:
1.) Describe the dining arrangements at your school.
There are two main dining options: Hill House dining hall and the Tuck shop. Hill House seats every student and it's separated into sections for each grade except for the sophomore and juniors that eat in the same area. There are always a variety of options from pizza to pasta, the main grill, the international station where they we've food from different cultures, the sandwich and salad bar, dessert, and who could find forget about the famous soft serve ice cream. They also serve vegan, vegetarian, and gluten free options at every meal. There are also scheduled theme days where the dining staff have a day to switch up the food and have fun so for example, at the opening of baseball season, we had a baseball themed dinner that included hotdog carts, a popcorn machine, corn dogs, giant pretzel bars, etc.
Social and Town Life:
1.) Describe the school's town and surrounding area.
Although Choate is surrounded by a small town (Wallingford), we are very much a part of the community. There are ample restaurants to dine at over the weekends, a quaint movie theater, a convent Walmart, a trampoline park, community pool, etc. Our neighbors are always friendly and love to see a Choate face in town. We are asking in partnership with the police department that treats us with the same concern for our safety as it's residents which provides even more comfort and a sense of belonging to our community. One of the clubs on campus that I was a part of, Teach Wallingford, was a program where students could volunteer to teach at the local elementary school with kids from pre-K to second grade and it also allowed for us to really get to know the families that live so close by.
2.) Describe the social life at your school - what did you like most about it?
There are always ways to find new people and no one is pressured to find a "group" per se. Because of our diverse community with students from over 40 states and 30 countries, it wouldn't be wise to only stick with a certain group of people that you share a sport with or a club or a dorm. That's why choate students leave the school so much more culturally enhanced and engaged. I even made new friends my two weeks of high school because of my ability to seek out new people and step out of my comfort zone to see the world through as many perspectives as I could.
Daily Schedule:
Weekday
7:15 AM
Wake up, get dressed, go to breakfast at the dining hall.
9:15 AM
School wide break, enjoy coffee and snacks with friends at the cafe
10:00 AM
School wide assembly to hear important announcements
12:15 AM
Lunch at the dining hall
Weekend
9:00 AM
Wake up, get breakfast
10:00 AM
Run to Walmart for some toiletries
12:00 AM
Head to Archie's for lunch with friends
1:00 PM
Catch up on some homework
4:00 PM
Watch a movie in the Bay Room (Student activities center)
6:00 PM
Walk to town and get ice cream at Mr. D's
At Choate, I felt that the faculty and administration really cared about my wellbeing and growth. Classes were mostly organized to allow for discussion and office hours were easy to attend and allowed for personal. . .
Choate has a diverse and interesting study body from all around the world. While it is an old and prestigious boarding school, I found Choate to be less traditional than some of its peer schools. . .
The community is definitely Choate's greatest asset, and the admissions folk do a great job of picking students. We're a pretty chill bunch, so you won't find much of the cut-throat competitiveness that usually accompanies. . .
Show more reviews (

27 reviews

)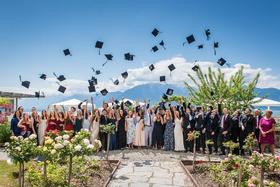 Nurturing Futures: A Journey through Boarding at Haut-Lac School in Switzerland
Nestled in the hills overlooking Lake Geneva in the French-speaking part of Switzerland lies an educational gem that embodies a unique blend of academic excellence, cultural richness and a profound sense of community. Founded over 30 years ago, Haut-Lac International Bilingual Day and Boarding School is now home to both 600 day students and a maximum of 30 boarders from around the world.
What To Wear at Your Job Interview
Navigating job interviews can be stressful, but knowing what to wear shouldn't be. Our comprehensive guide covers the essential dress code tips for men and women interviewing at boarding schools. Make your first impression count with style and professionalism.
Navigating the Modern Maze: Emerging Challenges for Boarding Schools
Explore the pressing challenges facing boarding schools, from marketing difficulties and rising insurance costs to facility maintenance and recruitment of competent trustees and teachers. This article delves into these complex issues and proposes innovative strategies to overcome them.