Reflections and Advice:
1.) What do you think makes your school unique relative to other boarding schools?
The small, intimate classes fully give a one-of-a-kind experience. Our teachers are readily available to help and do so happily. I have only had good experiences working with any faculty member at this school.On top of the intimate classes, Delphian's practical program is unlike any other. Students are challenged through doing projects. This is an environment where failures are welcomed. The Delphian School has the resources available to help students come back from any setbacks or failures.
2.) What was the best thing that happened to you in boarding school?
I really grew at The Delphian School. I never had poor grades at my other schools, but I was missing something. The Delphian program helped me turn into a more responsible, caring individual. I am able to evaluate situations and make decisions that affect a group in the best way possible.
3.) What might you have done differently during your boarding school experience?
Try everything. There are so many opportunities at The Delphian School, and you won't know which area is your favorite until you try it. There is no problem with failing as long as you get right back up and try again.
4.) What did you like most about your school?
I most liked the trusting environment. I was never worried to leave my wallet or my phone somewhere because I knew how honest and kind this student body was. There is no other place where you will find a more trustworthy student body.
5.) Do you have any final words of wisdom for visiting or incoming students to your school?
Take the time to appreciate how amazing The Delphian School is. Before you know it, you will have graduated, and you will miss the beautiful campus and people you had around you.
Academics:
1.) Describe the academics at your school - what did you like most about it?
The educational system at Delphian is proficiency-based rather than based on age. This makes it so students are able to spend more time on subjects they have trouble with and less time on subjects which come to them very easily. The entire class is learning, rather than just a portion of the class fully understanding the material.Additionally, the school requires that students show their ability to apply the data they have studied. The teachers will work with you until you understand and can apply 100% of the data.
Athletics:
1.) Describe the athletics at your school - what did you like most about it?
I am not a very athletic person, but I tried out multiple sports at The Delphian School. I started playing basketball, and I even became the captain of the JV basketball team.The school offers a number of sports, and they are always working to expand the options available. We have tennis courts, a States winning Track & Field team, etc.
Art, Music, and Theatre:
1.) Describe the arts program at your school - what did you like most about it?
This part of the program is beautiful. I was never into the arts until I arrived at Delphian. Here at Delphian, everyone participates in some sort of art, whether it is choir, ceramics, drawing, etc.I was on the Varsity Choir team and also participated in ceramics classes, both as a student and eventually as an instructor.
Extracurricular Opportunities:
1.) Describe the extracurriculars offered at your school - what did you like most about it?
This school provides many opportunities for Extra-Curricular activities. I have been overseas to Australia to a school that is based on the same educational philosophy as Delphian.On top of that, the school has set up numerous internships for me. The network of alumni and staff makes it easy to find an internship in any field.
Dorm Life:
1.) Describe the dorm life in your school - what did you like most about it?
I loved staying in the dorms. Especially in the senior dorm, we were like a family. If I ever needed help with anything, I always had friends around the dorms to help me.All rooms come with hangers, space for refrigerators, dressers, etc.
Dining:
1.) Describe the dining arrangements at your school.
The dining room has a large selection of high-quality food. They are able to accommodate for the many cultures we have at The Delphian School.
Social and Town Life:
1.) Describe the school's town and surrounding area.
The town nearby is McMinnville. Before COVID, we would go out to the town or to Portland about every other week. I liked spending time with my friends in the quaint town near the school.
2.) Describe the social life at your school - what did you like most about it?
Delphian is a friendly bubble. It is impossible to go through your years without gathering a number of close friends. There are a Recreation Room and Little Theatre in which students have activities, and every weekend, the school puts on inclusive activities.
What made my school different from other boarding schools was that I was able to move through my program at my own pace. I didn't have to worry about catching up with my class because. . .
The fact that we study for real world application rather than just trying to spit things back out on an exam. This makes the education 10 times more valuable than any other school I have. . .
Here at the Delphian School, all the exams are done one-on-one, where the examiner will ensure that all the student's questions regarding the subject they just studied are solved and answered to satisfaction.The Delphian. . .
Show more reviews (

21 reviews

)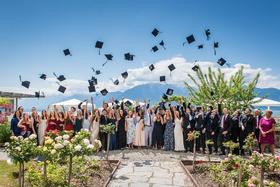 Nurturing Futures: A Journey through Boarding at Haut-Lac School in Switzerland
Nestled in the hills overlooking Lake Geneva in the French-speaking part of Switzerland lies an educational gem that embodies a unique blend of academic excellence, cultural richness and a profound sense of community. Founded over 30 years ago, Haut-Lac International Bilingual Day and Boarding School is now home to both 600 day students and a maximum of 30 boarders from around the world.
What To Wear at Your Job Interview
Navigating job interviews can be stressful, but knowing what to wear shouldn't be. Our comprehensive guide covers the essential dress code tips for men and women interviewing at boarding schools. Make your first impression count with style and professionalism.
Navigating the Modern Maze: Emerging Challenges for Boarding Schools
Explore the pressing challenges facing boarding schools, from marketing difficulties and rising insurance costs to facility maintenance and recruitment of competent trustees and teachers. This article delves into these complex issues and proposes innovative strategies to overcome them.