Reflections and Advice:
1.) What do you think makes your school unique relative to other boarding schools?
The Mountaineering program at Asheville School is one of the best outdoors programs in the Southeast. From rock-climbing, to equestrian, to ice-climbing, to camping in the Blueridge Mountains, the Asheville School Mountaineering program offers a student a different kind of education; one that extends outside of the classroom, and yet, is just as significant as traditional instruction.
2.) What was the best thing that happened to you in boarding school?
The best thing that happened to me in boarding school was finding such a great group of close friends. To this day, my closest friends are the ones I made at Asheville School. It is very difficult to explain, but these people become your family. It was at Asheville that I learned what true friendship is. Learning this set a standard and a level of expectations for friendships that I have yet to lower, and for that my life has been greatly enriched.
3.) What might you have done differently during your boarding school experience?
Go with an open mind. Boarding school will be unlike any experience you've ever had. You won't know all the answers right away, and that's okay. Keep an open mind, force yourself to live outside of your comfort zone, and accept your new place. If you start your boarding school with the idea that you will make the best of your situation no matter what, with no exceptions, it will be an amazing experience for you. I promise.
4.) What did you like most about your school?
Overall, the thing I liked most about Asheville School was (and still is) the people--faculty, staff, and students. Never will you be around such caring, challenging, motivating and selfless people. If you think the teachers are there for the money, just ask them (or visit their apartment). They are there because they have a love, a passion for teaching and a desire to be a strong, positive influence in the life of a young adult at a very challenging place in his/her life. You don't have to look far to find someone who will inspire you to be all that you can and want to be. Appreciate it while you have it, because it's a lot more difficult to find in the "real world"!
5.) Do you have any final words of wisdom for visiting or incoming students to your school?
Do at least one play while you're at Asheville School. Do at least one mountaineering trip. Run for office in student government. Stay away from conduct council. Make a funny announcement during a convocation. Cheer at a home game for EVERY sports team! 3rd floor Anderson is still the best hall! And use the gym--you won't find a better athletic space, not even in college!
Academics:
1.) Describe the academics at your school - what did you like most about it?
The academics at Asheville School are both provocative and challenging. They force you to think and do more than you ever would have thought possible. I must admit that there was indeed a period of adjustment for me early on--I simply was not accustomed to being challenged at the level of Asheville School academics. However, when you have teachers and advisors who refuse to accept, "I can't" for an answer, you learn quickly of what you are capable. With the help of the talented teachers and advisors, and even peers, you're never given more than you can handle. Are you given more than you would like? Of course. But after four years of such challenging (and rewarding) academic experiences, once I got to college, I was ready to hit the ground running.
Athletics:
1.) Describe the athletics at your school - what did you like most about it?
The athletics program at Asheville School is amazing. When I first got to Asheville School, I was 4'9" tall, and had never played on a sports team in my entire life. At Asheville School, you must do at least one sport a year, so I decided to go out for football and wrestling. Though I was no star athlete on either team, I was a part of an amazing experience. I don't feel that I would have had the opportunities to be a real part of such a great experience if I had attended high school some place else. Also, though the student body at Asheville School is much smaller than most boarding schools, we still proved to be amazingly successful with our athletic program. During my tenure at Asheville School, our swim team won states, our football team went undefeated during the regular conference season, and our baseball team won the state championship, to mention a few that I recall of hand.Also, Asheville School has one of the finest sports/recreation facilities in the Southeast. The new 8 million dollar gymnasium is truly breathtaking. With a state-of-the-art fitness center, and several playing courts, and olympic-sized pool, everyone can find something to do.
Art, Music, and Theatre:
1.) Describe the arts program at your school - what did you like most about it?
The Arts Program at Asheville School is great. It very much defined my experience at Asheville School. I never participated in drama until my time at Asheville School. I was able to do several plays, as well as student-direct for one production. The great thing about the dramatic program specifically is that it is open to people of all levels.Also, there are several options available for those who are interested in the visual arts or music.Asheville School not only has an amazing facility that houses the arts program, but it also has an Art Gallery that showcases both student and local artists works at different times during the school year. It was a great way to invite the community into the heart of the Asheville School arts program.
Extracurricular Opportunities:
1.) Describe the extracurriculars offered at your school - what did you like most about it?
Basically, if you can think it, you can do it. The extra-curriculars at Asheville School really are limitless. If you put some thought behind an idea to start an organization or program, and find the support, you can make it happen. Also, all of the typical extra-curricular programs (i.e.. Student Government, Drama, Spirit, Dance, Public Speaking, Mitchell Society, Mountaineering Program etc) are in place and are open to all who wish to be a part of that particular program.The Mountaineering program at Asheville School is unlike any other available today. As Asheville School is nestled in the heart of the North Carolina Blue Ridge Mountains, you really have access to kayaking, camping, and climbing at your leisure. Not interested in an overnight trip or don't have the time? Feel free to explore the wooded, 300-acre campus on the school's nature trail.
Dorm Life:
1.) Describe the dorm life in your school - what did you like most about it?
I really enjoyed the friendships I made on dorm. Your friends and hall parents really become your support and family while you are away from home. It was nice to form such meaningful friendships on a deeper level that, even in college, I find difficult to replicate.
Dining:
1.) Describe the dining arrangements at your school.
Asheville School added a salad bar and more nutritious options while I was there. The food was okay while I was there.
Social and Town Life:
1.) Describe the school's town and surrounding area.
Asheville is a great area. It's definitely a quaint town with it's own vibe. When you found the time to get off campus, it wasn't difficult to find something to do. Whether it was catching a community theater production, or hanging out downtown with friends, or shopping at one of the malls, it was always fun and rejuvenating to find time to get away.
2.) Describe the social life at your school - what did you like most about it?
Contrary to popular belief about boarding school's, the social scene is very much the same as other non-boarding high schools. You have best friends, and people with whom you'd rather not spend your free time. I will say that it is much more difficult to form cliques in such a small community. This really helps you get to know people you may not have been proactive about getting to know. Also, you work hard in boarding school, but you also find yourself having a great time with friends you will keep forever.
Daily Schedule:
Weekday
8:00 AM
Convocation/Chapel Service
3:30 PM
Afternoon activity or sports
8:00 PM
Study Hall for two hours
Weekend
Asheville School is situated in the most beautiful area of the country. My dorm looked out over the Blue Ridge Mountains. Nothing could have been better for a teenager to wake up to. . .
Required Afternoon Activities made our campus pretty special. You were forced to sign up for either a sport, music, theater, or art to take up your afternoons. It was pretty beneficial because it. . .
What really sets Asheville School apart are the teachers and how much they care about the students. I have never seen or heard tell of another faculty as devoted to their students and to helping. . .
Show more reviews (

1 review

)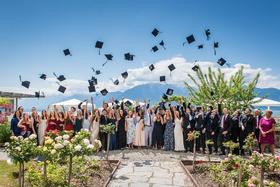 Nurturing Futures: A Journey through Boarding at Haut-Lac School in Switzerland
Nestled in the hills overlooking Lake Geneva in the French-speaking part of Switzerland lies an educational gem that embodies a unique blend of academic excellence, cultural richness and a profound sense of community. Founded over 30 years ago, Haut-Lac International Bilingual Day and Boarding School is now home to both 600 day students and a maximum of 30 boarders from around the world.
What To Wear at Your Job Interview
Navigating job interviews can be stressful, but knowing what to wear shouldn't be. Our comprehensive guide covers the essential dress code tips for men and women interviewing at boarding schools. Make your first impression count with style and professionalism.
Navigating the Modern Maze: Emerging Challenges for Boarding Schools
Explore the pressing challenges facing boarding schools, from marketing difficulties and rising insurance costs to facility maintenance and recruitment of competent trustees and teachers. This article delves into these complex issues and proposes innovative strategies to overcome them.