Reflections and Advice:
1.) What do you think makes your school unique relative to other boarding schools?
Wilbraham and Monson was unique, first and foremost, because of the students, faculty and staff. WMA was also unique because each class was based on discussion and interaction between your teacher and other students. Each class encourages you to participate and get involved. I myself was shy when i came to the academy as a freshman, and never spoke out in class. Working with the students and the teachers closely ,and in small classrooms I really felt comfortable and was able to interact and learn a lot more. Also WMA requires students to play two sports or an afternoon activity. This was great because you were able to meet students, get involved and have a great time! The friendships I made on the court, field and classroom are life long and unique.
2.) What was the best thing that happened to you in boarding school?
In middle school, I attended a public school in my hometown, I was very shy and didn't speak out in class at all. When I came to the Academy i grew as a person and student. I wasn't shy anymore and felt very comfortable with who i was and where i was. Nobody judges you here or places stereotypes on you and everyone is very welcoming and accepts you for who you are! The best thing that every happened to me at boarding school was growing as a person and changing the shy girl i was in middle school. I only grew so much as a person because of the amazing life long friends that i have made, not only with the students but the with faculty as well. The WMA community has really shaped me as a person and that's the best thing that happened to me.
3.) What might you have done differently during your boarding school experience?
I wouldn't' have done anything differently really. I was very happy with what i did at WMA. Sure there were some mistakes i made but I only learned from them. The only thing i could have done a little differently is be more focused my freshman year. My advice for new students coming in is to take everything in and enjoy in but also keep track of your studies. Also get involved!! There are so many wonderful leadership opportunities you can join at WMA and i strongly advise you to get involved! When you first come to the school don't be shy! Don't hold back either! You have to remember that there are a lot of other students who are new too and are just as nervous as you are but don't be nervous! Everyone is sincere and will help you out with anything you need!
4.) What did you like most about your school?
The community was and still is my favorite part of Wilbraham and Monson Academy! The community changed who i was as a person and really helped me grow and be who I am today! The friendships with the students and the faculty are everlasting and very special. To this day i still keep in contact with some teachers i had and some staff i became close with and of course my friends! Wilbraham and Monson Academy was more than just a prep school to me, it was a second family and a second home.
5.) Do you have any final words of wisdom for visiting or incoming students to your school?
If you are interested in the school definitely take a look at the website and either email the school and call for more information. If you really like it definitely take a tour!
Academics:
1.) Describe the academics at your school - what did you like most about it?
Coming from a public school the academics were tough at first. The work load was different for me because at my old public middle school everything was a breeze. The academics are great! The classes were interesting and the assignments were exciting. The work load may have increased but I was eager to work on projects, or read books and write papers because everything was so interesting. The thing i liked best about the academics was that there was extra help periods every day and there was directed study at night. There was never a time i was completely stuck because I didn't understand something. The teachers were always available to help you out. Extra help and directed study was great to extra help, ask questions or just study for an upcoming test.
Athletics:
1.) Describe the athletics at your school - what did you like most about it?
The athletic program is strong and always developing. When i started as a freshman on the basketball and volleyball teams we were decent but needed a lot of work. By the time i was a senior the basketball and volleyball teams had broken school records and the girls basketball team had made it to their first championship game ever. The coaches really push you hard but make it fun at the same time and you learn something new each day from your coach. I really enjoyed the relationships i made with my coaches. They became more to me than just a coach, but a friend or mentor i could always turn to. I loved the fact that sports were mandatory. If they weren't i would have only played one sport and missed out and I wouldn't have made the friends that i did.
Art, Music, and Theatre:
1.) Describe the arts program at your school - what did you like most about it?
The arts program has also come a long way. When i first arrived we just had basic classes like painting and drawing etc. By the time i was a senior i had taken ceramics and photography and now there is architectural design. I am not very artistic at all and having to have 3 credits in the arts I thought would be very difficult, but it wasn't a struggle. I found myself wanting to go to these art classes even though i wasn't very good. They classes were fun and interesting and for me really helped me cool down from the academic day and not stress out.
Extracurricular Opportunities:
1.) Describe the extracurriculars offered at your school - what did you like most about it?
There are so many extracurricular activities to choose from at WMA. Besides sports there is a lot you can do and i actually wish that i had done more than just sports. If you are interested in theater there is ARC and we also put on many different plays like, Rocky Horror, Odd Couple and Assassins, just to name a few. There is dance, yoga and even community service. It is great that we offer so much because it makes students feel involved and part of something and again it is a great way to make great friends.
Dorm Life:
1.) Describe the dorm life in your school - what did you like most about it?
I didn't dorm at WMA, I was a day student but i had a lot of friends who lived here. The dorm rooms are really good size. In fact some of the rooms in Wallace Blake are bigger than my dorm room at college. There is always activities on the weekends so you are never stuck on campus. There mall shuttles, trips to six flags, Boston, New York and a lot more to choose from.
Dining:
1.) Describe the dining arrangements at your school.
The cafeteria was open for lunch, breakfast and dinner Monday- Friday and for brunch and dinner on the Saturday and Sunday. There were three lunch periods so the cafeteria was never packed. I really like the breakfast because even though I wasn't a boarding student, I would get to school park my car and could eat breakfast right before I went up for class. There is no assigned seating and a lot of different options to choose from for food. I really liked World Fest Week. During this week the international students could bring in their favorite recipe and the cafeteria services would prepare that meal. It was great because every day that week you could eat someones favorite food from another country!
Social and Town Life:
1.) Describe the school's town and surrounding area.
Wilbraham is a cute and small little town. There is much in the town but a little Village store and Louis and Clark which is considered on the school boundaries. Even though WMA is in this small little down there is a lot to do around it. Springfield in a pretty big city which is about 5 minutes away. There is a mall in Springfield and tons of restaurants. There is also the Holyoke mall which is 20 minutes away and Six Flags is about 30 minutes away. Northampton is 40 minutes away and is a great town with tons to do. The town is small but it is a beautiful area and there is tons to do!
2.) Describe the social life at your school - what did you like most about it?
The social life at WMA, in my opinion, is also very unique. There aren't any clicks or separation of classes. Each class gets along with one another and you make friends from each class. There is any separation between the senior class and others. Even the middle school isn't separated. I know in my situation, there were middle schoolers on the basketball team who i became friends and looked after. The school as a whole is one big community, even the teachers are involved and its great! The social life is one of my favorite aspects of WMA because it isn't the typical "social scene" in high schools, but rather it is one big community!
Daily Schedule:
Weekday
1:15 AM
Native American Literature
1:15 AM
Statistics, Functions and Trigonometry
1:15 AM
AP Environmental Science
1:30 AM
Honors Spanish 4/5
Weekend
1:00 AM
Volleyball or Basketball games
WMA, more than any other prep school that I have visited, is a community. Everyone knows one another. With over fifty percent of all faculty and staff living on campus, the students really get to. . .
One aspect that sets Wilbraham and Monson Academy a part from other similar private institutions is the CEGS Department. CEGS stands for Center for Entrepreneurial and Global Studies, and is in place of a traditional. . .
Firstly, and most noticeably unique, is the diversity at WMA. There are over 30 different countries represented, and this played a major role in my learning experience. With so many different cultures present in the. . .
Show more reviews (

8 reviews

)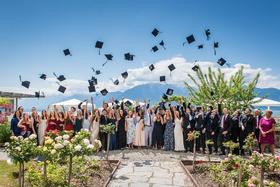 Nurturing Futures: A Journey through Boarding at Haut-Lac School in Switzerland
Nestled in the hills overlooking Lake Geneva in the French-speaking part of Switzerland lies an educational gem that embodies a unique blend of academic excellence, cultural richness and a profound sense of community. Founded over 30 years ago, Haut-Lac International Bilingual Day and Boarding School is now home to both 600 day students and a maximum of 30 boarders from around the world.
What To Wear at Your Job Interview
Navigating job interviews can be stressful, but knowing what to wear shouldn't be. Our comprehensive guide covers the essential dress code tips for men and women interviewing at boarding schools. Make your first impression count with style and professionalism.
Navigating the Modern Maze: Emerging Challenges for Boarding Schools
Explore the pressing challenges facing boarding schools, from marketing difficulties and rising insurance costs to facility maintenance and recruitment of competent trustees and teachers. This article delves into these complex issues and proposes innovative strategies to overcome them.