Reflections and Advice:
1.) What do you think makes your school unique relative to other boarding schools?
Masters employs the Harkness method of teaching and has its class rooms specifically designed to facilitate this. The Harkness method places significant emphasis on class discussion and student participation, which encouraged me to become more proactive and involved in my own education.I also found tremendous value in the schools mandatory religion class. Though I am uncertain about its origins, today the religion class has evolved to be a comprehensive and thorough exposition and analysis of the worlds major religions, explaining their various philosophical origins and implications. This class gave me a robust and lasting appreciation for the worlds diverse cultures and the various religions that play central roles in them.
2.) What was the best thing that happened to you in boarding school?
I participated in student government, and was given an opportunity to improve the school by introducing policy to help students give more feedback to the faculty.
3.) What might you have done differently during your boarding school experience?
I wouldn't have done anything differently. I was very pleased with my experience at Masters. My advice would be to not be shy about anything. In class, ask questions about the material, respond with your own analysis of the subject. With extra-curriculars, do something new, join a sport if you don't like sports, try acting if you don't like being the center of attention. Boarding schools are more than just a place to learn materials, they are a pool of opportunities to experience new things. As you grow older you'll wish you tried everything you didn't, and you'll always appreciate and remember everything you did.
4.) What did you like most about your school?
The education. The academic education itself was certainly first-class, and I was able to tailor a curriculum to my interests where I actually ENJOYED class while still in high school, a rare treat indeed. But more so I value the social education about how people interact, since you are with people for most of your day, and the cultural education about people with lifestyles and backgrounds very different from my own. Cultures and people that I would not have encountered until college, and being able to have those experiences at a young age was invaluable to my own development.
5.) Do you have any final words of wisdom for visiting or incoming students to your school?
After leaving home and going through tremendous growth on your own at a new school in a different part of the country, or world, you have no idea how good it tastes to go back to your childhood and make a peanut butter and jelly sandwich after a long afternoon of sports, and before your eat dinner. (Must be eaten with a glass of milk)
Academics:
1.) Describe the academics at your school - what did you like most about it?
By far, the most unique and striking characteristic about Master's academics is its use of the Harkness method. With massive round tables, all students are granted an equally prominent position in the class room. This greatly facilitates class discussions and compels the student to get involved with the lessons. The design of the tables and rooms also provide a comfortable and effective lecture environment.Concurrently, the teaching staff are highly capable, dynamic, inspiring, on par with my current Ivy League professors. What I found particularly useful was how readily available teachers made themselves for extra-curricular support.
Athletics:
1.) Describe the athletics at your school - what did you like most about it?
The athletics program at Masters was diverse and adaptable. The gym classes, which are mandatory if not taking a sport after school, were tailored to the interests of the students involved in each class. Sports varied from traditional basketball and volleyball, to fencing and even private tennis lessons when the class size was small enough that every student could be playing simultaneously.
Art, Music, and Theatre:
1.) Describe the arts program at your school - what did you like most about it?
The Arts at Masters are of the highest caliber. The expansive, somewhat luxurious studio area made illustrating, painting, and sculpting a true pleasure. The theater was well equipped and sufficiently funded to allow for complex and visually rich performances. Though I never personally participated in major theatrical and musical productions, as a patron of the arts I found them to be outstanding. The staff at Masters did an excellent job of instructing and directing their students, and the school community as a whole was incredibly supportive of the theater and music programs.
Extracurricular Opportunities:
1.) Describe the extracurriculars offered at your school - what did you like most about it?
We were afforded significant choice is selecting our co-curricular activities. Aside from the great variety of options provided by the school, the administration was supportive of students who wished to develop their own program. I personally experienced this by establishing a new Ultimate Frisbee team. The school helped us get a coach, equipment, and field time.
Dorm Life:
1.) Describe the dorm life in your school - what did you like most about it?
Although I spent limited time in the dorms, and spent more time as a day student, I was happy with the accommodations and participated in the events. The student activities director organizes a host of entertaining events to make living at school feel more like home.
Dining:
1.) Describe the dining arrangements at your school.
I found the dining experience to be quite favorable. The Dining hall is spacious, comfortable, all around a very pleasant place to be. During meal times, students are free to get their food whenever they choose and sit where and with whomever they choose. The food itself was quite good by cafeteria standards. There are a variety of dishes served, so meals never seem repetitive, the food service is responsive to student requests, and the desserts were excellent!
Social and Town Life:
1.) Describe the school's town and surrounding area.
Masters is near he heart of downtown Dobbs Ferry, where I would often walk for food, particularly authentic Italian sandwiches at Cafe Latte. While Dobbs itself may not be particularly exhilarating, Masters is just a short walk and a half hour train ride away from New York City. Enough said.
2.) Describe the social life at your school - what did you like most about it?
What I liked most about Masters was the great diversity among its students. There is a significant international community, drawing students from around the globe. Aside from geographical diversity, however, is the tremendous socioeconomic diversity. The generous financial aide opportunities at Masters allowed for students from every walk of life to attend the school.
Daily Schedule:
Weekday
1:00 PM
Classes resume with a study hall in between
3:30 PM
Co-curricular of Open Art Studio begins
5:30 PM
Some co-curriculars end, although some sports continue
Weekend
12:00 AM
Group trip to Manhatten
The Masters School can be quickly distinguished from other schools by the style of teaching that takes place. After a quick tour of classes, one will notice that there are no desks. Instead, each classroom. . .
The Masters School prides itself on using the Harkness method of teaching. Rather than sit at individual desks, students face each other around a large table. This style prompts discussion and keeps each. . .
One unique aspect of the Masters School for which I was personally very grateful was our Morning Meeting. This was a gathering of the entire upper school and faculty in the theater, three times weekly. . .
Show more reviews (

5 reviews

)
Mastering the Boarding School Selection Process: A 5-Step Guide
Discover the ultimate 5-step guide to choosing the perfect boarding school for your child. Explore essential factors, such as academics, campus facilities, extracurricular activities, and more. Make an informed decision to provide your child with an enriching and transformative educational experience. Read now!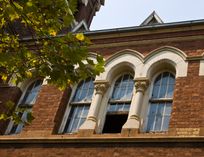 5 Founders and Their Boarding Schools
What prompts somebody to start a boarding school? The motives range from idealism to munificence right on through to capitalism. The common thread seems to be ample capital and a vision of what education can do.