Reflections and Advice:
1.) What do you think makes your school unique relative to other boarding schools?
One aspect of Webb which has always struck me as entirely unique is the deeply ingrained value system and sense of community, which permeates the classroom; the dorms; the sports field; Chapel; school assembles; the dining hall etc. Webb knows what it stands for and what it expects from its students - honorable actions and personal success. High school is the time when most students begin to develop their sense of self and establish expectations for their future aspirations -- and having Webb support my positive growth at this time has been invaluable for my performance and sense of self in college and beyond.
2.) What was the best thing that happened to you in boarding school?
I was introduced to my love of the French language - which was fostered by my amazing teachers. I was very involved with the french club, which was sponsored by my French teacher at the time, and she always encouraged my interest in French by planning trips to France (I did a two-week exchange program through Webb), and hosting french cooking classes at her house etc. Also, Webb has a partnership with a Parisian high school, so I always hosted a French exchange student, which brought me closer to the culture.
3.) What might you have done differently during your boarding school experience?
Don't be afraid to reach out to teachers, because they are there to be not only your teachers but your support system when you are going through a rough time or need a parent figure in your daily life. It can be hard to leave the nest so soon, and we often think of teachers as distant authority figures, but at Webb this is not the case at all.
4.) What did you like most about your school?
The strong sense of community and daily encouragement I felt from teachers. I truly believe I owe a large part of my positive development and achievement in high school to the Webb atmosphere. The school gave me principles in the classroom and in life that have served me well, in college and in my job today.
5.) Do you have any final words of wisdom for visiting or incoming students to your school?
the campus is beautiful - explore it! And check out the Raymond M. Alf museum - it's amazing!
Academics:
1.) Describe the academics at your school - what did you like most about it?
Small classrooms with a high level of attention paid to each student's personal struggles strengths and improvements. I had some teachers who pushed me to think about the world in new ways; others who helped me feel comfortable articulating my opinions in front of my peers; and some who helped me develop passions which are still with me today (the french language, for example.) All my teachers had one thing in common - they cared about who I was as a person, not just as a student. I felt this, and it made a huge difference in my relationship with academics and my expectations for classes in college.
Athletics:
1.) Describe the athletics at your school - what did you like most about it?
I am not very athletic, but I love playing sports - so Webb was perfect. I didn't care if we won every game, which is a good thing, because we usually didn't win. But my coaches (who were also my teachers in many cases) were always positive - and this reinforced Webb's investment in who I am as a person, rather than just a student.. or just an athlete. It's a holistic approach to learning.
Art, Music, and Theatre:
1.) Describe the arts program at your school - what did you like most about it?
I was in chorus and chamber choir and I loved it. It was part of my schedule during the day - and it was always a fun time.
Extracurricular Opportunities:
1.) Describe the extracurriculars offered at your school - what did you like most about it?
Every student is required to do an 'afternoon activity' after classes, every day 5 days a week. If you're not into sports, you can do drama, yearbook, art, dance, cardio classes etc. Webb is flexible.
Dorm Life:
1.) Describe the dorm life in your school - what did you like most about it?
I was a day student. I did not live in the dorms. Friends who did liked it.
Dining:
1.) Describe the dining arrangements at your school.
The dining hall is fantastic. It's a huge hall with flags from all around the world, and where everyone goes to socialize and see friends. It has great hours so I would always swing into the dining hall to grab an apple or yogurt before heading to class. There's a huge diversity of food options - the hot meal and side meals which change every day, plus a salad bar, smoothies, ice cream, bagel station, PB&J station, fruit etc always out.
Social and Town Life:
1.) Describe the school's town and surrounding area.
Claremont is a cute college town with a nice downtown. It's about 45 minutes outside of Los Angeles.
2.) Describe the social life at your school - what did you like most about it?
It was a very close-knit community because most students live in the dorms. Students get very close with teachers, classmates, teammates and dorm-mates. Very active and fun student council (ASB) which was always putting on fun dances and school-wide activities and inter-grade level competitions.
Daily Schedule:
Weekday
3:30 PM
Afternoon activity
Weekend
7:00 PM
Do something with friends
The classroom setting of a round table discussion instead of lecture based teaching. I believe it really puts the pressure on the student to understand what is going on in the class and bring an. . .
Webb has a clear focus on community and it really shows. When you are a student you become best friends with the faculty and your fellow students, traversing the boundaries of what most schools can. . .
The Webb Schools is unique in many ways different than other boarding schools. One being that it is a boy's school and a girl's school on one shared campus. This allows the freshman and sophomore. . .
Show more reviews (

26 reviews

)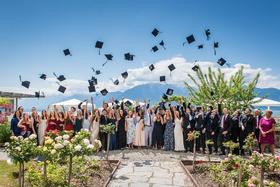 Nurturing Futures: A Journey through Boarding at Haut-Lac School in Switzerland
Nestled in the hills overlooking Lake Geneva in the French-speaking part of Switzerland lies an educational gem that embodies a unique blend of academic excellence, cultural richness and a profound sense of community. Founded over 30 years ago, Haut-Lac International Bilingual Day and Boarding School is now home to both 600 day students and a maximum of 30 boarders from around the world.
What To Wear at Your Job Interview
Navigating job interviews can be stressful, but knowing what to wear shouldn't be. Our comprehensive guide covers the essential dress code tips for men and women interviewing at boarding schools. Make your first impression count with style and professionalism.
Navigating the Modern Maze: Emerging Challenges for Boarding Schools
Explore the pressing challenges facing boarding schools, from marketing difficulties and rising insurance costs to facility maintenance and recruitment of competent trustees and teachers. This article delves into these complex issues and proposes innovative strategies to overcome them.