Reflections and Advice:
1.) What do you think makes your school unique relative to other boarding schools?
Choate has a welcoming and diverse student body. It is the perfect size student body and the perfect size campus. It is a tight knit community and in my experience felt supported personally, academically, and athletically.
2.) What was the best thing that happened to you in boarding school?
Choate made me a stronger student and prepared me for college; without this education I would not have been able to succeed at an Ivy League institution. Along with my extra curriculars, my experience at Choate helped me to develop my time management skills which helped in college and now beyond.
3.) What might you have done differently during your boarding school experience?
Enjoy every moment. There's going to be pressure everywhere you go after high school - it's finding a college, then finding an internship, then finding a job or grad school, and so on and so forth. High school is the time to be social, find friends, and find your passion.
4.) What did you like most about your school?
The community made it enjoyable everyday - the opportunity to be surrounded by warm, friendly, and intelligent peers is not something everyone gets to experience. To be afforded that opportunity is a luxury as it allows you to be yourself.
5.) Do you have any final words of wisdom for visiting or incoming students to your school?
Definitely make your way to Archie Moore's and Mr. D's!
Academics:
1.) Describe the academics at your school - what did you like most about it?
The work load is challenging at first but once I became accustomed to the expectations it was easier to manage. I spent greater than one hour in each subject with homework or studying for an exam. The size of the classes made it much easier to learn and to develop a connection with my teachers - of which were more than happy to review materials or help me to prepare for an upcoming test.
Athletics:
1.) Describe the athletics at your school - what did you like most about it?
I felt fully supported and appreciate the investment that Choate has put into their athletic programs especially at the Varsity level. We have beautiful facilities and top notch coaches. I think a big aspect of the athletic program that made me proud to pull on a Choate jersey is the culture of the institution - it is a place where excellence is expected and achieved.
Art, Music, and Theatre:
1.) Describe the arts program at your school - what did you like most about it?
My experience with the music program was excellent! Very knowledgeable and fun instructors made for a great experience. Like the athletic program, it is clear that Choate is invested in their Visual Arts, Music, and Theatre programs.
Extracurricular Opportunities:
1.) Describe the extracurriculars offered at your school - what did you like most about it?
There were so many opportunities to volunteer and give back at Choate. It was a mandatory requirement to have community service hours but when tasked with this requirement it helped to broaden my understanding. I thoroughly enjoyed all my experiences volunteering.
Dorm Life:
1.) Describe the dorm life in your school - what did you like most about it?
Very close community and even closer with my dorm. It was nice to have a 2nd set of parents in the dorm advisors who quickly became mentors and friends.
Dining:
1.) Describe the dining arrangements at your school.
Food is pretty good - it's been a while but I just remember certain days of people rushing to the DH because of what was on the menu. Thanksgiving dinner, chicken patty Wednesday's, and cobb salad were some of the favorites.
Social and Town Life:
1.) Describe the school's town and surrounding area.
Wallingford is a safe environment. The little shops around campus are cute little places and definitely good hang out spots.
2.) Describe the social life at your school - what did you like most about it?
Lots of people from different areas of the world and different backgrounds - but yet I found most everyone to be welcoming and friendly. I didn't think of it as this person from New York or this person from California it was just Choate.
Daily Schedule:
Weekday
Weekend
9:00 AM
Wake Up/ Breakfast
5:00 PM
Return & Dinner/Hang Out
At Choate, I felt that the faculty and administration really cared about my wellbeing and growth. Classes were mostly organized to allow for discussion and office hours were easy to attend and allowed for personal. . .
Choate has a diverse and interesting study body from all around the world. While it is an old and prestigious boarding school, I found Choate to be less traditional than some of its peer schools. . .
The community is definitely Choate's greatest asset, and the admissions folk do a great job of picking students. We're a pretty chill bunch, so you won't find much of the cut-throat competitiveness that usually accompanies. . .
Show more reviews (

27 reviews

)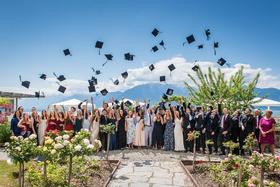 Nurturing Futures: A Journey through Boarding at Haut-Lac School in Switzerland
Nestled in the hills overlooking Lake Geneva in the French-speaking part of Switzerland lies an educational gem that embodies a unique blend of academic excellence, cultural richness and a profound sense of community. Founded over 30 years ago, Haut-Lac International Bilingual Day and Boarding School is now home to both 600 day students and a maximum of 30 boarders from around the world.
What To Wear at Your Job Interview
Navigating job interviews can be stressful, but knowing what to wear shouldn't be. Our comprehensive guide covers the essential dress code tips for men and women interviewing at boarding schools. Make your first impression count with style and professionalism.
Navigating the Modern Maze: Emerging Challenges for Boarding Schools
Explore the pressing challenges facing boarding schools, from marketing difficulties and rising insurance costs to facility maintenance and recruitment of competent trustees and teachers. This article delves into these complex issues and proposes innovative strategies to overcome them.