Among "Schools with < 200 Students", view the boarding schools with the highest average SSAT score (2023).
The Secondary School Admission Test, or SSAT, is an admissions test administered to students in grades 5-11 to help determine placement into independent or private junior high and high schools.
Despite its similarities, the SSAT is not related to the SAT Reasoning test and is not administered by the College Board.
A school's average SSAT score is based on a relatively small sample of students from year to year (typically less than 100 students for a graduating class).
Average SSAT scores, then, can naturally fluctuate year to year while the quality of the overall program and strength of the student body remains consistent.
Schools in the list below are often separated by small statistical differences, which for all intents and purposes, are not meaningful in determining the overall strength of the student body between two schools.
A school's average SSAT score should not be interpreted as the minimum score needed to gain acceptance - a school's student body will have a wide range of students whose SSAT score falls above and below the school average.
% SSAT Range:

50
85
Avg. % SSAT:

72
Highest Average SSAT Score
Among Schools with < 200 Students (out of 6 schools)
Sorted by range (alphabetically within range)
Boarding School
% SSAT
Grades
Location
PO Box 8 / 5100 Figueroa Mountain Road
Los Olivos, CA 93441
(805) 688-5114
Verde Valley School
(12)
3511 Verde Valley School Road
Sedona, AZ 86351
(928) 284-2272
Wayland Academy
(4)
101 North University
Beaver Dam, WI 53916
(800) 860-7725
500 Holden Way
Carbondale, CO 81623
(970) 963-2562
Hillside School
404 Robin Hill Street
Marlborough, MA 01752
(508) 485-3483
Northwood School
(1)
92 Northwood Road
Lake Placid, NY 12946
(518) 523-3382
Mastering the Boarding School Selection Process: A 5-Step Guide
Discover the ultimate 5-step guide to choosing the perfect boarding school for your child. Explore essential factors, such as academics, campus facilities, extracurricular activities, and more. Make an informed decision to provide your child with an enriching and transformative educational experience. Read now!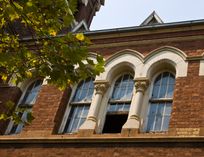 5 Founders and Their Boarding Schools
What prompts somebody to start a boarding school? The motives range from idealism to munificence right on through to capitalism. The common thread seems to be ample capital and a vision of what education can do.