School Life
For boarding school students, and many teachers, the campus is home. Explore dormitory living, get expert advice on learning and living away from home and learn more about what can be done to help your child transition to and succeed in boarding school. Find resources for parents, teachers and students. We'll cover sustainability, boarding school jargon, and corporal punishment. Read first-hand accounts from parents of boarding school students, find graduation gift ideas, and learn why small classes are effective.
View the most popular articles in School Life:
Boarding schools have their own jargon just like any activity or affinity group has.
Boarding schools have their own jargon just like any activity or affinity group has. Here are some of the more common terms and acronyms which you are likely to encounter as you explore boarding schools.
ADD/ADHD
ADHD or Attention Deficit Hyperactivity Disorder was previously known as ADD or Attention Deficit Disorder. In all probability, you won't notice signs of ADHD until your child starts school. If he exhibits any symptoms of ADHD, the school will bring it to your attention. The next step is to him evaluated professionally. The syndrome is treatable. There are hundreds of private schools which have the experienced, professional staff who can work effectively with children who learn differently. Explore that option thoroughly. This video shows what Forman School offers
ACT
ACT is an acronym for American College Testing program. ACT and the SAT are the two most common college standardized tests of academic readiness for college level studies. Most private schools offer test preparation for the SAT. If you prefer to have your child take the ACT, make sure that you advise the school as soon as you can.
Crew
Crew is the ancient sport of rowing. Rowing in shells is a popular sport in many boarding schools. Typically, crew is offered in the fall and spring. Schools participate in regional and international competitions called regattas. Events such as The Head of the Charles and Henley draw rowers from all over the world. In many ways, Crew
What does boarding school life look like? View photos from a variety of boarding schools and see if you can also picture yourself there.
April 20, 2018
Actually, there is no secret to getting your child into boarding school. Just a lot of hard work and a heavy commitment of time.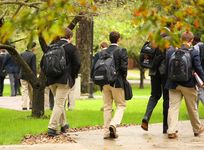 March 22, 2018
Some cynics think single-sex education is old-fashioned. The Kiski School shows how educating boys in a single-sex school is successful.
March 08, 2018
The wide range of fine academic, athletic, and other facilities found in boarding schools underscores the determination of schools to provide the very best for their students.