Admissions
Boarding school admissions can be competitive. Our articles provide helpful resources to give your child a leg up on the admissions process. We'll help you discover the best ways to apply, provide tips on staying organized, and explain why school visits are so important. Should you read your child's admissions essay? Are test prep materials helpful? Why do I need recommendations? Find the answers to these questions and more here.
View the most popular articles in Admissions:
There are several ways to apply to boarding school.
You have a couple of ways to apply to boarding school. Choose the method which is easiest for you.
Apply to the Individual Schools
You can always ask the schools to send you an applications package. Many schools have a 'request information' link on their websites. This will explain the applications procedure for that specific school. You will receive all the applications materials on paper. Complete these by hand or use a typewriter if you still have one around (remember typewriters?). Then snail mail the completed applications to the school.
Most schools will also have online applications. Online application forms have the advantage of saving time for the school because the data gets loaded right into their admissions database. The procedure varies from school to school but basically will have some sort of secure log in where you will find the instructions on how to apply. You complete some forms on line. Others, like the teacher recommendation forms, you will download and print.
Use a Common Application
The SSAT has an
applications service
to which many schools subscribe. This greatly simplfies the applications process to schools which use it.
Stay Organized
Stay organized by using our
Applications Calendar
. There are many deadlines. And they won't all be the same at different schools. Always submit your application as soon as you can, in any event no later than 2 or 3 weeks before the dealine.
May 03, 2018
The quality of a summer camp depends very much on the quality and experience of the folks running it. When you select a summer program run by a boarding school, you are getting a program with experienced, well-organized professionals at the helm. More here.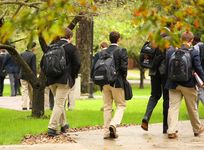 March 22, 2018
Some cynics think single-sex education is old-fashioned. The Kiski School shows how educating boys in a single-sex school is successful.
March 08, 2018
The wide range of fine academic, athletic, and other facilities found in boarding schools underscores the determination of schools to provide the very best for their students.