There are 7 boarding schools offering gender sexuality alliance as an extracurricular activity.
Top Gender Sexuality Alliance Boarding Schools (2023)
School
Location
Grades
Students
Brooks School
(10)
1160 Great Pond Road
North Andover, MA 01845
(978) 725-6272
Cheshire Academy
(5)
10 Main Street
Cheshire, CT 06410
(203) 439-7250
Dublin School
(1)
18 Lehmann Way, PO Box 522
Dublin, NH 03444
(603) 563-7075
One Lamplighter Way
Mount Hermon, MA 01354
(413) 498-3227
401 Reynolds Street
Whitby, Canada L1M2P3
(905) 668-3358
Westminster School
(10)
995 Hopmeadow Street
Simsbury, CT 06070
(860) 408-3060
81 Providence Street
Worcester, MA 01604
(508) 459-5481
Grades:
9-12, PG
6-12, PG (day)
Mastering the Boarding School Selection Process: A 5-Step Guide
Discover the ultimate 5-step guide to choosing the perfect boarding school for your child. Explore essential factors, such as academics, campus facilities, extracurricular activities, and more. Make an informed decision to provide your child with an enriching and transformative educational experience. Read now!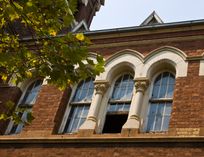 5 Founders and Their Boarding Schools
What prompts somebody to start a boarding school? The motives range from idealism to munificence right on through to capitalism. The common thread seems to be ample capital and a vision of what education can do.