There are 8 boarding schools offering woodworking as an extracurricular activity.
Top Woodworking Boarding Schools (2023)
School
Location
Grades
Students
2735 Mt. Baker Road
Mill Bay, BC V0R 2P1, Canada 1
(250) 743-5521
Gmeindi 318b
Hasliberg Goldern, Switzerland 6085
14019968682
250 Waltham Street
West Newton, MA 02465
(617) 630-2300
14 Greenwood Lane
Putney, VT 05346
(802) 387-4545
7 Campus Center Drive
Meriden, NH 03770
(603) 469-2100
Landmark School
(2)
P.O. Box 227
Prides Crossing, MA 01965
(978) 236-3000
PO Box 8 / 5100 Figueroa Mountain Road
Los Olivos, CA 93441
(805) 688-5114
1975 Renfrew Road
Shawnigan Lake, BC, Canada V0R2W1
(250) 743-6207
Mastering the Boarding School Selection Process: A 5-Step Guide
Discover the ultimate 5-step guide to choosing the perfect boarding school for your child. Explore essential factors, such as academics, campus facilities, extracurricular activities, and more. Make an informed decision to provide your child with an enriching and transformative educational experience. Read now!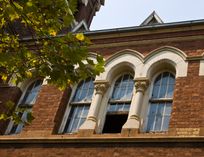 5 Founders and Their Boarding Schools
What prompts somebody to start a boarding school? The motives range from idealism to munificence right on through to capitalism. The common thread seems to be ample capital and a vision of what education can do.