Among "All-Girls Schools", view the boarding schools with the highest average SAT scores (2023-24).
For several key reasons (listed below), these comparisons are intended only as informal reference points for evaluating the SAT taking ability of a school's student body.
A school's average SAT score is based on a relatively small sample of students from year to year (typically less than 100 students for a graduating class).
Average SAT scores, then, can naturally fluctuate year to year while the quality of the overall program and strength of the student body remains consistent.
Schools in the list below are often separated by small statistical differences, which for all intents and purposes, are not meaningful in determining the overall strength of the student body between two schools.
As a final note: average SAT scores should never be used by a family as an expectation of what score they can expect their child to receive if they go to a particular institution.
The SAT correlates very closely with the SSAT: Students who have high SSAT scores invariably have high SAT scores and vise versa - SAT scores generally reflect the testing ability of the student prior to being admitted at a school.
Average SAT Score Range:

1130
1355
Avg. Average SAT Score:

1259
Highest Average SAT Scores
Among All-Girls Schools (out of 11 schools)
Sorted by range (alphabetically within range)
Boarding School
Average SAT Score
Grades
Location
The Madeira School
(2)
Average SAT Score:
1350-1400
8328 Georgetown Pike
McLean, VA 22102
(703) 556-8273
Dana Hall School
(6)
Average SAT Score:
1300-1350
Grades:
9-12
|

5-12 (day)
45 Dana Road
Wellesley, MA 02482
(781) 489-1331
Grier School
(6)
Average SAT Score:
1300-1350
2522 Grier School Road
Tyrone, PA 16686
(814) 684-3000
Average SAT Score:
1250-1300
Grades:
7-12, PG
|

6-12, PG (day)
230 Bushy Hill Road
Simsbury, CT 06070
(860) 408-4200
St. Timothy's School
(2)
Average SAT Score:
1250-1300
8400 Greenspring Avenue
Stevenson, MD 21153
(410) 486-7401
Westover School
(12)
Average SAT Score:
1250-1300
1237 Whittemore Rd.
Middlebury, CT 06762
(203) 577-4521
Buffalo Seminary
Average SAT Score:
1200-1250
205 Bidwell Parkway
Buffalo, NY 14222
(716) 885-6780
Chatham Hall
(5)
Average SAT Score:
1200-1250
800 Chatham Hall Circle
Chatham, VA 24531
(434) 432-5516
Garrison Forest School
Average SAT Score:
1200-1250
Grades:
8-12
|

PK-12 (day)
300 Garrison Forest Road
Owings Mills, MD 21117
(410) 559-3111
Saint Mary's School
(1)
Average SAT Score:
1200-1250
900 Hillsborough Street
Raleigh, NC 27603
(919) 424-4100
Academy of the Holy Family
Average SAT Score:
1100-1150
54 W. Main Street Box 691
Baltic, CT 06330
(860) 822-6279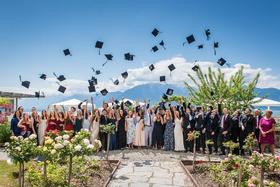 Nurturing Futures: A Journey through Boarding at Haut-Lac School in Switzerland
Nestled in the hills overlooking Lake Geneva in the French-speaking part of Switzerland lies an educational gem that embodies a unique blend of academic excellence, cultural richness and a profound sense of community. Founded over 30 years ago, Haut-Lac International Bilingual Day and Boarding School is now home to both 600 day students and a maximum of 30 boarders from around the world.
Navigating the Modern Maze: Emerging Challenges for Boarding Schools
Explore the pressing challenges facing boarding schools, from marketing difficulties and rising insurance costs to facility maintenance and recruitment of competent trustees and teachers. This article delves into these complex issues and proposes innovative strategies to overcome them.
What To Wear at Your Job Interview
Navigating job interviews can be stressful, but knowing what to wear shouldn't be. Our comprehensive guide covers the essential dress code tips for men and women interviewing at boarding schools. Make your first impression count with style and professionalism.