Among "Schools with < 200 Students", view the boarding schools with the highest average SAT scores (2023).
For several key reasons (listed below), these comparisons are intended only as informal reference points for evaluating the SAT taking ability of a school's student body.
A school's average SAT score is based on a relatively small sample of students from year to year (typically less than 100 students for a graduating class).
Average SAT scores, then, can naturally fluctuate year to year while the quality of the overall program and strength of the student body remains consistent.
Schools in the list below are often separated by small statistical differences, which for all intents and purposes, are not meaningful in determining the overall strength of the student body between two schools.
As a final note: average SAT scores should never be used by a family as an expectation of what score they can expect their child to receive if they go to a particular institution.
The SAT correlates very closely with the SSAT: Students who have high SSAT scores invariably have high SAT scores and vise versa - SAT scores generally reflect the testing ability of the student prior to being admitted at a school.
Average SAT Score Range:

1030
1480
Avg. Average SAT Score:

1234
Highest Average SAT Scores
Among Schools with < 200 Students (out of 40 schools)
Mastering the Boarding School Selection Process: A 5-Step Guide
Discover the ultimate 5-step guide to choosing the perfect boarding school for your child. Explore essential factors, such as academics, campus facilities, extracurricular activities, and more. Make an informed decision to provide your child with an enriching and transformative educational experience. Read now!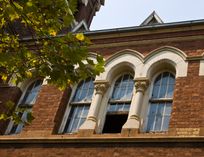 5 Founders and Their Boarding Schools
What prompts somebody to start a boarding school? The motives range from idealism to munificence right on through to capitalism. The common thread seems to be ample capital and a vision of what education can do.