Among "Military Schools", view the boarding schools with the highest percentage of faculty with advanced degrees (2023).
The percentage of faculty with advanced degrees only indicates the percentage of teachers at a school with a degree beyond an undergraduate education.
It does not account for the type of degree received (e.g., PhD or Masters), the subject it was taken for, or what institution awarded the degree.
As only one variable in many for determining faculty quality, it should not be used in and of itself to assess whether one school's faculty and teaching approach is more appropriate for you than another school's.
% Faculty w/Adv. Degree Range:

10%
90%
Avg. % Faculty w/Adv. Degree:

62%
Highest Percentage of Faculty with Advanced Degrees
Among Military Schools (out of 17 schools)
Mastering the Boarding School Selection Process: A 5-Step Guide
Discover the ultimate 5-step guide to choosing the perfect boarding school for your child. Explore essential factors, such as academics, campus facilities, extracurricular activities, and more. Make an informed decision to provide your child with an enriching and transformative educational experience. Read now!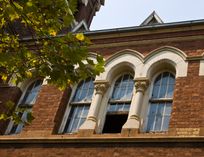 5 Founders and Their Boarding Schools
What prompts somebody to start a boarding school? The motives range from idealism to munificence right on through to capitalism. The common thread seems to be ample capital and a vision of what education can do.