Among "Military Schools", view the boarding schools with the highest percentage of students on financial aid (2023-24).
Keep in mind that challenging and creative education programs at boarding schools require a substantial amount of resources.
Generally, the full cost of educating a student at any boarding school exceeds the cost of tuition by several thousand dollars - schools rely on other revenue sources (e.g., endowments, annual giving, etc.) in addition to tuition revenue to cover their costs.
In that sense, all students at boarding schools receive financial aid.
When schools offer "financial aid" (in the traditional sense of the phrase) to reduce tuition, those reductions are in addition to the already subsidized cost of full tuition.
Keep this in mind when assessing the full value that boarding schools provide for your investment.
% Students on Aid Range:

15%
95%
Avg. % Students on Aid:

60%
Highest Percentage of Students on Financial Aid
Among Military Schools (out of 12 schools)
Sorted by range (alphabetically within range)
Boarding School
% Students on Aid
Grades
Location
Fork Union Military Academy
(6)
PO Box 278, 4744 James Madison Hwy
Fork Union, VA 23055
(434) 842-4205
614 South Main Street
Woodstock, VA 22664
(540) 459-2167
101 West College Blvd
Roswell, NM 88201
(800) 421-5376
Valley Forge Military Academy
(2)
1001 Eagle Road
Wayne, PA 19087
(610) 989-1200
Fishburne Military School
(7)
% Students on Aid:
60%-70%
225 S. Wayne Avenue
Waynesboro, VA 22980
(540) 946-7706
Hargrave Military Academy
(6)
% Students on Aid:
60%-70%
200 Military Drive
Chatham, VA 24531
(800) 432-2480
Missouri Military Academy
(7)
% Students on Aid:
60%-70%
204 Grand Street
Mexico, MO 65265
(573) 581-1776
Riverside Preparatory Academy
(5)
% Students on Aid:
60%-70%
2001 Riverside Drive
Gainesville, GA 30501
(877) 692-2338
% Students on Aid:
50%-60%
78 Academy Ave.
Cornwall-on-Hudson, NY 12520
(845) 534-3710
Camden Military Academy
(18)
% Students on Aid:
30%-40%
520 Hwy. 1 North
Camden, SC 29020
(803) 432-6001
Army and Navy Academy
(4)
2605 Carlsbad Blvd.
Carlsbad, CA 92008
(888) 762-2338
Marine Military Academy
(1)
320 Iwo Jima Blvd
Harlingen, TX 78550
(956) 423-6006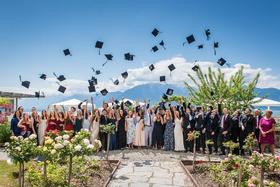 Nurturing Futures: A Journey through Boarding at Haut-Lac School in Switzerland
Nestled in the hills overlooking Lake Geneva in the French-speaking part of Switzerland lies an educational gem that embodies a unique blend of academic excellence, cultural richness and a profound sense of community. Founded over 30 years ago, Haut-Lac International Bilingual Day and Boarding School is now home to both 600 day students and a maximum of 30 boarders from around the world.
What To Wear at Your Job Interview
Navigating job interviews can be stressful, but knowing what to wear shouldn't be. Our comprehensive guide covers the essential dress code tips for men and women interviewing at boarding schools. Make your first impression count with style and professionalism.
Navigating the Modern Maze: Emerging Challenges for Boarding Schools
Explore the pressing challenges facing boarding schools, from marketing difficulties and rising insurance costs to facility maintenance and recruitment of competent trustees and teachers. This article delves into these complex issues and proposes innovative strategies to overcome them.