Highest Percentage of Students on Financial Aid
Among "All-Boys Schools", view the boarding schools with the highest percentage of students on financial aid (2023).
Keep in mind that challenging and creative education programs at boarding schools require a substantial amount of resources.
Generally, the full cost of educating a student at any boarding school exceeds the cost of tuition by several thousand dollars - schools rely on other revenue sources (e.g., endowments, annual giving, etc.) in addition to tuition revenue to cover their costs.
In that sense, all students at boarding schools receive financial aid.
When schools offer "financial aid" (in the traditional sense of the phrase) to reduce tuition, those reductions are in addition to the already subsidized cost of full tuition.
Keep this in mind when assessing the full value that boarding schools provide for your investment.
% Students on Aid Range:

15%
85%
Avg. % Students on Aid:

42%
Highest Percentage of Students on Financial Aid
Among All-Boys Schools (out of 29 schools)
Preventing Teen Suicide
Teen suicide is the 3rd largest killer of young adults between the ages of 15-24. You and I can prevent it.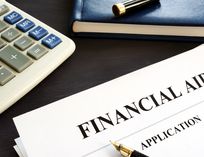 Free Boarding Schools
Thinking about sending your child to boarding school but are concerned that you can't afford it? Here are several free boarding schools as well as several schools that offer tuition-free educations for students from qualified families.
Is Your Skill Set Still On Release 3.0?
If you've been teaching for a while, and find yourself looking for a new position, an updated skill set will help make you competitive in today's job market.