There are 10 boarding schools offering science club as an extracurricular activity.
Top Science Club Boarding Schools (2023)
School
Location
Grades
Students
955 Harbourside Drive
North Vancouver, BC, Canada V7P 3S4
(604) 998-1000
Mercersburg Academy
(20)
100 Academy Drive
Mercersburg, PA 17236
(717) 328-6173
492 Holmes Road
Pittsfield, MA 01201
(413) 499-1300
22520 Mount Michael Road
Elkhorn, NE 68022
(402) 238-1457
One Lamplighter Way
Mount Hermon, MA 01354
(413) 498-3227
180 Main Street
Andover, MA 01810
(978) 749-4050
Saint Bede Academy

24 W US Highway 6
Peru, IL 61354
(815) 250-0285
Via Aventina 3
Rome, Italy 00153
39065750605
Subiaco Academy
(4)
405 North Subiaco Avenue
Subiaco, AR 72865
(479) 422-9775
Taejon Christian International School
77 Yongsan 2-ro, Yuseong Gu
Daejeon, South Korea 34035
82426209116
Mastering the Boarding School Selection Process: A 5-Step Guide
Discover the ultimate 5-step guide to choosing the perfect boarding school for your child. Explore essential factors, such as academics, campus facilities, extracurricular activities, and more. Make an informed decision to provide your child with an enriching and transformative educational experience. Read now!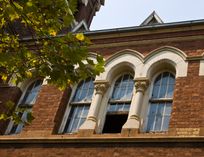 5 Founders and Their Boarding Schools
What prompts somebody to start a boarding school? The motives range from idealism to munificence right on through to capitalism. The common thread seems to be ample capital and a vision of what education can do.