Among "Military Schools", view the boarding schools with the most AP/advanced courses offered (2023).
For several reasons (listed below), these comparisons are intended only as informal reference points for evaluating the amount of advanced courses available at each school.
Schools may prefer to offer their own high level classes in place of the AP curriculum (i.e., schools may find that some subjects are better taught with their own curriculum).
These advanced courses are counted the same as an AP designated course.
Availability of AP or advanced courses may change depending on student interest in given year - alternatively, many schools allow students to prepare for an AP without offering the course through self-designed independent study.
As a result, small statistical differences between schools are generally not meaningful in determining whether a school offers more opportunities for advanced study.
# AP Courses Range:

5
209
Avg. # AP Courses:

27
Most AP/Advanced Courses Offered
Among Military Schools (out of 13 schools)
Sorted by range (alphabetically within range)
Boarding School
# AP Courses
Grades
Location
Fork Union Military Academy
(6)
P.O. 278, 4744 James Madison Hwy
Fork Union, VA 23055
(434) 842-4205
101 West College Blvd
Roswell, NM 88201
(800) 421-5376
Camden Military Academy
(18)
520 Hwy. 1 North
Camden, SC 29020
(803) 432-6001
Randolph-Macon Academy
(4)
200 Academy Drive
Front Royal, VA 22630
(540) 636-5484
Army and Navy Academy
(4)
2605 Carlsbad Blvd.
Carlsbad, CA 92008
(888) 762-2338
Riverside Preparatory Academy
(5)
2001 Riverside Drive
Gainesville, GA 30501
(877) 692-2338
Fishburne Military School
(7)
225 S. Wayne Avenue
Waynesboro, VA 22980
(540) 946-7706
78 Academy Ave.
Cornwall-on-Hudson, NY 12520
(845) 534-3710
Hargrave Military Academy
(6)
200 Military Drive
Chatham, VA 24531
(800) 432-2480
Marine Military Academy
(1)
320 Iwo Jima Blvd
Harlingen, TX 78550
(956) 423-6006
614 South Main Street
Woodstock, VA 22664
(540) 459-2167
2317 Oak Ridge Road
Oak Ridge, NC 27310
(336) 515-8040
St. John's Northwestern Academies
(4)
1101 Genesee Street
Delafield, WI 53018
(262) 646-7199
Mastering the Boarding School Selection Process: A 5-Step Guide
Discover the ultimate 5-step guide to choosing the perfect boarding school for your child. Explore essential factors, such as academics, campus facilities, extracurricular activities, and more. Make an informed decision to provide your child with an enriching and transformative educational experience. Read now!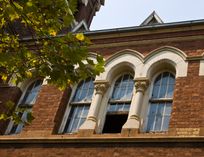 5 Founders and Their Boarding Schools
What prompts somebody to start a boarding school? The motives range from idealism to munificence right on through to capitalism. The common thread seems to be ample capital and a vision of what education can do.