About the Author:

College Enrolled
Western Carolina University
Home Town, State (Country)
Asheboro, NC
Years Attended Boarding School
4
Activities During Boarding School
I participated in Salem's Glee Club and Spirit Ensemble, as well as the theater program. I also spent three of my four years playing volleyball and softball. I was president of Mock Trial, where I helped lead many of the members to win regional awards.
Review

Description

Western Carolina University

Salem's special traditions set it apart from any other school in the country. Because it was started in 1772, making it the oldest all girls school in the country, there are many traditions that occur. . .

Duke University

Salem's strengths lie in its low student:staff ratio. When I was a student, it was 8:1, and I never had a class with more than 12 students in it. This gave us the chance to. . .
April 26, 2017
Vision. Generosity. High-minded principles. These are the hallmarks of the benefactors of the five schools featured in this article.
April 25, 2017
Does your son or daughter ride? Are you thinking about finding a private school which will suit both your academic requirements and your child's penchant for riding? Let's look at a couple of schools with riding programs.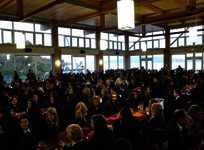 April 19, 2017
Get admissions officer's Clayton Johnston's perspective on how to choose the best boarding school for you.