Among "Schools with 200-400 Students", view the boarding schools with the lowest acceptance rates (2023).
Acceptance rates listed below reflect the average rate of acceptance for all applicants (boarding and day applicants) in the previous year.
Keep in mind that acceptance rates may be lower or higher than the average acceptance rate depending on: what grade you are applying for, whether you are a boarding applicant or day student applicant, and the time of year you are applying.
Schools typically have the most openings for freshmen and sophomores (many schools do not accept incoming seniors), so applying for entrance into 9th or 10th grade may improve your chances of admission.
Acceptance rates between boarding applicants and day student applicants may differ (i.e., schools in certain areas may a higher ratio of day student applicants to day student openings, versus boarding applicants to boarding openings; the acceptance rate of some schools will actually be lower for day applicants and higher for boarding applicants).
Many, but not all, schools will accept applications after application deadlines, but admission generally becomes more difficult.
Acceptance Rate Range:

9%
98%
Avg. Acceptance Rate:

55%
Lowest Acceptance Rates
Among Schools with 200-400 Students (out of 76 schools)
Mastering the Boarding School Selection Process: A 5-Step Guide
Discover the ultimate 5-step guide to choosing the perfect boarding school for your child. Explore essential factors, such as academics, campus facilities, extracurricular activities, and more. Make an informed decision to provide your child with an enriching and transformative educational experience. Read now!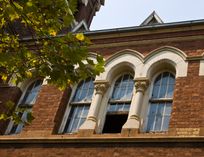 5 Founders and Their Boarding Schools
What prompts somebody to start a boarding school? The motives range from idealism to munificence right on through to capitalism. The common thread seems to be ample capital and a vision of what education can do.