Among "Schools with 200-400 Students", view the boarding schools with the largest endowments (2023).
Boarding schools that have larger students bodies or older histories are more likely to have larger endowments than other schools (since they have had more alumni over the years to donate funds).
Schools with lower endowments still often have excellent facilities and resources for students, but simply have not yet had the time or alumni base to build up endowments equivalent to older, larger schools.
Smaller schools can often have a larger endowment per student figure than larger schools.
Endowment Range:

$1M
$477M
Avg. Endowment:

$48M
Largest Endowments
Among Schools with 200-400 Students (out of 86 schools)
Mastering the Boarding School Selection Process: A 5-Step Guide
Discover the ultimate 5-step guide to choosing the perfect boarding school for your child. Explore essential factors, such as academics, campus facilities, extracurricular activities, and more. Make an informed decision to provide your child with an enriching and transformative educational experience. Read now!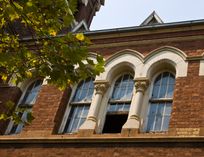 5 Founders and Their Boarding Schools
What prompts somebody to start a boarding school? The motives range from idealism to munificence right on through to capitalism. The common thread seems to be ample capital and a vision of what education can do.