Among "Schools with 200-400 Students", view the boarding schools with the highest percentage of students of color (2023).
For several key reasons (listed below), these comparisons are intended only as informal reference points for evaluating the diversity at a school.
Defining "students of color" is not always a clear-cut issue, and schools sometimes use slightly differing definitions when reporting data.
Boarding school populations can reflect regional populations (naturally, boarding students would still rather be closer than farther to their families) - it will be natural for schools in less diverse regions to have a less diverse student body than schools in other areas, and this should not reflect poorly on the school in any way.
% Students of Color Range:

4%
66%
Avg. % Students of Color:

25%
Highest Percentage of Students Color
Among Schools with 200-400 Students (out of 98 schools)
Mastering the Boarding School Selection Process: A 5-Step Guide
Discover the ultimate 5-step guide to choosing the perfect boarding school for your child. Explore essential factors, such as academics, campus facilities, extracurricular activities, and more. Make an informed decision to provide your child with an enriching and transformative educational experience. Read now!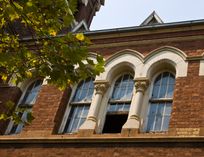 5 Founders and Their Boarding Schools
What prompts somebody to start a boarding school? The motives range from idealism to munificence right on through to capitalism. The common thread seems to be ample capital and a vision of what education can do.