Among "Schools with 400+ Students", view the boarding schools with the most extracurriculars offered (2023).
These extracurricular comparisons are intended only as informal reference points for evaluating the amount of extracurricular opportunities at a school.
Since student clubs and organizations change year-to-year, schools submitting data for extracurriculars sometimes only give a representative sample of what extracurriculars are available - you should inquire with schools that interest you and find out about the full range extracurricular activities currently available.
#Extra-curriculars Range:

3
179
Avg. #Extra-curriculars:

37
Most Extracurriculars Offered
Among Schools with 400+ Students (out of 82 schools)
Mastering the Boarding School Selection Process: A 5-Step Guide
Discover the ultimate 5-step guide to choosing the perfect boarding school for your child. Explore essential factors, such as academics, campus facilities, extracurricular activities, and more. Make an informed decision to provide your child with an enriching and transformative educational experience. Read now!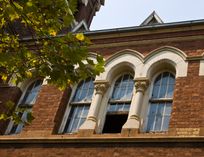 5 Founders and Their Boarding Schools
What prompts somebody to start a boarding school? The motives range from idealism to munificence right on through to capitalism. The common thread seems to be ample capital and a vision of what education can do.