Reflections and Advice:
1.) What do you think makes your school unique relative to other boarding schools?
Groton is a phenomenal place that due to it's small size really makes school feel more like home. The size of the classes and the impeccable faculty really allow the students to grow to their full potential. In addition the traditions kept alive at Groton really make it a one of a kind, special place. Not to mention the campus, peers, art program, electives, athletics and about everything else it has to offer.
2.) What was the best thing that happened to you in boarding school?
The skills I learned at Groton I know will help me throughout life. The study habits I learned I use every day in college, the "people skills" I gradually developed at Groton are extremely useful. Everything they teach you at Groton you will use throughout your entire life, guaranteed.
3.) What might you have done differently during your boarding school experience?
I would have been more open-minded, if that makes any sense.There are so many things to do and for my first three years at Groton I was too afraid of failure to try these things. I regret that because some time during IV form when my mother died and I broke down during class I had my whole "family" at my side. They put me back together. Never forget that, Groton is your family and never be afraid of failure or showing weakness because even if you break the people at Groton will be there for you, to put you back together, to encourage you, to help you.
4.) What did you like most about your school?
Everything.
5.) Do you have any final words of wisdom for visiting or incoming students to your school?
Have fun, be open minded, and most of all don't hold back, ever.
Academics:
1.) Describe the academics at your school - what did you like most about it?
I most liked the size of the classes (usually around 10-12), it really allowed the academics to be more intimate. Often we'd be discussing a topic we were learning and it felt more like a friendly conversation than class. The intimacy of the classes and the encouragement of the teachers helped one to grow and thrive in all subjects. For the first time in all my life I felt challenged, not so challenged that it was overwhelming but enough that I wasn't bored like I was at previous schools.
Athletics:
1.) Describe the athletics at your school - what did you like most about it?
Due to the fact that faculty members were the coaches also we were forced to be closer to them both as coaches, teachers, friends, parents, it really helped our relationships grow.The athletic building is phenomenal, an indoor track, indoor ice hockey rinks, a beautiful weight room, squash courts, both an indoor and outdoor pool and state of the art equipment. You'd be insane not to love the athletics there.
Art, Music, and Theatre:
1.) Describe the arts program at your school - what did you like most about it?
Everyone could participate, it didn't matter if you had talent, had never tried it, or were well aware you were terrible at it, you would be encouraged to participate.The Campbell Performing Arts Center is beautiful and the music program and chorus are one of the best I've seen.
Extracurricular Opportunities:
1.) Describe the extracurriculars offered at your school - what did you like most about it?
There's something for everyone and you can participate in whatever you want.
Dorm Life:
1.) Describe the dorm life in your school - what did you like most about it?
My dorm was like my home, my dorm head was my dad, my dorm mates were my brothers. We shared so many things, late night conversations, video game tournaments, baked goods, check-ins, tears, laughs, snow ball fights, Groton truly does a wonderful job of making dorms feel like home.
Dining:
1.) Describe the dining arrangements at your school.
Chuck the sandwich man, we were tight.Groton's food is great and it has variety so you don't get bored.Worst thing? College food is disgusting in comparison.
Social and Town Life:
1.) Describe the school's town and surrounding area.
Groton is a quaint little town with a grocery store, a pizzeria, a dunking donuts, a florist, a barber shop, and that's about it. The people there are kind and the scenery is breath taking.
2.) Describe the social life at your school - what did you like most about it?
The friends you make at Groton will be your friends for the rest of your life. The relationships and bonds you have with your peers at Groton are stronger than any other. They truly are your second family.
Daily Schedule:
Weekday
7:30 AM
Breakfast at the dining hall
8:00 AM
Chapel, don't be late or you get a demerit
8:45 AM
Roll Call, announcements and stuff, usually pretty entertaining
9:00 AM
First Period-Third Period
11:00 AM
Recess-Cookies and milk and apples
11:15 AM
Fourth Period-Eight Period, during 1 of your free periods you have lunch
6:00 PM
Dinner, you have sit down dinner (more formal) a couple times a week
7:30 PM
Study Hall (work on homework till 9)
10:00 PM
Checkin, shake hands, then bed
Weekend
8:00 AM
First Period and Second Period
12:00 PM
Lunch at Dining Hall
5:00 PM
Dinner at Dining Hall
8:00 PM
Dance (various themes, lots of fun)
I think the most influential part of Groton is it's emphasis on community. As an effect of the small size and commitment to inclusion, Groton skillfully combines the independence that comes with attending a boarding. . .
Groton is unique in its campus set-up. It is centered around the "Circle" a large expanse of grass that is used as a soccer field in the fall and for lawn games in the spring. . .
Groton is a small school in the countryside with immense resources and an extremely demanding academic atmosphere; the first word most students associate with the School is "intense." The School's long history and honored traditions. . .
Show more reviews (

16 reviews

)
Mastering the Boarding School Selection Process: A 5-Step Guide
Discover the ultimate 5-step guide to choosing the perfect boarding school for your child. Explore essential factors, such as academics, campus facilities, extracurricular activities, and more. Make an informed decision to provide your child with an enriching and transformative educational experience. Read now!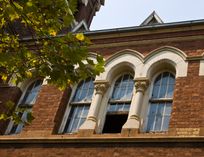 5 Founders and Their Boarding Schools
What prompts somebody to start a boarding school? The motives range from idealism to munificence right on through to capitalism. The common thread seems to be ample capital and a vision of what education can do.