Reflections and Advice:
1.) What do you think makes your school unique relative to other boarding schools?
The many, diverse leadership opportunities from Admissions prefects to dorm prefects to head of the Community Service team. All of these provided opportunities for everyone to get involved and step up into these leadership positions and learn the skill sets of a leader/organizer.The organized, cultural trips that we were given the opportunities to partake in from the Metropolitan Opera to the Boston Symphony Orchestra to Blue Man Group. At the time, I thought it was just fun and cool to get off campus with my friends, but looking back I know realize how unique these experiences were. I also participated in a study abroad during the summer after my sophomore year in France, which too was an INCREDIBLE and unique experience.
2.) What was the best thing that happened to you in boarding school?
I grew up. I feel as though I became a well-rounded, mature teenager who was fully prepared for college. I am happy to have had all of the experiences I had, and given the opportunities I was given because I feel as though much of my success today is because of St. Marks which jump-started my life.
3.) What might you have done differently during your boarding school experience?
I would have, from day 1, if this is ever possible, not worried about what others around me were thinking. If I had done this, I would have been able to focus even more on my academics, extracurriculars and athletics because I wouldn't have been wasting energy on those around me who would have respected me regardless.
4.) What did you like most about your school?
I enjoyed the academics and the opportunities that it offered to try new things, grow and learn a lot in and out of the classroom.
5.) Do you have any final words of wisdom for visiting or incoming students to your school?
I recommend trying something new. Make that your goal each year you are at the school. St. Marks makes it easy to try new activities, see unique places and meet great people, so take advantage of all of these opportunities because it is a once in a lifetime chance to do so that many are never given.
Academics:
1.) Describe the academics at your school - what did you like most about it?
The academics were wonderful. They were challenging, but not too much so that I ever felt lost or overwhelmed. Each and every professor wanted to be there, was passionate and helpful. The classroom environment was a competitive one, but the competition was always healthy and never crossed the line into too competitive. The competition and challenging academics kept me motivated and inspired to work harder and learn more.
Athletics:
1.) Describe the athletics at your school - what did you like most about it?
I appreciated that their was a mandatory participation because it was a great way to challenge myself outside of the classroom, learn how to juggle many different tasks and meet new people. That being said, I do not agree with the mandatory participation after sophomore year. I think both junior and senior year it is appropriate to require at least one season of participation, but nothing more than that. This will give opportunity for those to begin to learn to balance their own time, choose and try other pastimes and focus on other areas that they are, at that time in their life, realizing are more important.
Art, Music, and Theatre:
1.) Describe the arts program at your school - what did you like most about it?
The a capella groups were wonderful and I always admired and enjoyed those performances. Outside of that, I never fully had a great appreciation for the music and theatre programs because, while I was there, they were not incredible developed and there were no great facilities.As for the visual arts, I became more aware of the visual arts after taking a photography course that changed my views on art. I thoroughly enjoyed this course and then continued on to an Independent Study, which I greatly appreciate.
Extracurricular Opportunities:
1.) Describe the extracurriculars offered at your school - what did you like most about it?
There were many that allowed for opportunities to take a leadership position. I really enjoyed working with the Community Service team to continue it and grow it during my time there. I also enjoyed being involved with the Admissions office and in the III Form dorm.I do not think though there were enough extracurricular activities and I always remember think that would have been a place that could have been expanded.
Dorm Life:
1.) Describe the dorm life in your school - what did you like most about it?
I only lived there Senior year as a Prefect, but I enjoyed the dorm life during that time. That being said, in general, there were issues, normal of any boarding school, but, for the most part, dorm life seemed good.
Dining:
1.) Describe the dining arrangements at your school.
The dining hall was nice, though, I always remember the elevated senior seating being incredibly intimidating. The food, looking back, was okay, but I do think (and hope) that it is healthier at this time. Healthier options and a better awareness of healthy eating would help with the eating disorders that were prevalent.
Social and Town Life:
1.) Describe the school's town and surrounding area.
It is a beautiful town that is very quiet. It was nice to be set away, causing us to really just enjoy being at the school because there was nothing go on in the town.
2.) Describe the social life at your school - what did you like most about it?
I enjoyed that people were pretty accepting, and that classes truly bonded and became like families. The social life was definitely cliquey though everyone was cordial and friends.Outside of smaller group get togethers, there were not many social activities offered.
Daily Schedule:
Weekday
4:00 PM
Tutor in Roxbury for several hours
Weekend
1:00 PM
Head to a crew race
The school's layout makes for quite a unique and homey atmosphere. All classes are located in the main building, and the building itself is centered around Forbes, the student center. The main building also houses. . .
Several things set St. Mark's apart from other schools, the main factor being the close proximity of students and faculty members. Nicknamed "the school under one roof," St. Mark's houses the entire academic day. . .
St. Mark's is extremely community based, and I believe it has made both students and faculty proud to be a member of this school. Because a majority of the school functions within one or two. . .
Show more reviews (

4 reviews

)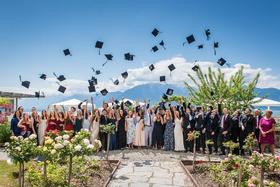 Nurturing Futures: A Journey through Boarding at Haut-Lac School in Switzerland
Nestled in the hills overlooking Lake Geneva in the French-speaking part of Switzerland lies an educational gem that embodies a unique blend of academic excellence, cultural richness and a profound sense of community. Founded over 30 years ago, Haut-Lac International Bilingual Day and Boarding School is now home to both 600 day students and a maximum of 30 boarders from around the world.
What To Wear at Your Job Interview
Navigating job interviews can be stressful, but knowing what to wear shouldn't be. Our comprehensive guide covers the essential dress code tips for men and women interviewing at boarding schools. Make your first impression count with style and professionalism.
Navigating the Modern Maze: Emerging Challenges for Boarding Schools
Explore the pressing challenges facing boarding schools, from marketing difficulties and rising insurance costs to facility maintenance and recruitment of competent trustees and teachers. This article delves into these complex issues and proposes innovative strategies to overcome them.