Reflections and Advice:
1.) What do you think makes your school unique relative to other boarding schools?
Kent is a structured school that prides itself on getting prepared to be in college. Kent gave me the tools and skill sets to absolutely thrive in the college atmosphere and also have enough discipline to excel in my studies.Campus is set in a quaint quiet town in CT. I loved being able to walk into town and grab a bite to eat or do a little window shopping, it was a great way to relieve stress and take a break from academics.
2.) What was the best thing that happened to you in boarding school?
I would not be where I am today without Kent. They built and shaped me into a a human being I never thought I would be. Kent pushed me and challenged me to be a better person every day and I am proud to call myself an alum. I attended Babson College after graduation from Kent, and would have never been accepted if it wasn't for Kent's outstanding reputation.
3.) What might you have done differently during your boarding school experience?
I wish I involved myself more in the community, but I have to remember that I was a completely different person back then and I was doing the best I knew how to do. So, prospecting students - enjoy yourself, be yourself, and challenge yourself - and you will be just fine! Kent will take great care of you :)
4.) What did you like most about your school?
Again, Kent's support network is second to none. No one falls through the cracks and they make sure to give you the correct resources for achievement.
5.) Do you have any final words of wisdom for visiting or incoming students to your school?
Bring a warm jacket, and some hiking shoes! You will see some amazing sights on your day hikes on the App. Trail!
Academics:
1.) Describe the academics at your school - what did you like most about it?
Academics at Kent was rigorous but not to the point of something students cannot handle. Kent pushes students to step out of their comfort zone and challenge themselves, and we usually always excel due to the support system Kent provides.
Athletics:
1.) Describe the athletics at your school - what did you like most about it?
Athletics is taken very seriously at Kent, all teams are highly competitive and the school will always make sure every team excels no matter what level they are.
Art, Music, and Theatre:
1.) Describe the arts program at your school - what did you like most about it?
Kent's art programming is amazing. I excelled in photography in Kent. My favorite part was being set in a valley where there is enormous opportunities to be inspired by nature.
Extracurricular Opportunities:
1.) Describe the extracurriculars offered at your school - what did you like most about it?
There was an abundance of extra activities going on a Kent. They keep you busy! My favorite part was being able to give back to our community, which again shows how close knit the town is to the school.
Dorm Life:
1.) Describe the dorm life in your school - what did you like most about it?
The dorm life is great, Kent works with students to make sure they are paired for success. They also have specific dorm or floor bonding activities to build the dorm community.
Dining:
1.) Describe the dining arrangements at your school.
All of Kent's food is home made and delicious. There is an extensive salad bar, hot bar, sandwich bar, dessert bar, soup bar, pizza bar - really anything you're hungry for is usually being served. The cooks take pride in their work and always make sure that everyone's needs are taken care of too.
Social and Town Life:
1.) Describe the school's town and surrounding area.
The town of Kent is absolutely stunning in every season. Kent has been named the #1 leaf peeping spot for years also. It is also the exact 1/3 marker of the Appalachian Trail so there are always people around excited to share their story.
2.) Describe the social life at your school - what did you like most about it?
Social life at Kent is great, everybody knows everybody which really helps the family feel of the school. Kent's support system is great too if you are having a hard time with social life.
The freedom Kent offers its students is truly unparalleled, and with freedom comes responsibility: Students quickly learn how to look after themselves and one another. If you're looking for a place to learn independence, and. . .
Kent's emphasis on individualized education is one of the elements that sets it apart from other boarding schools. The Studies Office allows students to choose classes that interest them the most, when they have completed. . .
Campus is beautiful and landscape around it. It was very relaxing walking around campus and looking at the beautiful mountain algo and Housatonic river.Teachers and advisors were available 24/7 and always happy to give advice. . .
Show more reviews (

25 reviews

)
Mastering the Boarding School Selection Process: A 5-Step Guide
Discover the ultimate 5-step guide to choosing the perfect boarding school for your child. Explore essential factors, such as academics, campus facilities, extracurricular activities, and more. Make an informed decision to provide your child with an enriching and transformative educational experience. Read now!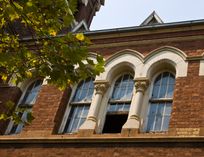 5 Founders and Their Boarding Schools
What prompts somebody to start a boarding school? The motives range from idealism to munificence right on through to capitalism. The common thread seems to be ample capital and a vision of what education can do.