Reflections and Advice:
1.) What do you think makes your school unique relative to other boarding schools?
I think that Kent was a unique experience for the freedom in extracurricular activities that were allowed and included. For example, I was a day student who had a life outside of the Kent community. I took dance classes in my hometown a few days a week, and this was allowed as my independent study instead of being required to play a sport. This was great as the school really tailored to my needs instead of forcing me to participate in something that I wasn't as passionate about.
2.) What was the best thing that happened to you in boarding school?
The best thing that happened to me was that I learned to be an independent thinker. I discovered the things that I liked to learn about, and the best way that I could absorb them in the long run. I also learned how to push myself and become an ambitious and dedicated student, which prepared me for college and made my transition smooth and easy. I matured in my academic accomplishments, and also in myself as a person. I became more independent and strong in general. I also gained amazing friends and met teachers who really believed in me and wanted me to learn and grow.
3.) What might you have done differently during your boarding school experience?
I would have been more open to everything and anyone. I was shy when I first went to Kent, and I think if I had been more open to meeting people and less closed off, I would have had an even better time. I think it is important to know that you will be with these people for four years, and to not judge or be afraid of anyone or anything at the school. Try new things, talk to new people, and explore new experiences.
4.) What did you like most about your school?
I liked the diversity of people. I met kids from all over the globe and I never would have had this opportunity otherwise. Growing up in my small town, everyone was local and knew everyone else. I met kids from Africa, Spain, Korea and many more countries at Kent, and I know this was amazing for me in the long run as I met people with very different experiences than me. I also liked that everyone wanted to succeed and work hard at Kent. We all pushed one another to do the best we could, and I grew to be an ambitious and devoted student and person because of this. I was also pushing myself, because everyone was pushing themselves to do the best they could.
5.) Do you have any final words of wisdom for visiting or incoming students to your school?
I would again say that new students should be open to everything and everyone at Kent. Try a new class that you never would have thought to try before, because this might become your college major. Take advantage of all the help that you can get, as teachers and students want you to do the best you can do. Take in the beauty of Kent, and know that this little corner of the world is very unique and special. Make sure you at the dining hall cookies when they are warm, as you won't ever have cookie dough THAT good again.
Academics:
1.) Describe the academics at your school - what did you like most about it?
The academics were a mix of basic background information (which was helpful to me in gaining a foundation) and a more creative approach that challenged us to really use our minds in unique ways. There was also a mix between lecture and discussion. I think that I was challenged in a lot different ways and given the opportunity to learn in a way that fit my needs. The teachers at Kent were always very helpful and supportive, and I have fond memories of them all. I felt that I had closer relationships with my Kent teachers than most of my college professors. I felt that they were my mentors, and also treated me on an equal level rather than just a student teacher relationship.
Athletics:
1.) Describe the athletics at your school - what did you like most about it?
I was not an active participant in the athletics program, as I was not interested in sports. However, I was never forced to do anything I didn't want to do. Although participating in a sport or after school activity was required, I tailored my experience so I could do what I wanted to do. However, I know that a lot of my friends were involved and felt that their experiences were that of a wonderful community. There was a wide variety of sports to choose from, and each had great committed coaching staff. I often envied my friends who were involved in sports because of the fun they had together as a small community. There was definitely a healthy competitiveness with other schools, which I think was fun and kept everyone in good spirits.
Art, Music, and Theatre:
1.) Describe the arts program at your school - what did you like most about it?
I was involved in both the theatre and visual arts program to some extent. I participated in 2 musical theatre productions as a dancer, and I enjoyed my experience. The teachers were willing to work with my day student schedule, and I was given a small but involved part, which I wanted. I was also an AP art history student, and was given full access to all the art rooms. We went on multiple trips to see art in the flesh, which was important to my learning experience. My teacher was extremely involved, and even gave us outside materials from class to learn from. There was definitely a good commitment to the arts at Kent, and plenty of opportunities to grow as an artist.
Extracurricular Opportunities:
1.) Describe the extracurriculars offered at your school - what did you like most about it?
I liked the wide ranging kinds of activities. There were options for lots of involvement and options for those looking for less involvement. When not doing my independent study, or along with my independent study, I did activities that I was interested in. For example, theatre club, yoga, fitness club, and more. However, there was availability for being involved in student government and more involved roles. These students were able to help lead the student body and were important to the Kent community. Students were really given the position of being strong leaders for the rest of the student body.
Dorm Life:
1.) Describe the dorm life in your school - what did you like most about it?
I was a days student, so I did not have a typical dorm experience. However, day students had a comfortable lounge, as well as the option to have our own rooms in dorms which we shared with other day students. We were given desks and wardrobes, and this made me feel more at home and comfortable in the dorms, and like I had a place of my own. I know that my friends who did board had a wonderful time, and loved the aspect of community with both teachers and other students. There were always fun activities happening, and as a day student I was always included and invited to join in. If anything, I was wanted there as much as possible and I often stayed very late at night before returning home.
Dining:
1.) Describe the dining arrangements at your school.
We had a beautiful dining hall, and there was always someone I could find to sit with for a meal. It was not cliquey or exclusive, but the open set up of the dining hall was inviting and open to all. There was no assigned seating for regular meals, except for formal dinner which was with our advisor and advisee group. This was a fun time to meet up and eat with those who you might not normally, and was a fun fancy dinner setting. The diversity of food was good, and as a vegetarian, I never felt low on options. There was a salad bar, hot meals, and various other specials. Their was always a large amount of desserts as well.
Social and Town Life:
1.) Describe the school's town and surrounding area.
The town of Kent is perhaps a highlight of life at the school, as there are not many schools where town is so easily accessible and lovely. The walking distance was 10 minutes at most, and the town is filled with a plethora of restaurants and shops that cater to all needs. Walking to town was always a highlight, as it changed up our routine a little. We could go and sit in town with a coffee, shop around some stores, and then easily make our way back in time for class. Everyone in town was super friendly and willing to help out all the students in whatever they needed.
2.) Describe the social life at your school - what did you like most about it?
I liked that there was both the option to be with people all the time, and the option to have alone time and be secluded for a little while if needed. There are tons of student hang out spots and even the main quad is a perfect spot to just lay in the grass and chat. However, it is easy to find a tree to sit underneath or just take a walk to town by yourself. People are very friendly and willing to meet one another, so there is always the opportunity to make new friends.
The freedom Kent offers its students is truly unparalleled, and with freedom comes responsibility: Students quickly learn how to look after themselves and one another. If you're looking for a place to learn independence, and. . .
Kent's emphasis on individualized education is one of the elements that sets it apart from other boarding schools. The Studies Office allows students to choose classes that interest them the most, when they have completed. . .
Campus is beautiful and landscape around it. It was very relaxing walking around campus and looking at the beautiful mountain algo and Housatonic river.Teachers and advisors were available 24/7 and always happy to give advice. . .
Show more reviews (

25 reviews

)
Mastering the Boarding School Selection Process: A 5-Step Guide
Discover the ultimate 5-step guide to choosing the perfect boarding school for your child. Explore essential factors, such as academics, campus facilities, extracurricular activities, and more. Make an informed decision to provide your child with an enriching and transformative educational experience. Read now!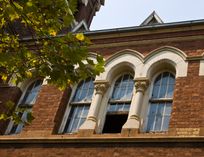 5 Founders and Their Boarding Schools
What prompts somebody to start a boarding school? The motives range from idealism to munificence right on through to capitalism. The common thread seems to be ample capital and a vision of what education can do.