Reflections and Advice:
1.) What do you think makes your school unique relative to other boarding schools?
This is a home, and this is a place to excel. This place is truly special. I'm not the best at explaining this, but Kent fosters unbreakable bonds. Students maintain strong friendships after graduation. The faculty becomes your family away from home. You can return to campus after graduation, and you can still get this warm feeling unlike anywhere else.
2.) What was the best thing that happened to you in boarding school?
I think gaining this huge family is the best thing that happened to me. I think the second best thing would be the ability to join the cross country team. This was just so fun, and really made me change for the better as a person, too.
3.) What might you have done differently during your boarding school experience?
I honestly don't know if there's anything I would have done differently. I would say that I would make sure that you really buy in. If you commit to being at a school, then everything becomes possible, and so many good things will come your way.
4.) What did you like most about your school?
Again, either the family or the location. It is such a pretty school, and you really notice it every day. I cannot think of a more picturesque place to go to school. Also, the crew program is legitimately internationally renowned. It is super historic. They've won Henley two times, we've beaten Yale and Princeton in our earlier years. Kent rowing was featured in TIME for their rowing prowess. Eric Houston, the head rowing coach, is really a legend of a coach. Super nice guy, too.
5.) Do you have any final words of wisdom for visiting or incoming students to your school?
The snack bar is sooooo good. Great staff there, too. It really plays into the whole family aspect of the school. Additionally, if you're interested in the riding program (horses), that is really one of the best/underrated aspects of Kent. I don't know of many schools you can bring your horse to.
Academics:
1.) Describe the academics at your school - what did you like most about it?
The academics are very personalized to the student. If you want higher pressure classes, they exist, but most are very relaxed and almost informal in learning style. Honestly, I found this to be the best learning style for me. I felt that it was easiest to learn when the teacher came into the class with the goal of getting their students to learn a lot. Many other schools may place too much pressure on their students at this critical period of life, and I think that is quite counterproductive.
Athletics:
1.) Describe the athletics at your school - what did you like most about it?
The athletic programs are very strong for such a small school. The best part about Kent is the three-season rule. This means that you have to participate in three different types of activities in the fall, winter and spring. It ends up allowing kids to try new sports and activities. I started with cross-country my freshman fall, and, even though I had never run before it, it was one of the best experiences of my life. The coaching and the structure of the team was simply inexplicably fun, yet productive.
Art, Music, and Theatre:
1.) Describe the arts program at your school - what did you like most about it?
These are all great. The music program allows collaboration around all of the activities. This means you can do multiple instruments and choral programs. This is unique to Kent. I do not know of any other school that would allow you to do band, orchestra and choir all at once! This is because these programs are all at night after the sport activities. I knew people doing theater and visual arts, and I know they have cool programs, but I've never participated in them.
Extracurricular Opportunities:
1.) Describe the extracurriculars offered at your school - what did you like most about it?
Students can get involved in any extracurricular activities they'd like. They can also very easily start new clubs. It really just depends on the kid.
Dorm Life:
1.) Describe the dorm life in your school - what did you like most about it?
The best part of dorm life is the amount of freedom that students have. The students don't have mandatory study hall if they remain in good standing, and there are always fun activities going on. Remember, there may be a transition period as you're moving into college, but everyone adjusts at their own rate. The new mental health programs for all students are great resources for this. Most rooms are doubles. I think this was again one of the best parts of Kent. I think having a roommate was a wildly positive experience that gave me friends for life.
Dining:
1.) Describe the dining arrangements at your school.
The food is getting better every year. It's honestly mediocre. This is honestly the only substantial criticism of the school that I have. There are always a ton of options, though, so it's not awful ever. The other thing is that there is a town legitimately five minutes from all the dorms with a ton of places to get pizza or sandwiches or burgers or whatever you'd like.
Social and Town Life:
1.) Describe the school's town and surrounding area.
The town is amazing. It's super close to campus. Students love town, and it feels like a great. but extremely safe and comfortable escape from campus.
2.) Describe the social life at your school - what did you like most about it?
The social life is extremely relaxed. It can get very outdoorsy. There is a big stargazing, hammocking, and hiking culture. I have so many irreplaceable memories from those activities. This is something that's just so unique to this type of boarding school in the woods. Kent really has a huge amount of beautiful land area around it, and the school definitely makes use of it.
Daily Schedule:
Weekday
Weekend
The freedom Kent offers its students is truly unparalleled, and with freedom comes responsibility: Students quickly learn how to look after themselves and one another. If you're looking for a place to learn independence, and. . .
Kent's emphasis on individualized education is one of the elements that sets it apart from other boarding schools. The Studies Office allows students to choose classes that interest them the most, when they have completed. . .
Campus is beautiful and landscape around it. It was very relaxing walking around campus and looking at the beautiful mountain algo and Housatonic river.Teachers and advisors were available 24/7 and always happy to give advice. . .
Show more reviews (

25 reviews

)
Mastering the Boarding School Selection Process: A 5-Step Guide
Discover the ultimate 5-step guide to choosing the perfect boarding school for your child. Explore essential factors, such as academics, campus facilities, extracurricular activities, and more. Make an informed decision to provide your child with an enriching and transformative educational experience. Read now!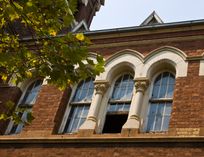 5 Founders and Their Boarding Schools
What prompts somebody to start a boarding school? The motives range from idealism to munificence right on through to capitalism. The common thread seems to be ample capital and a vision of what education can do.