Reflections and Advice:
1.) What do you think makes your school unique relative to other boarding schools?
I think the most influential part of Groton is it's emphasis on community. As an effect of the small size and commitment to inclusion, Groton skillfully combines the independence that comes with attending a boarding school with attention and dedication of "seeing students" often lost at comparable schools of a larger size.Much to my dismay at times, my progress, activities, and well-being was tracked with parental like detail by not only my adviser (whom I shared with 7 over students and grew to love as a second mother), but also teachers, coaches, staff, and other students. I had friends in the dining hall staff that would make me separate mayonnaise free meals, old teachers who let me bake in their homes, and coaches who asked how I was doing in school and made sure academics came first. Groton, with all of its structure and freedom, still feels like a high school and a home rather than a college campus.Now, I'm ready to go to college and experience the ability to get lost in a crowd, but at 14, even if I didn't know it, I certainly needed to attend a high school, so I did.
2.) What was the best thing that happened to you in boarding school?
I think I just matured exponentially. It's the first time you're really living on your own. Of course there's rules but after freshman year no adult is making you do homework for example. Independent living is just so different. I'd also say that you just meet people from such different perspectives. There are kids form all over the world, different races, socioeconomic status, and beliefs, and exposure to that a such a young age was really cool.
3.) What might you have done differently during your boarding school experience?
I wish I tried more things maybe tried a new sport or club
4.) What did you like most about your school?
I enjoyed the relationships I made. There's something to be said about seeing someone in all aspects of life, rather than just the academic part, everyday of the week. You just get to know people so much better.
5.) Do you have any final words of wisdom for visiting or incoming students to your school?
Definitely talk to the staff at Groton they're so great and have some fun stories.Kelly's dorm has the best feeds (snacks at check in) and the best room on campus— the fishbowl which is all windows on three sides with a walk in closet.Watch the sunrise in the springAnd get a free French toast bagel with butter at the bagel stand in the school house, but then also add honey. You'll thank me later.
Academics:
1.) Describe the academics at your school - what did you like most about it?
Groton is definitely an academic institution first and foremost. The academics are rigorous but can be personalized to your needs. If you want to take advanced or specialized classes you can take the route, but there are also class levels and pathways for other types of students. That being said Groton is a hard school full of kids full of ambition who are doing amazing things. It can be inspiring to see what your peers are doing and learn from them as well. While all teachers live on campus and are available at an email's notice to meet for help, many times I found myself going to peers older and younger for homework help or study groups.I also really enjoyed that many adults on campus teach and want to be involved with a kid's education through more than one learning experience. Many teachers are also coaches and dorm heads or theater directors and advisors, even the headmaster and headmistress decides they would only come to Groton if they could also continue teaching.
Athletics:
1.) Describe the athletics at your school - what did you like most about it?
Like I said earlier, Groton is an academic institution first, and I think it's important to remember that. I do believe for the majority of sports we're in the middle of lower half of the pack in our league. That being said we have some amazing teams and players who are with the right drive are able to accomplish their athletic goals.
Art, Music, and Theatre:
1.) Describe the arts program at your school - what did you like most about it?
I think the music program is what you make of it. They're amazing opportunities to travel and create. I went to 7 different countries around the world with Groton music including: Austria, Spain, South Korea, and Hong Kong.I also had the opportunity to record and produce an album in the Groton music technology lab with some friends. Our album is on all major music platforms and you should go check it out. It's called Off white by Glomoncho.
Extracurricular Opportunities:
1.) Describe the extracurriculars offered at your school - what did you like most about it?
I most enjoyed being a peer tutor. It was fun helping a student work through their struggles and watch them progress. I found myself getting really invested in their success as well.
Dorm Life:
1.) Describe the dorm life in your school - what did you like most about it?
I love dorm life. Dorms are probably the most fun part of boarding school. There are no senior dorms at Groton because they all function as dorm prefects in the dorms of younger grades.
Dining:
1.) Describe the dining arrangements at your school.
The dining hall is actually amazing. They are the nicest people you will ever meet and the most accommodating as well. Along with catering to all allergies, they will also answer and impose student suggestions and requests.
Social and Town Life:
1.) Describe the school's town and surrounding area.
The town is pretty sparse. There are a couple really good food spots and a CVS within walking/biking distance, but for anything else you need a car.
2.) Describe the social life at your school - what did you like most about it?
The social life was fun for me personally. It's definitely not a movie version of boarding school or the same amount of social freedom you'd have at a day school, but it was fun. There is definitely a lot of work so that's something to remember. I was also ready to go to a bigger school towards the end of my junior year/ beginning of senior year.
I think the most influential part of Groton is it's emphasis on community. As an effect of the small size and commitment to inclusion, Groton skillfully combines the independence that comes with attending a boarding. . .
Groton is unique in its campus set-up. It is centered around the "Circle" a large expanse of grass that is used as a soccer field in the fall and for lawn games in the spring. . .
Groton is a small school in the countryside with immense resources and an extremely demanding academic atmosphere; the first word most students associate with the School is "intense." The School's long history and honored traditions. . .
Show more reviews (

16 reviews

)
Mastering the Boarding School Selection Process: A 5-Step Guide
Discover the ultimate 5-step guide to choosing the perfect boarding school for your child. Explore essential factors, such as academics, campus facilities, extracurricular activities, and more. Make an informed decision to provide your child with an enriching and transformative educational experience. Read now!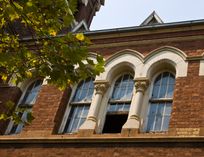 5 Founders and Their Boarding Schools
What prompts somebody to start a boarding school? The motives range from idealism to munificence right on through to capitalism. The common thread seems to be ample capital and a vision of what education can do.