Reflections and Advice:
1.) What do you think makes your school unique relative to other boarding schools?
Two most unique things about SKS when I went there were the size and diversity of the student body. The largest number of students the school had while I went there was only 190 students. I liked this because I could learn everyone's name and where they're from, and while I had a small number of friends, I built strong relationships with the ones I had. Even if I wasn't close with someone, we could still know a decent amount about each other. Another benefit of a small student body was how well you got to know the faculty/staff. Many times I felt that I was too grown up to fit in with the student body, and some of the strongest relationships I built were with teachers.I also loved how so many of the students were from different countries, so I got to learn about different cultures and get opportunities to visit countries I otherwise wouldn't be able to. The two best friends I made from Storm King were from different cities in Mexico, which I recently visited them in and had a great time. I'm from New York City, which is a melting pot of different nations and cultures, and I'm so glad SKS had that similarity. Most other boarding schools I'm aware of are nowhere near as diverse in terms of nationalities.
2.) What was the best thing that happened to you in boarding school?
The best thing that happened to me in boarding school is how much I matured as a person. During middle school I was a completely different person academically and socially, and disciplinary issues are part of the reason I went to boarding school. At SKS, I completely turned that around and was always in good standing. After my 1st year when all my friends left I started spending a lot more time on my own which helped me become self sufficient and more like an adult, which is part of the reason I became closer to the teachers during my later years.
3.) What might you have done differently during your boarding school experience?
During my 1st year, my main goal was to make friends and have fun. After that, it was basically all about grades and my college resume. The only thing I would change is worry less about academics and make the best of all the social opportunities SKS has to offer, because I really wish I got to know some people better and do more social activities. So my advice for anyone currently going there is of course academics are important, but so is having fun and making friends.
4.) What did you like most about your school?
International and small student body, caring faculty/staff.
5.) Do you have any final words of wisdom for visiting or incoming students to your school?
Don't think so...
Academics:
1.) Describe the academics at your school - what did you like most about it?
Since the class sizes were so small, the teachers almost always got to know everyone on a personal and develop a deeper care to help them succeed. I almost always got help directly from a teacher when needed and they were very helpful. Another thing that was great is many of the teachers lived on campus, so there were plenty of opportunities to meet up with them for help. A lot of my teachers were my dorm parents, so I could get help from them during evening study hall or sometimes late at night if I needed it.
Athletics:
1.) Describe the athletics at your school - what did you like most about it?
My best athletics experience was by far soccer season during my freshman year. That year, both JV and Varsity were combined into one team and would train together, so even though my friends were at a higher level than me, we were often involved in the same activities. There was also so much more unity in the team overall when we always would train together, and it was another activity that allowed me to learn more about people and their backgrounds.
Art, Music, and Theatre:
1.) Describe the arts program at your school - what did you like most about it?
My main experience in the Arts program was Studio art, and my favorite part about it was the people I met and skills I developed. The program director and Studio Art teacher, Mr. Carruthers, is a great teacher and awesome person. He taught me many valuable painting skills and led cool trips. Another thing I really miss is having your own studio space if you're at the advanced or AP level. Some of my best memories are going to my studio space for class, during study hall, or on weekends and working there for hours.
Extracurricular Opportunities:
1.) Describe the extracurriculars offered at your school - what did you like most about it?
Art was my main extracurricular that I enjoyed the most, that's kinda it for me since I'm more into doing my own thing
Dorm Life:
1.) Describe the dorm life in your school - what did you like most about it?
My best memories from the dorms are all from my freshman year when I had the most friends, my roommate was my best friend and our room was always full of people hanging out. For my last 3 years, the best memories are staying up late with teachers in the common room talking about stuff. Physically speaking, the dorms are pretty outdated and could definitely use some improvement, but overall experience is still positive
Dining:
1.) Describe the dining arrangements at your school.
I always got the idea that the dining staff was on a limited budget and struggled with the expensiveness of food, but I have no doubt that they did the best they could. All the chefs were super nice and accommodating with my vegetarian needs.
Social and Town Life:
1.) Describe the school's town and surrounding area.
On most weekends I would leave to go home to the city, so I didn't go to Cornwall that often but good things I can say about it is its quiet, some nice restaurants, and its pretty.
2.) Describe the social life at your school - what did you like most about it?
Like I said before, what I loved the most about SKS was the diversity of the student body and how I made friends from all over the world. One struggle was that a lot of people would leave after 1 year so basically every year you needed to make new friends, but I'm grateful for all the people I met and experiences I had no matter how long they lasted.
The campus is not just beautiful by its own merit, but also happens to be placed almost in the middle of the forest. Black Rock Forest is 2 minutes away from your dorm room an. . .
Two most unique things about SKS when I went there were the size and diversity of the student body. The largest number of students the school had while I went there was only 190 students. . .
The Storm King School offers a diverse cultural experience for boarding students as a majority of the students living on campus have an international background. The school embraces this diversity in allowing students a multitude. . .
Show more reviews (

2 reviews

)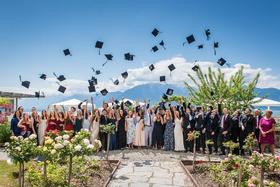 Nurturing Futures: A Journey through Boarding at Haut-Lac School in Switzerland
Nestled in the hills overlooking Lake Geneva in the French-speaking part of Switzerland lies an educational gem that embodies a unique blend of academic excellence, cultural richness and a profound sense of community. Founded over 30 years ago, Haut-Lac International Bilingual Day and Boarding School is now home to both 600 day students and a maximum of 30 boarders from around the world.
What To Wear at Your Job Interview
Navigating job interviews can be stressful, but knowing what to wear shouldn't be. Our comprehensive guide covers the essential dress code tips for men and women interviewing at boarding schools. Make your first impression count with style and professionalism.
Navigating the Modern Maze: Emerging Challenges for Boarding Schools
Explore the pressing challenges facing boarding schools, from marketing difficulties and rising insurance costs to facility maintenance and recruitment of competent trustees and teachers. This article delves into these complex issues and proposes innovative strategies to overcome them.