The Peddie School - Review #7
Reflections and Advice:
1.) What do you think makes your school unique relative to other boarding schools?
Peddie is by far the best experience in my life thus far. There is a profound sense of community both on and off campus. As most faculty have housing on campus and the majority of the students board, there is really no other way to describe Peddie than a mini village. I began my Peddie career as one of the last 8th grade classes to go through the school (which made me a five year scholar).You really never get the scope of Peddie's campus until you set foot right in the middle of it. All are my friends are astounded to hear that my High School campus was half the size of my college campus with roughly 500 students attending per year. Of course it's difficult to grasp the sense of community I described until you're sitting at dinner with your Calc professor and his 4 year old son spreading pasta all over his face.The school prepared me above and beyond for the future. This goes beyond making a 4.0 a piece of cake at some of the top universities post Peddie Graduation. It was the social skills, the respect, the nearly unlimited independence that really prepared me to become comfortable around professors, professionals and peers alike.
2.) What was the best thing that happened to you in boarding school?
The absolute best thing that happened was my transition into a completely independent individual. After Peddie, I had no problem living on my own, making friends, succeeding in school or just succeeding in life. I could not explain to you had absolutely easy my first semester of college seemed. I didn't think it was possible, but Peddie truly makes you prepared for University life.Peddie really broke down those teacher-student boundaries and allowed me to feel comfortable treating and respecting my professors like the smart and human individuals they are.
3.) What might you have done differently during your boarding school experience?
I personally don't have as many regrets as I thought I would. I would say to try and attend all lectures given on campus as you never know who they might be, or what they have to say. I had the privilege of listening to many distinguished speakers on campus.It's common knowledge that MLK Jr., President Ford, and Colin Powell all spoke in our chapel to the student body.
4.) What did you like most about your school?
I liked how privileged I always felt while attending Peddie. Every student is given their own personal laptop (by the way, technology is top notch at Peddie... MIT has 4 of these super genius white boards, our science center has 12) and the campus is just incredible. So much money gets invested in the school, it's just so nice to feel like you're living a life of luxury while walking through the buildings you take classes in. Peddie is always on the cutting edge.
5.) Do you have any final words of wisdom for visiting or incoming students to your school?
Once a week, set aside a time where you and your friends just sit on a blanket on center campus. Pull out Apples to Apples or just read against a tree. Especially in the Spring, the feeling of being outdoors on this campus is indescribable.
Academics:
1.) Describe the academics at your school - what did you like most about it?
Almost every one of my classes was taught "round table style" as opposed to the traditional grid desk setup. This really helped facilitate class discussions and keep students on their feet. Given that few classes had more than 12 students (my Italian class had 4), this style of learning was very successful.I will admit, the academics were very challenging and given a very busy schedule, there are times where it feels like you will never have enough time. I can promise you that the Peddie faculty are 110% there to make you have the best possible understanding of the material. The rigor of the courses truly does vary depending on the class, although the same expectations to work hard and be respectful were always present and replicated by the professors.There are plenty of "fun" courses to take at Peddie, and I can't stress enough that it's important to fit these into your schedule too. It was always nice to know Robotics was next and I got to play with Lego's and build a basketball scoring robot with $1000 worth of equipment from MIT.
Athletics:
1.) Describe the athletics at your school - what did you like most about it?
Peddie is part of the MAPL League which puts us up against some of the toughest prep schools in the northeast. Currently (Fall 2008) construction has begun on a brand new 20 million dollar Athletics Facility. Coaches are almost all also professors and understand the rigor of our daily lives at Peddie.Once a year a huge competition against the Blair Academy occurs in mid November. This is the oldest football rivalry in NJ and is always a true showing of Peddie spirit. The Game Day is prefaced by a week of school spirit activities and is really one of the greatest times all year.
Art, Music, and Theatre:
1.) Describe the arts program at your school - what did you like most about it?
I found myself in the Arts Center quite often for both choral and theatrical activities. Swig Arts Center has some really nice individual practice rooms and the art studios are kinda cool to walk into. I had a fantastic experience with the Arts department and remain very close with many of the faculty there.The quality of performance is outstanding (there is a lot of talent at this school). We traveled to Williamsburg, VA in both my Freshman and Senior years and we nearly swept the board of trophies (not to mention a really fun trip at Busch Gardens).The theater on campus is used for all performances and a weekly community meeting.
Extracurricular Opportunities:
1.) Describe the extracurriculars offered at your school - what did you like most about it?
If you want to be part of a group and nothing fits your fancy, make your own club. Peddie is very encouraging when it comes to students taking initiative. During my years at Peddie I felt the need to bring the Italian culture to campus and began the Italian Club. From there, I petitioned to have Italian be taught as a language and one semester later, it was in the course catalogue, taught by one of the Spanish professors fluent in Italian. There is never an excuse on campus to not be busy or to not be busy with things you enjoy.
Dorm Life:
1.) Describe the dorm life in your school - what did you like most about it?
I was a Day Student (commuter) and so if you are truly interested in the boarding experience, I recommend looking at another students perspective. If you are considering becoming a commuter to Peddie, I'll give a brief rundown. As a Day student I really got the two worlds of a "typical" high school and a boarding prep school. I often found myself at school for more than 12 hours a day, but by night time I was home with my family. If you are a Day Student you will find yourself on campus for the majority of the day (don't expect to be going home at 3pm every day). Between sports, activities and relaxing with my boarder friends, I hardly found myself leaving before the sun went down.When you become a Junior, you are allowed to park your car in a certain lot as to afford you the option of driving yourself to school. As a Senior, you get priority parking closer to the Academic buildings.
Dining:
1.) Describe the dining arrangements at your school.
Every student has the option to eat three free meals a day in the campus dining hall. Ok, well some would argue free is not the right word, but included in tuition, meaning if you eat 0 meals or 3, the charge to your family is no different.The dining hall is located in the Students Canter and can house the entire school plus faculty. All food is served "buffet" style with lines for pasta, hot food, salad bar, and dessert bar. I could never complain about the food quality, and the round tables made lunch conversations enjoyable.
Social and Town Life:
1.) Describe the school's town and surrounding area.
Oh Hightstown, NJ. You will soon learn about the local pizza shop (Manino's) and the cafe (Slow Down) as common snack eateries near campus. I never felt unsafe in Hightstown, but be smart about traveling down Main Street very late. Central New Jersey is conveniently located near both NYC and Philly. Princeton Junction train station is a short car ride away.There is a movie theater a long walk or short drive away along with food-store and other amenities. Peddie is really easy to get to, just seconds from the NJ Turnpike.
2.) Describe the social life at your school - what did you like most about it?
Peddie is composed of a largely diverse student body, so the social life you have is whatever you make it to be. I very rarely ran into students who absolutely could not stand being at school, my guess is because they chose to apply and worked hard to get in. The large campus really makes it easy for you and your friends to find your favorite place to hang out whether it's in the Student Lounge in the Stud (student's center), Library, Center Campus, History building, or wherever. As I mentioned, eating and movies seem to be the most popular things to do off campus, but on campus there is usually a lot going on in both student run, and school run activities.
Daily Schedule:
Weekday
10:30 AM
School wide Chapel meeting
3:00 PM
School Day ends, conference period
3:30 PM
Sports practice or play practice begins
7:00 PM
Get picked up to go home
7:30 PM
School work and a little relaxation
Weekend
11:30 AM
Last class ends (yes... you still have most of the weekend left)
2:00 PM
Occasionally sports games
While most boarding schools are smaller than public or even private day schools, Peddie was unique because we only had around 500 kids for all four of my years there. Another unique aspect was our. . .
Peddie is all about community! It's a co-educational school with a focus on service and community. . .
The Peddie vs. Blair rivalry undoubtedly sets Peddie apart, as the rivalry is the oldest in NJ (since 1903). Blair week is such a memorable week in the life of a Peddie student and no. . .
Show more reviews (

10 reviews

)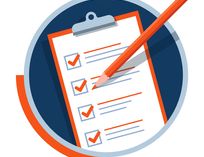 Employment: Common Questions And Answers
Want a change of pace? Fristrated and overwhelmed by your present teaching position? How about teaching in a boarding school? We answer some of your questions here.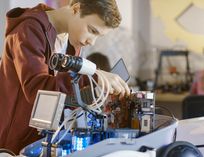 The Gifted Student
Your child is gifted. Congratulations! It's an awesome responsibility to parent a gifted child. So, what about high school? Check out boarding schools. They offer a rich array of resources and experience for teaching gifted children.