Reflections and Advice:
1.) What do you think makes your school unique relative to other boarding schools?
The Phelps School is a school that specializes in providing an individual education to each student. The classes were very small and the staff was more than willing to help me in every aspect of my life. I had teachers who inspired me and encouraged me to achieve at the highest level. I had many choices of classes and extra-curricular activities available.
2.) What was the best thing that happened to you in boarding school?
I went to the Phelps School partly because I was failing in the public school environment. Phelps gave me the opportunity to thrive. They revealed through their testing that I was able to perform at a level above my current grade. They accelerated my learning and did what it took to meet my needs. Phelps also broadened my horizons because I was able to meet good friends in foreign countries. I had the opportunity to travel to Taiwan with a classmate and now have a career working in Asia.
3.) What might you have done differently during your boarding school experience?
I would recommend that students going to boarding school take the opportunity to make a fresh start, make good friends, and plan for a limitless future!
4.) What did you like most about your school?
Individual attention! They do what it takes to meet individual students' needs. They help students reach their goals.
5.) Do you have any final words of wisdom for visiting or incoming students to your school?
Founder's Hall is one of the most comfortable (though it's only for older students). The campus is expansive and beautiful. If you like horses this may be the place for you.
Academics:
1.) Describe the academics at your school - what did you like most about it?
I loved the class size and dedication of the staff most. My largest class had 10 or 12 students. This allowed me to ask many questions and investigate specific aspects of the material. My teachers were top notch. I had caring, highly-qualified teachers who took a personal interest in my education. I was also given carefully written, detailed feedback on my performance on a regular basis. I was put in higher level classes and given special homework so that I could progress at my own speed. My education was so expertly tailored to my needs that I was given extra classes and graduated a year early so that I could pursue higher educational goals.
Athletics:
1.) Describe the athletics at your school - what did you like most about it?
When I was at Phelps, we had many championship teams. In my two years, I saw the lacrosse team and the soccer team win two championships. I had the opportunity to play many sports and watch many exciting games. One of my favorite things about the athletics at Phelps was that they would provide us with power-yoga and other ways to train if we wanted it. I was allowed to work-out at a nearby gym and given the opportunity to play more than one sport at a time. Again, it's absolutely tailored to the individual student.
Art, Music, and Theatre:
1.) Describe the arts program at your school - what did you like most about it?
During my stay at Phelps, we had an incredible art teacher who exposed us to art in many forms. We were provided with a great dark room and other facilities as well. I was able to actively pursue my interest in photography and was given access to the dark room at almost any time. I was also provided with a piano teacher so that I could continue studying. When I was at Phelps I happened to be the only student studying the piano, but I was provided with an instructor as soon as I requested it.
Extracurricular Opportunities:
1.) Describe the extracurriculars offered at your school - what did you like most about it?
There were many opportunities to participate in student organizations. Through these organizations, the students were given quite a bit of input on decisions affecting the student population. We had a unique relationship with the Red Cross, and were given the opportunity to participate in health education outreach. This and the martial arts program were begun to satisfy student requests during my time at Phelps.
Dorm Life:
1.) Describe the dorm life in your school - what did you like most about it?
Each dorm was uniquely different. I lived in three of the dorms while at Phelps. Each was fairly good. The dorm parents were great. They made our stay much more comfortable. Most dorms had two students per room, but there were some which offered single accommodations.
Dining:
1.) Describe the dining arrangements at your school.
I really enjoyed the food at Phelps. We had a Chef and assistant Chef who prepared a variety of foods. We sat at round tables with about 8 students per table, and we ate family style. On weekends and holidays we were given a buffet of many good foods. The holiday meals were always enjoyable. The dining hall was always decorated beautifully, and the Chef presented quite a feast.
Social and Town Life:
1.) Describe the school's town and surrounding area.
Phelps is in the town of Malvern. We were able to walk into town on the weekends and some evenings. There isn't much in Malvern, but there was a Wawa convenience store and some other small shops. The best part is that it's on the main line out of Philadelphia. We were able to take the train in to Philadelphia occasionally.
2.) Describe the social life at your school - what did you like most about it?
I liked meeting students from different backgrounds. At one time, I was in a dorm with students from Brazil, Korea, Taiwan, China, Saudi Arabia, and many states across the USA. I made friendships that continue today. There were also occasional dances with girls' schools.
Daily Schedule:
Weekday
4:00 AM
extra-curricular activities
Weekend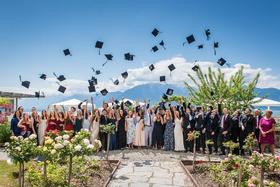 Nurturing Futures: A Journey through Boarding at Haut-Lac School in Switzerland
Nestled in the hills overlooking Lake Geneva in the French-speaking part of Switzerland lies an educational gem that embodies a unique blend of academic excellence, cultural richness and a profound sense of community. Founded over 30 years ago, Haut-Lac International Bilingual Day and Boarding School is now home to both 600 day students and a maximum of 30 boarders from around the world.
What To Wear at Your Job Interview
Navigating job interviews can be stressful, but knowing what to wear shouldn't be. Our comprehensive guide covers the essential dress code tips for men and women interviewing at boarding schools. Make your first impression count with style and professionalism.
Navigating the Modern Maze: Emerging Challenges for Boarding Schools
Explore the pressing challenges facing boarding schools, from marketing difficulties and rising insurance costs to facility maintenance and recruitment of competent trustees and teachers. This article delves into these complex issues and proposes innovative strategies to overcome them.