Reflections and Advice:
1.) What do you think makes your school unique relative to other boarding schools?
I think that the most important aspects of Groton is its sense of tradition and its small size. Groton students maintain a schedule that includes daily chapel and senior prefectships, which allow seniors to become very involved in the running of the school. Daily chapel provides students with a chance to reflect and feel a sense of connection to the rest of the school and its history. When students are seniors, they help run the daily activities of the school by acting as leaders in all aspects of their lives. They are dorm prefects, chapel prefects, dining hall prefects, admissions prefects, and communications prefects. By giving students more leadership as they become older, Groton promotes a tradition of honor and trust. Also, Groton's small size allows every teacher to get to know their students very well. Students and teachers interact inside and outside the classroom. They will work together in the dorm, in sports, and extracurriculars. The valuable relationships that students build with their teachers will follow them as they enter college. Only at Groton are students given the opportunity to form such strong connections with their teachers, to have a large role in the leadership of their school, and to become a part of a tradition of honor and integrity.
2.) What was the best thing that happened to you in boarding school?
My favorite part of Groton was the relationships that I formed with other students and with the faculty. Both motivated me to push myself to learn more and become more involved in activities that I was interested in. I have become a more confident person and more interested in furthering my intellectual and personal growth.
3.) What might you have done differently during your boarding school experience?
I would have tried to take more advantage of the many opportunities that Groton provides. It was only until my last two years at Groton that I really understood how much Groton has to offer its students.
4.) What did you like most about your school?
I loved how Groton pushes its students to become very involved and to do their best.
5.) Do you have any final words of wisdom for visiting or incoming students to your school?
I think that students should try to remember that although academic work is important, they should also remember to try to keep their priorities in check and to build up their friendships and relationships with the faculty.
Academics:
1.) Describe the academics at your school - what did you like most about it?
Groton academics are extremely rigorous. However, the benefits of such a strong academic program greatly outweigh any drawbacks. Because the school is so small, teachers become extremely involved in success of their students. Not only are teachers invested in the academic progress of the students, but they are also interested in their mental well-being. When students are struggling or are interested in more help, teachers are extremely helpful with outside help or just advice.In my first year, I was struggling with Latin I, and my teacher volunteered to eat breakfast with me every morning as often as I wanted to. I saw my teacher daily and we discussed not only my latin homework but also our interests and views on life. In the same way, I developed close relationships with many of my teachers throughout my time at Groton. One teacher recommended an internship program on Capitol Hill for me the summer after my senior year. I worked for a Congressman who had gone to Groton, and I was one of the youngest interns there. Most of my co-workers were college seniors or were out of college. I had an amazing experience and will always be grateful for my teacher's support. The relationships that the teachers and students form at Groton are invaluable.The classes are very interesting, small discussion, and are available a very wide range of topics. In particular, the elective courses are very interesting and specific. The workload is substantial but it is not unmanageable and challenge students to develop strong study habits. There is a competitive environment, but most students are sensitive enough not to share grades or to discuss how difficult tests are. Students are supportive and are mostly competitive with themselves rather than with each other.
Athletics:
1.) Describe the athletics at your school - what did you like most about it?
The athletics program is also very present at Groton. All students are required to participate in an after-school activity each term (Fall, Winter, Spring). However, the options include traditional sports as well as drama, dance, music, and faculty-sponsored activities. F.S.A.s are any activity that students organize and get a teacher to sponsor them. FSAs are common and allow students to have a wide variety of options for their after school activities. FSAs can include winter running, horse back riding, gardening, community service, marathon running, acrylic painting, and photography.
Art, Music, and Theatre:
1.) Describe the arts program at your school - what did you like most about it?
Students are required to participate in a certain amount of arts programs, which includes choir, acrylic painting, ceramics, theatre, singing or musical instrument lessons, jazz band, or orchestra. The arts program is very substantial and the school is very committed to integrating students' artistic talents in the community of the school. There is also a newly reinvented dance program. A large number of students have music FSAs every term and put on performances on at the end of every season.
Extracurricular Opportunities:
1.) Describe the extracurriculars offered at your school - what did you like most about it?
I loved being involved in extracurricular activities at Groton. Most are almost completely run by students, even though teachers are always there to support and supplement the clubs. The most active clubs are the community service board, the newspaper (Circle Voice), and the Student Activities Committee. There are also two student-run cafes.
Dorm Life:
1.) Describe the dorm life in your school - what did you like most about it?
I loved the dorm life at Groton. Seniors run the dorm along with a faculty member and his or her family. The most important aspect of dorm life is check-in, where the dorm gathers in a common room every night at 9:45 or 10 and exchanges stories and laughter. The faculty members and seniors shake hands with every member of the dorm. This handshaking tradition makes sure that each leader in the dorm has an opportunity to make a personal connection with every member of the dorm. The faculty and seniors are able to make sure that each student is happy and healthy and can mediate any possible conflicts.
Dining:
1.) Describe the dining arrangements at your school.
The dining hall is very accommodating. Its hours work well with students' schedules, and even is open at 6 so that students can come early and study during breakfast before chapel. There is no assigned seating, but most students sit with their own grade. The food is very good and the staff is open to suggestions. There is a sit down formal dinner once a week where students are assigned seating and have the opportunity to meet with different students and faculty.
Social and Town Life:
1.) Describe the school's town and surrounding area.
The town is very small and welcoming, but students are given substantial opportunities to visit Boston, especially as they grow older.
2.) Describe the social life at your school - what did you like most about it?
The social life is very welcoming and fun at Groton. The student run grill and cafe are open almost every night, and there is a dance every Saturday night. The student activities committee, which is run by seniors, also organizes other activities like formal dances and cookouts.
Daily Schedule:
Weekday
Weekend
11:00 AM
Studying, Hanging out with friends, extracurriculars
I think the most influential part of Groton is it's emphasis on community. As an effect of the small size and commitment to inclusion, Groton skillfully combines the independence that comes with attending a boarding. . .
Groton is unique in its campus set-up. It is centered around the "Circle" a large expanse of grass that is used as a soccer field in the fall and for lawn games in the spring. . .
Groton is a small school in the countryside with immense resources and an extremely demanding academic atmosphere; the first word most students associate with the School is "intense." The School's long history and honored traditions. . .
Show more reviews (

16 reviews

)
Mastering the Boarding School Selection Process: A 5-Step Guide
Discover the ultimate 5-step guide to choosing the perfect boarding school for your child. Explore essential factors, such as academics, campus facilities, extracurricular activities, and more. Make an informed decision to provide your child with an enriching and transformative educational experience. Read now!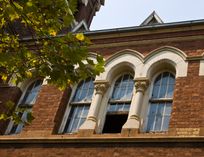 5 Founders and Their Boarding Schools
What prompts somebody to start a boarding school? The motives range from idealism to munificence right on through to capitalism. The common thread seems to be ample capital and a vision of what education can do.